Archive for the 'Pacific' Tag
The Center for Naval Analyses built their new report, "The Navy at a Tipping Point: maritime Dominance at Stake?" on a comforting trellis of assumptions:
"First, there will be a continued demand for a safe and secure global maritime environment. Advantages to having an open world economy and trade for all major powers are growing…Increasingly, nations are trying to formulate a set of maritime rules to support local/regional development and maritime policing of illicit activities."
How nice! This vanilla-flavored assumption is positive, doesn't challenge status quo, and, in addition, makes excellent consultancy fodder for high-paying corporate audiences.
But is this assumption valid?  A recent bulletin from Inside the Pentagon (subscription, sorry) suggests otherwise:
"U.S. and Chinese officials agreed last December to hold the next plenary meeting under the 1998 bilateral Military Maritime Consultative Agreement (MMCA) in March or April of this year. But China subsequently suspended a range of military-to-military activities to protest the Pentagon's planned arms sales to Taiwan. And now PACOM is confirming the safety talks are a casualty of that row."
Oops.  Other countries (particularly Asian navies that seem to have a higher tolerance for settling maritime disputes via intimidation and, often, gunfire) may not fully subscribe to the U.S. vision of maritime safety.
Here's CNA's second set of assumptions:
"Second, no other country (or combination of countries) will create the forces required for a navy with global influence…[other] navies can also conduct short-term surges for uses of force against low end threats or act as supporters to USN-led naval operations; however persistent out-of-area operations (even by a low number of assets) would quickly deplete their resources and political support at home."
New navies, when well used, pay enormous domestic political dividends.  Remember the Maine?  Or the year-long voyage of the Great White Fleet?  What about Imperial Germany's use of their growing fleet to build/bolster a colonial empire?  Wasn't Germany's acquisition of Tsingatao (done after the murder of German Catholic priests) rather…popular?
So..with history in mind, how might China (given its self-acknowledged internal domestic weaknesses) use their fleet?  To forge a better sense of national unity, maybe?
Which brings us to CNA's third assumption-set:
"…China is behaving exactly as every growing nation has behaved since the dawn of the Maritime Age in the 1400s…"
Hey, they got one right (two out of three ain't bad)…but, hey…Didn't those new navies ultimately make the seas less safe?  Did they not lead to increased conflict at sea?  To wider naval conflict?
Seems that the CNA researchers don't think so.
To be blunt: Other nations may share U.S. appreciation for a "safe and secure global maritime environment."  The problem is that other nations may define "safe and secure" somewhat differently than America does.
U.S. defense thinkers must stop assuming the rest of the world shares our world view.  You heard it here first…America's habit of mirror-imaging (a symptom of having a rather poor grasp of history) is a well-known point of exploitation.
Read more at NEXTNAVY.COM.  Subscribe here.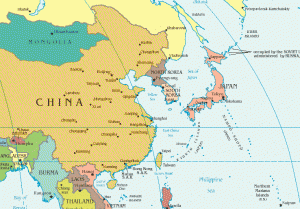 In Asia, America has gotta move away from a long-standing habit of engaging in simple, bilateral force measurements. Asia is a multi-polar place, and America's penchant for strategic over-simplification is going to land the U.S. into serious trouble.
Put bluntly, U.S. Navy-folk need to remember there are a few other countries over on the other side of the Pacific. Some of them are rather formidable. And the U.S. is neglecting them.
So…Let's take a moment to compare some naval forces in the Pacific Basin. Using the official DOD Annual Report to Congress on the Military Power of the PRC 2005 and 2009, it looks like China's Navy is growing. But…when China's rate of growth is compared with other neighbors, that burst of growth over the past five years looks a lot less daunting.
China: Diesel Attack Subs: (2005 vs. 2009): 51 vs. 54 (+3)
USA: Diesel Attack Subs: (2005 vs. 2009): 0 vs. 0 (+0)
Note: Japan commissioned 4 Oyashio-class, 2 Soryu-class SSKs; South Korea commissioned 3 Type 214s from 2005-2010.
China: Nuclear Subs (SSN only, 2005 vs. 2009): 6 vs. 6 (+0)
USA: Nuclear Subs (SSN/SSGN only 2005 vs. 2009): 58 vs. 56/57 (-2/-1)
China: Destroyers (2005 vs. 2009): 21 vs. 27 (+7)
USA: Destroyers (2005 vs. 2009/10): 46 vs. 54/57 (+8/+11)
Note: Japan brought into service 2 Atago-class destroyers, 2 Takanami-class destroyers, and a Hyuga-class "carrier" destroyer; Taiwan put 4 ex-Kidd-class vessels into service; South Korea put 4 KDX-2-class destroyers into service over the past 5 years.
China: Frigates (2005 vs. 2009): 43 vs. 48 (+5)
USA: Frigates (2005 vs. 2009/10): 30 vs. 30/31 (+0/+1)
Note: Regional Frigate-building programs are proceeding apace.
China: Coastal Missile ships: (2005 vs. 2009): 51 vs 70+ (+19 at least)
USA: Nada. Zip.
Interesting. China's small missile ships are allowing China's larger vessels to engage in "blue water" activities, so, while these vessels expand China's "reach", a dependence on small ships may prove a vulnerability. The region needs to know more about the small ship programs hosted by Taiwan, South Korea and Japan. What, by way of smaller vessels, can these navies offer? How good are the region's Air Forces in hunting and destroying smaller craft?
In short, does China's love of small craft contribute to regional stability or not?
Look.  China's Navy is still awfully small. And with China not exactly on friendly terms with it's neighbors (who, on the part of Japan and South Korea, are building some very modern navies), the PLA(N) has a lot to do to secure China's maritime borders.  It is a little bit of a stretch to think all this new floating hardware is aimed exclusively at the U.S.A.