Archive for the 'Shipbuilding' Tag
Rhetoric supporting the new carrier launch system, EMALS, was on full display during CNO Roughead's March 11 testimony before the House Appropriations Subcommittee on Defense. He said:
"…Among the new technologies being integrated in these ships is the Electromagnetic Aircraft Launch System (EMALS), which will enable the carrier's increased sortie generation rate and lower total ownership costs. EMALS is on track for an aircraft demonstration later this year and is on schedule to support delivery of CVN 78 in September 2015…"
But, according to Inside Defense (subscription required), reality, in the form of a question from Rep. Norman Dicks (D-WA), forced SECNAV Mabus to confirm that the EMALS program had experienced an ugly test failure. What happened, exactly? This:
"…According to a Navy official, on Jan. 12 during a test at Joint Base McGuire-Dix-Lakehurst , NJ, the shuttle was commanded to move forward 10 meters, but instead reversed direction and slammed into the catapult's deck tensioner, causing damage to the system's hardware. Damage to the armature and the tensioner was non-reparable, though a motor block and the end of the system's trough, which also suffered damage, were salvageable. There were no injuries…"
That's quite the mishap…But, never fear, they tell me this high-profile program is all still on schedule. Right?
Right?
I like EMALS, and I love this sort of high-profile challenge…and good poker games, too.
But…where's the hedge? Did we start production of the Next-Gen Ford-class too early? If America needs to start figuring out how many MV-22s fit on the new LHA(N) amphibian, isn't that something policymakers should know and discuss? And if the money that EMALS will, in theory, save (via reduced wear and tear, lower manning and so forth) gets eaten up by developmental costs and reliability SNAFUs, then, shouldn't there be a debate on the strategic (and/or tactical) merits of this system?
Is a higher sortie generation rate and consistent high-power cat shots THAT important?
Is the Navy having some problems getting along with shipbuilder Northrop Grumman?  Defense media overlooked some stern words–and a hand-carried letter–Congressman Gene Taylor (D-MS) delivered to SECNAV Mabus after a February 24 hearing on the Navy's FY 2011 National Defense Authorization Budget Request.  Here's a rough transcript–of what sounds somewhat like an ultimatum:
"…Secretary Mabus, before you leave I'd like to hand-deliver to you a letter from myself, Senator Cochran (R-MS) and Senator Wicker (R-MS).  A similar letter was delivered to Northrop Grumman last week.  And it basically says that Congress has authorized and appropriated five ships…and yet, for whatever reason, Northrop and the Navy have not come to terms and gotten those ships started.

The admiral has made an excellent case that he needs a bigger fleet.  The Congress has already responded to that by authorizing and appropriating the money. We need to get going. And so I don't know if it's Northrop's delay. I don't know if it's the Navy's delay. But there is a delay that needs to be addressed and I'm going to ask you to take a look at that. But again, thank all of you for your services and with that, this meeting is adjourned…"
What's the deal here?  Why all the foot-dragging? Is the delay just focusing on Northrop's Gulf Coast yards?
At any rate, an exchange of letters is certainly not the sort of thing that happens when all is, ah,  going well in the shipbuilding department.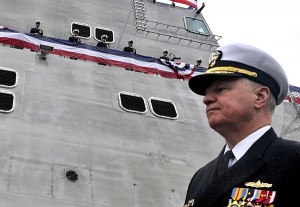 As the Littoral Combat Ship program faces an abrupt down-select to a single hull, the Navy must brace for some nasty litigation. The spurned party–either Lockheed or General Dynamics–will be poised to contest the selection process.
With little in the way of "real world" operational data available, advocates of either platform will have ample grounds to poke holes in the down-select's Record of Decision (ROD).
If the Air Force's $35 Billion dollar tanker down-select is any guide, this LCS down-select is going to be ugly.
It is a pity. With more resources, the Navy would have been busy building and evaluating two separate LCS squadrons, and the down-select years away.
Looking back, the outline for a "data-heavy" LCS down-select was put forth in 2004. Read Undersecretary of the Navy Robert Work's essay from 2004, "Naval Transformation and the Littoral Combat Ship," where he says:
"…the Navy would be advised to build at least two different operational prototypes. However, choosing two different prototypes will not completely resolve many of the operational issues. It seems clear that only by testing squadron prototypes will the Navy be able to fully resolve some of the outstanding issues surrounding the LCS and its support structure…"
Work isn't going to get a firm test between LCS-1 and LCS-2 squadrons. By the time all four ships are available, the decision will be made.
That's a little scary. Aside from the challenge of making a down-select decision with little data, the accelerated selection risks distorting LCS-1 operations.
I fear that the rapid down-select puts a lot of pressure on the deploying LCS-1 sailors to treat their platform gently. The opposite should be the case–the first model "Flight 0″ platforms must be run hard, beaten up and, quite simply, broken. Broken early and often.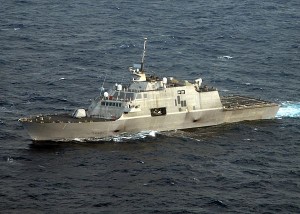 Put bluntly, the Navy won't learn much if problems are covered-up and the ship treated like a museum piece. (As an example, aside from keeping the production line going, what, exactly, did two years of babying the USS San Antonio (or hiding INSURVs) do for the LPD-17 program? I mean, how's that USS New York treating ya'll?)
With enough hulls to form two LCS squadrons, the pressure to "take care of the showpiece" gets reduced. But with no squadron to share the risks, the Navy's risk-averse chain-of-command needs constant reminding (along with some additional public top-cover and, on occasion, some prodding) that the first two LCS are test platforms–nothing more, nothing less. Break 'em and–for goodness sakes–tell folks you're gonna break 'em!
And, just as an aside, barring obvious dereliction of duty, no penalty should be inflicted upon crew and commander, who, in the event their platform is not up for the mission at hand, goes and breaks the vessel.
That said, even when the Navy selects either LCS-1 or LCS-2 as the "LCS-of-record", and the lawsuits get settled, I'd posit that the LCS down-selection still won't be done.
Robert Work will get his squadron prototypes–and, again, in a couple of years, as the fiscal picture gets grimmer, the pressure to compare the LCS with the JHSV is going to be irresistible.
And that, simply put, is going to be an interesting battle.
My thoughts? If LCS-1 wins the initial down-select, the JHSV catamaran becomes a viable platform. (And given the minimum-cost focus of the LCS RfP–LCS-1 may well end up winning the LCS contract.) In that case, the JHSV gets a wide-open niche to go and exploit. Eventually, we'll see a contest between a LCS-1 combat specialist and a do-anything up-gunned utilitarian JHSV.
It'll be fascinating–and yes, as one of the first JHSV cheerleaders, I'm biased–but, as the civilian-crewed JHSV gets encumbered by more "combat-lite" duties, I can't help but get a little anxious. Call me crazy, but I just don't believe our model of using civilians for combat duty is gonna work very well. (Watch for more studies…)
If the LCS-2 wins, I don't see why the Navy might want to keep the JHSV production line going for anything other than for risk-reduction. The JHSV and LCS occupy a similar sort of "truck-like" niche (Or, to use a "Workism", their "boxes" are pretty similarly-sized). A civilianized LCS-2 is just a trimaran JHSV, right?
Look, a civilianized model of the LCS-2 is available right now. Rent it. If the LCS-2 hull-form works for the Navy, then wouldn't it be appropriate to leverage savings that would stem from using the same hull-form, similar plant, identical layout and matching broad-based operational template?
If we use the same hull-form for both the JHSV and LCS-2, would it not be super-easy to, if necessary, swap out civilian crews? As the line between "combat" and "combat support" continues to shrink, it might be really useful to have the ability to seamlessly swap out civilians with a combat-ready Navy crew.
All in all, it's going to be an interesting year. (And, just FYI, I'm betting the LCS-1 breaks on its upcoming deployment.)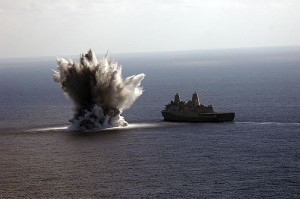 Notice how stories detailing the LPD-17 powerplant "crisis" focus on LPD-17, 18 and 21?
Notice how the reporting, in passing, note that LPD-19 and 20 encountered similar engine problems, but, after maintenance, both seem to have dodged a bullet?
Well, not so fast…it looks like the USS MESA VERDE (LPD-19) had substantive powerplant issues before her shock trials (back in August-September 2008)–USS MESA VERDE suffered a "catastrophic" mishap even before LPD-17 failed in the Gulf.
Read the Defense Department's December 2009 Operational Test and Evaluation Report closely:
Catastrophic casualties recorded prior to the Full Ship Shock Trial in LPD-19 and during LPD-17's deployment revealed serious fabrication and production deficiencies in the main lube oil service system."
What happened there? IF the LPD-19 event was, in any way, comparable with the November 2008 LPD-17 failure (where the ship was sidelined for weeks), then why wasn't the LPD-19 failure widely broadcast?
The LPD-19 incident predates the LPD-17 incident. Why, then, in the light of such a catastrophic failure, was the LPD-17 sent out on deployment with no fixes in sight? Were the LPD-19 problems kept quiet…or, to be cynical for a moment…Did the LPD-19 failure occur in close proximity to the Navy's announcement that the LPD-17 reached IOC in May 2008?
Unless the Operational Test and Evaluation Report is detailing a completely different failure, the Report contradicts Jay Stefany, the Navy's LPD-17 program manager. Navy Times' Chris Cavas recently reported:
"Stefany said the problems were a recurrence of similar issues discovered about a year ago on the Mesa Verde (LPD 19) and Green Bay (LPD 20). "The ships were down for a number of months," he said, and stainless steel shavings were discovered in the lube oil."
Seems like LPD-19–at a minimum–failed about a year an a half ago…
Along with that interesting note, the Operational Test and Evaluation Report emphasizes the entire Class is experiencing a range of other failures/problems–problems that go far beyond welding or engine plant design. The platform is, at best, infirm.
First–and unsurprisingly–the engineering is problematic:
"Reliability problems associated with the Engineering Control System (ECS), including frequent failures and high false alarm rates, and the electrical distribution system, including unexplained loss of service generators and the uncommanded opening of breakers, revealed shortfalls in manning and training to support sustained manual operation of the plant."
Communications are wobbly:
"…reliability problems with the SWAN and the Interior Voice Communications System degrade command and control and are single points of failure during operations."
And, of course, the amphibious basics ain't good, either:
'Reliability problems related to well deck ramps, ventilation, bridge crane, and Cargo Ammunition Magazine (CAM) elevators detracts from mission accomplishment and reduces amphibious warfare suitability."
Add in issues with the LPD-17′s ability to produce chilled water, there's also a long laundry list of problems with the LPD-17 Class SSDS, the RAM system, radars and gun interface. Combined, those failures limit the LPD-17 Class, opening these ships to attack.
But those problems were covered last year, over here.
The continued vigorous defense of these platforms by Marines and other LPD-17 boosters simply stuns me. Why are we building LPD-17s if the ships are not functional?
Is time to stop work on these things?  What's the going opinion?  Do tell!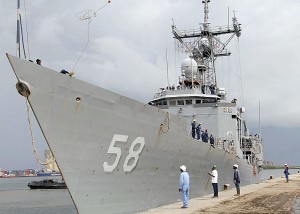 Given that many of the anti-Littoral Combat Ship (LCS) crowd have adapted the FFG-7 Oliver Hazard Perry Class Frigates as a sort of "alternative" to the LCS (a legacy shipbuilding program that, in the opinion of the anti-LCS crowd, was everything the LCS program is not), a nice dose of history might be in order.
Those who now love the FFG-7 program probably don't remember that the FFG-7, in its early days, was the LCS of the Seventies.
Don't believe me? Here's an excerpt from a June 1977 paper entitled "The U.S. Sea Control Mission: Forces, Capabilities, and Requirements," detailing criticism leveled by, back then, the trendy-minded, well-heeled anti-FFG-7 crowd. Read the passage.  It should sound familiar to anybody who has sorted any amount of anti-LCS agitation:
"The FFG-7 program has met with considerable criticism in recent years on several accounts. It has proved far more costly than originally planned: estimates of its unit cost rose from about $65 million to $168 million in constant dollars in just three years. At the same time, serious questions have been raised about its capabilities. Critics claim that the FFG lacks firepower and redundant sensors for operations in high-threat areas; that its single screw propulsion renders it vulnerable to attackers; that it lacks size and capacity for low-cost, mid-life modifications. Other critics have suggested that the FFG is too slow for conducting ASW operations against modern Soviet submarines. The House Armed Services Committee was particularly critical of the FFG program…"
That's quite an inauspicious beginning…But today, more than 30 years after introduction, FFG-7s remain efficient enough for modern Navies to operate–and valuable enough to upgrade.
Look closely at those cost estimates. Plug the first FFG-7 cost estimate into an inflation calculator and the result is $230 million–almost exactly the same amount of money the Navy first programmed for the LCS.
Shove that final 1977 FFG-7 cost estimate of $168 million into an inflation calculator, and the end result is $595 million in 2009 dollars. Today, the LCS-3 and 4 cost $548.8 million and $547.7 million respectively. If one of the two LCS designs functions as advertised–and are hiding no major flaws–then we've got a pretty interesting higher-end FFG-7-like replacement platform.
That bit of context might give LCS critics something to think about. Of course, even with the "FFG-7 was/is better than the LCS" platform knocked about a bit, the debate over whether or not a less costly ship model might serve just as well as an LCS remains valid…and valuable.  So have at it!
Stormy times ahead for Northrop Grumman's Gulf Shipyards and Navy shipbuilding.
First, news broke today that LPD-17 and LPD-21 are–even though they're desperately needed for Haiti service–now "sidelined," according to Insidedefense.com. 
The USS New York, less than a month from commissioning, has a bent crankshaft.  Until that crankshaft is repaired LPD-21 will only be able to use three of four engines.  The ship won't be able to get underway until next month because two engines need to be repaired.
No news yet on the prognosis for LPD-17.  It is now in a Virginia shipyard.
LPD 19 and 20 suffered oil contamination problems (a potential precursor to bearing wear and crankshaft issues) earlier, but the Navy seems confident they're OK for now.  LPD-18 seems OK.
What are we going to do with the LPD-17 program?  Things were looking up.  Last year, Undersecretary of the Navy Robert Work, in his 2009 Naval White Paper, wrote "after a troubled start, the LPD-17 program appears to have finally found its sea legs (pg 78)."  Just how close-held was this issue?  And did the failure to promptly disseminate news of LPD-17 problems derail the promulgation of good policy?
Navy Times reports even more bad tidings:
"Inspectors are rechecking every pipe weld aboard every ship built in the last several years at Avondale, La., or Pascagoula, Miss., including destroyers and small- and big-deck amphibs, after discovering so many problems that all pipe welders and Navy inspectors at both yards had to be decertified and then recertified to work on ships."
Welding issues appear to plague many vessels built at the Gulf shipyards.  DDGs, LHD-8, every LPD…(No news yet on the Legend Class Coast Guard Cutters) suffer from about a 10-15 percent incidence of thin welds.  We'll find out more over the coming weeks.
So, in short, we have a serious problem in shipbuilding (and shipbuilding oversight) in the Gulf, and a potentially serious design problem with the LPD-17s engines.  I'd like to see some accountability here, but, in all honesty, I expect the folks who approved the LPD-17 engine designs will probably get some kind of award for helping create a new means to discover the bad welds…
At least we can all sit back and watch as different parts of the navy's shipbuilding community desperately try to shift the blame for this current fiasco onto somebody else.
With this, the LCS-1 problems and the EB sub welding issues, it's little wonder SECDEF Gates kept the Navy from testifying at the Jan 20 House Armed Services Committee meeting on Naval Force Structure! 
For those who don't know, HASC's Seapower and Expeditionary Forces Subcommittee Chairman Gene Taylor's primary constituency base is from the Northrop Grumman Gulf Shipyards, so we can, as this story evolves, expect some fireworks as Congressman Taylor scrambles to protect his parochial interests.
Like any evolving story, it'll take time to get all the facts.  Consider this merely a means to start a discussion…
Sure, he was talking about fuel consumption – but I found this nugget coming out of NAVSEA's senior leadership refreshing.
… I don't think that there was a fully informed decision process arrived at in the development of LCS …
You should read the whole thing for the correct context of the quote above by Rear Admiral Eccles, Deputy Commander for ship design, integration and engineering at NAVSEA. It is a good start. Perhaps we can discuss survivability in the littoral next. Maybe.
Also, as for Galrahn's question from yesterday,
So why is it the US Navy surface strike group lacks the capability to establish forward deployed sea surface capabilities to dominate the sea against the 21st century fishing profession of Somalia?
Part of the answer lies with the fact that numbers matter. When you have a limited budget, you can only have a certain number of hulls. If you make the decision to create a Tiffany Navy, then you have to accept the second and third order effects from that decision. If you also follow the mirage of the Cooperative Maritime Partnership (nee 1,000 Ship Navy) as well – then do not be shocked when the National Command Authority wants something done by the Navy we have to hobble together an inadequate excuse …. err …. answer.
Newer Entries »