Archive for December, 2008
As the former new year draws to a close and we remember those who have died, let us recall Samuel Huntington and his 15 year old essay "Clash of Civilizations":
WORLD POLITICS IS entering a new phase, and intellectuals have not hesitated to proliferate visions of what it will be — the end of history, the return of traditional rivalries between nation states, and the decline of the nation state from the conflicting pulls of tribalism and globalism, among others. Each of these visions catches aspects of the emerging reality. Yet they all miss a crucial, indeed a central, aspect of what global politics is likely to be in the coming years.

It is my hypothesis that the fundamental source of conflict in this new world will not be primarily ideological or primarily economic. The great divisions among humankind and the dominating source of conflict will be cultural. Nation states will remain the most powerful actors in world affairs, but the principal conflicts of global politics will occur between nations and groups of different civilizations. The clash of civilizations will be the battle lines of the future.
***
On both sides the interaction between Islam and the West is seen as a clash of civilizations. The West's "next confrontation," observes M. J. Akbar, an Indian Muslim author, "is definitely going to come from the Muslim world. It is in the sweep of the Islamic nations from the Meghreb to Pakistan that the struggle for a new world order will begin." Bernard Lewis comes to a regular conclusion:

We are facing a need and a movement far transcending the level of issues and policies and the governments that pursue them. This is no less than a clash of civilizations — the perhaps irrational but surely historic reaction of an ancient rival against our Judeo-Christian heritage, our secular present, and the worldwide expansion of both.
While you are at it, General Victor Krulak's 1969 speech to the U.S. Naval Institute has some pith to it -"What in the hell has happened to the United States of America?" he asks.
Something is certainly wrong. We're a nation with resources beyond measure and form of government that has brought us to historic eminence. But we're a nation in trouble. What has happened to the United States of America? We see thousands of citizens whose stock in trade is disunity and lawlessness, thousands who preach hatred for our government system and clamor for free speech for themselves, and thousands who insist that their country owes them a living.
***
What has become of the United States of America?

Men who cry out for black power or white power or brown power, with never a word about truth power or the power of a free nation. Elementary school teachers appear to be far more obsessed with sex education but are quite willing to send on youngsters who don't know the difference between the Declaration of Independence or the Constitution or the Bill of Rights and who don't care.
***
National legislators, professors and students who condemn our forces fighting for their lives in combat for fighting too hard; who insist that the route to greatness is somehow to be found in surrender; who are prepared to risk our Nation's destiny on the Utopian gamble that by weakening ourselves we can somehow enhance the likelihood of peace around the world.
***
…What is wrong with the United States of America?

Let me give you my judgment. I believe it has to do with . . . a passive unwillingness on the part of the vast bulk of our people to stand up and be counted; to fight for what is right and to correct what is wrong.
***
. . .Today we see an extraordinary lack of purpose and an even greater lack of resolution in our people. While the majority of Americans remain silent, we find vocal minorities of our people exerting inordinate – and often dangerous – influence on our country's affairs.

Having no visible frontiers to conquer, they grope around for emotional causes. They find satisfaction in deprecating our own progress, ignoring our own strength, attacking our own institutions, while giving inordinate respect to the philosophy and conduct of our potential enemies. And they are being allowed to get away with it by a passive majority.

The fact is, this is a great country. Our system . . . is a good system. It's the success story of the modern age. Nowhere, in all the nooks and crannies of history, is there a record of anything better. anything as good, let alone better.
***
What is needed – what is needed desperately today – is for the great mass of silent America to come out of its shell and acknowledge publicly and openly what they already know – that ours is a great, a dynamic and a successful country, that the ragings of those who condemn our system are just plain false.

Now, above all, is no time for people whose work has brought our country to greatness to be silent or uncertain.

Over a generation ago, Calvin Coolidge said, "Doubters do not achieve, skeptics do not contribute, cynics do no create."

The 20th century is certainly a battlefield. Of this there can be no doubt. And to win the battle of the 20th century, our country can afford no doubters, can afford no skeptics, and no cynics.
While in his speech, General Krulak was referring to the threat posed by totalitarian states and he had not seen yet the fall of the Soviet Union nor China's "new way", his call to defend American/Western values sounds the same warning bell that Professor Huntington was ringing.
And the same warning perhaps urged by Burke,
"All that is necessary for the triumph of evil is that good men do nothing."
LtGen Victor (Brute) Krulak's passing means the loss of yet another legend, a giant of his time who, like Col Ripley and General Barrow, grew in stature as his deeds were viewed in the context of our time as well as his. In a December 1969 speech, General Krulak asked the below question, with the accompanying remarks which represent a portion of his speech. We would do well to ask this question again, and consider his observations four decades later.
What in the hell happened to the United States of America?
Something is certainly wrong.We're a nation with resources beyond measure and a form of government that has brought us to historical eminence.But we're a nation in trouble.What has happened to the United States of America?We see thousands of citizens whose stock in trades is disunity and lawlessness, thousands more who preach hatred for our governmental system and clamor for free speech for themselves, and thousands who insist that their country owes them a living.
What has happened to our country? Clergymen who use the pulpit to promote political change when they ought to be addressing themselves to promoting reverence for our Lord.
Magistrates who so dedicate themselves to protecting the rights of accused individuals that they undermine the rights of law-abiding citizens or of the community or of the nation.
What has become of the United States of America?
Men who cry out for black power or white power or brown power, with never a word about truth power or the power of a free nation.Elementary school teachers obsessed with sex education but are quite willing to send on youngsters who don't know the difference between the Declaration of Independence or the Constitution or the Bill of Rights and who don't care.
College professors who boast openly about how they are revolutionaries, citizens who can somehow accept complacently the desecration of our flag on a warship in the sea of Japan, on a fishing boat off the Peruvian coast; cynics who think it's out of fashion to be proud of their country or to fight for it or to sacrifice for it.
Young people who are contemptuous of this Academy and all institutions like it, who demand that ROTC be abolished, that there be no military-related research on a campus, that military recruiting in universities be ended, and who encourage desertion from our Armed Forces.
National Legislators, professors, and students who condemn our forces fighting for their lives for fighting too hard; who insist that the route to greatness is somehow to be found in surrender; who are prepared to risk our Nation's destiny on the Utopian gamble that by weakening ourselves, we can somehow enhance the likelihood of peace around the world.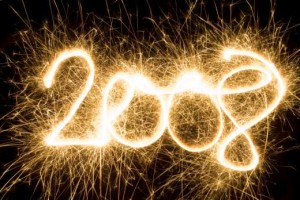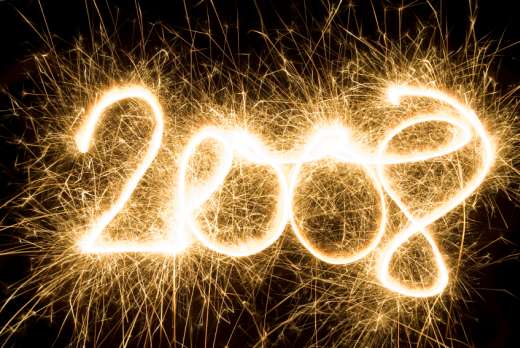 As 2008 comes to a conclusion, the time has come to reflect on naval activity for 2008 and offer some reflection regarding the most important developments of the year. My list will undoubtedly leave out activities that others believe are important, and will also undoubtedly include items that many don't believe belong. So be it, I am but one observer who looks at periods greater than one year at a time as a practice, but note that in certain years specific actions, events, activities, and items occur that carry with them long term effects that may or may not be immediately evident.
5) The X-47B. No single military technology introduced in 2008 has the potential to radically reform an entire military function like the X-47B has to reform Carrier aviation. The X-47B becomes the prototype for changes yet fully analyzed regarding how naval forces will attack and defend the from the sky over the seas in the 21st century. The ability to add range, payload, and endurance to sea based strike aviation will enhance the most important military capability of naval forces today, and has the potential to overcome many of the limitations of carrier air power the US Navy has dealt with since WWII. The X-47B is far from a sure thing, it must overcome challenges both technical and political to be fully realized, and even then the current platform cannot replace the human being as the decision maker of life and death. However, it is a step towards the future, an evolution towards a model that can potentially advance the US Navy beyond the latest generation of capabilities challengers are producing, and with that the X-47B offers the potential of a capability well worth the time and investment.
4) International Anti-Pirate Armada. The desire to build coalitions and shared security initiatives has long been a purpose of the modern US Navy, and the slow but deliberate development of an international armada off the coast of Somalia to fight piracy has been nothing short of brilliant to observe in formation. Big ideas start with small implementations, and the big idea of shared security responsibility from responsible global economic powers in the form of combating piracy in unison may seem like a small thing, but it is a big step towards better things. The initiatives that fail usually do so by attempting to do too much at once, beyond the means and political will of participants. The international anti-piracy armada on the other hand demonstrates that starting from a small foundation and working up produces positive momentum, and has the potential to be the foundation for similar shared security arrangements in the 21st century. The idea that one nation cannot do everything alone isn't unique to the United States, and is appealing to the global community that understands shared costs, shared risks, and shared ideals can be the foundation for shared responsibility against the shared threats to the global commons.
3) Satellite Shootdown. While politically, both domestic and international, this event was handled with the delicacy of a bull in a china shop, at the technical and professional level this event represents everything that is right in regards to commercial – government – military cooperation. Using the best and brightest throughout industry and government, the US Navy was able to make the technical adjustments and calculations necessary to utilize a weapon system to perform a mission the weapon system was never designed for, and overcome enormous challenges to hit a target only a few feet wide moving at 13,000 mph above the atmosphere of the planet. Oh by the way, it was a direct hit. This represents the very best example in 2008 why evolution using existing technology is always the most productive model for developing new capabilities at lower cost, and while the Navy gets the praise, credit the private sector workforce in the industry as well for the brilliant demonstration of national science and technical power.
2) Soft Power Deployments. While major naval battle groups to the Middle East still capture the attention (and imagination) of political rhetoric, the real demonstration of national naval power that caught my attention this year was the many proactive humanitarian deployments globally. Whether it was the USNS Mercy (T-AH 19) Pacific Partnership deployment, the USS Fort McHenry (LSD 43) African Partnership Station Deployment, USNS Grasp (T-ARS 51) for the Navy Diver-Global Fleet Station 2008, USS Boxer (LHD 4) and USS Kearsarge (LHD 3) for the Continuing Promise 2008 deployments, or the various other deployments including the USCGC Dallas (WHEC 716), HSV Swift, and the task orders of major assets that often get overlooked, like the USS Ronald Reagan (CVN 76) following the Tsunami destruction in the central Philippines. While the response by naval forces for humanitarian support is nothing new, the dedication and focus of the mission profile as a major part of national naval power, and in particular the intentional deployment for that function, is relatively new. 2008 demonstrated that this expanded capability of national soft power offers long term promise of how military forces can support joint agency national power, a banner year for a refocus towards the use of true national power with military forces in ways other than the need to actually use force to achieve strategic ends.
1) Hybrid Sailor and Train To Qualify. The single most important development in the US Navy in 2008 is the Hybrid Sailor and Train to Qualify program realized with the Littoral Combat Ship. Even if the LCS platforms do not pan out, the Navy has made significant, perhaps revolutionary progress, by realizing the necessity and rewards of smarter, better trained, motivated sailors who are put in situations that require more responsibility yet more personal accountability. As volunteers who must meet qualification or be failed out of the program, it is hardly a surprise that Hybrid Sailors who qualify end up thriving in an environment of high expectations. I believe this often overlooked but critical change in philosophy of high expectations for sailors is the single most important long term improvement in how the Navy does business since the cold war. The model produces exactly the right foundation for long term benefits towards realizing highly trained small vessel crews able to support dispersed, complex networks of interconnected complex systems on several ships towards the ends of sustainable, distributed battle space presence and dominance. The long term benefits of Hybrid Sailors and the Train to Qualify program will reap rewards for the US Navy for decades to come, and in my opinion, will ultimately be reflected upon as the single most important and remembered evolutionary step towards a 21st century Navy.
Crossposted at Information Dissemination
No secret that the bloggers and web did a fine job of honoring my father upon his death. So, I hope you will all appreciate the post of the Naval Institute Blog Admin (me) with deep respect to Marine Corps General Victor H. Krulak and condolences to his family.
From Naval History Magazine:
The U. S. Naval Institute mourns the passing of Navy Cross recipient, strategic visionary and Naval Institute member Victor H. Krulak. Lieutenant General Krulak died in his sleep on the evening of December 29 at age 95.
Born in Denver, Colorado January 7, 1913, General Krulak graduated from the U. S. Naval Academy in 1934 and served as a "paramarine" during World War II. His remarkable heroism in leading a diversionary raid associated with the fall 1943 invasion of Bougainville earned him the Navy Cross and a Purple Heart. Widely credited for his role in fighting post-World War II attempts to abolish the Marine Corps as a separate service, "Brute," as he came to be known, went on to serve as a counterinsurgency advisor to the Joint Staff and to command Fleet Marines in the Pacific during the Vietnam War. His son, Charles C. Krulak, followed his father's footsteps to the Naval Academy and Marine Corps, eventually serving as the Marine Corps commandant.
One of Victor Krulak's lasting legacies is his Naval Institute Press epic First to Fight – a riveting insider's chronicle of the unique esprit de corps displayed by U. S. Marines on and off the battlefield. Alluding to the general's role in pushing aside arguments to do away with the Corps, Publishers Weekly called the book "the most complete account to date of the Marines' struggle for the 'right to fight.' " The texts' lasting value is evidenced by its inclusion over many years on the Marine Corps' Recommended Reading List.
In 2007, it was made required reading for all Marines. Explaining the decision, in the November 2008 edition of Proceedings, Commandant of the Marine Corps James Conway praised Victor Krulak's admonition that Marines "must see no mission as too dangerous, no notice too short, no task too humble." "Indeed," observed Conway, "the nation expects her Marines to roll out fast and hit hard on the other end, and this is what makes First to Fight the marquee title of the Marine Corps Professional Reading Program today."
In 2007, Defense Secretary Robert Gates praised Victor Krulak's service, noting that the general's life offered important lessons "about learning from the experiences and setbacks of the past, about being open to ideas and inspiration from whatever they come, and about overcoming conventional wisdom and bureaucratic obstacles thrown in one's path."
Though funeral plans are pending, it is anticipated a memorial service will be held at Marine Corps Air Station, Miramar in early January.
Via the Israeli Navy…. click here if the video doesn't work right.
More on the Typhoon stabilized gun here.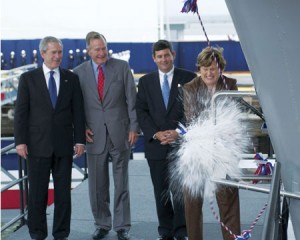 When the Navy responded to reports that the super-carrier George H.W. Bush (CVN-77) was to be commissioned before delivery, the Navy's announcement was imprecise mush. Here's what Navy Times reported:
Commissioning a ship before delivery, while rare, has happened before, the service said in its statement.

"The Navy has commissioned ships prior to delivery on at least 15 occasions. The most recent ship commissioned prior to delivery was USS Chicago (SSN 721) in September 1986."

The submarine Chicago also was built at Newport News, and was delivered 12 days after its Sept. 27, 1986, commissioning.
At least 15 ships? That frustratingly non-statistical statistic deserved some looking into…
So…A quick survey of the Naval Vessel Register offered up some data that could help the Navy sidestep the embarrassment of commissioning an undone ship (although commissioning a $6.4 billion-dollar ship that, with 97% of it coming in as "complete", still has something like $200 million dollars of work left to do…is, at best, a stunner…).
But extra details remove a bit of the sting from providing the President with his second "Mission Accomplished" moment.
Why? Well, the George H.W. Bush is not alone! At least 20 nuclear submarines were commissioned before delivery–with the USS Nautilus (SSN-571) leading the way, commissioned some seven months before delivery. As far as surface ships go, the carrier USS Independence (CV-62) offers the best parallel, commissioned three months before delivery (It was commissioned on 1/10/1959 and delivered on 4/1/1959.).
That's the kind of information commentators–of any political persuasion–can sink their teeth into. And it's the kind of information the Naval Institute should demand from Navy PR people. (Photo: Northrop Grumman Newport News)
It looks as if we are seeing the classic definition of "state-sponsored terrorism" in the Gaza strip. Hamas, increasingly close to Iran, is being subjected to Israeli air strikes and (as of this writing) a possible ground offensive by the IDF to root out and destroy the militant elements who have fired rockets and mortars into Israel.
Eventually, Iran (and Hamas) knew that Olmert would not stand by forever without action, and now that action has come. So, just what does Iran expect to gain from this situation? Here are a few ideas:
As in 2006, the fighting with Hamas will distract the world from Iran's pursuit of nuclear capability, and when the world discovers Iran's nuclear fait accompli, much of the Arab world can justify their inaction with the claims that Iran must be able to defend herself against Israel.
Iran's economy has been in deep trouble with the collapse of oil prices. Much of the expansion of Iran's military capability and ability to pay for nuclear technology (both supplied by Russia) depends on oil prices being much higher than current levels, driven down by world demand in the wake of the economic doldrums. This conflict between Israel and Hamas, and its potential second and third order effects, have driven oil prices to near $40 a barrel again overnight. More of the same would be fine with Iran. And the rest of OPEC.
Iran seems to be in the lead to whip up even more vitriolic anti-Israeli sentiment in the Muslim world. Will this allow Iran herself to have more sympathy among Middle Eastern countries previously cool toward her actions, particularly those actions in pursuit of nuclear capability?
What is also important to consider is the response of Iran's benefactor, Russia, to the situation in Gaza. The Russians have been very quick to issue a strong public condemnation of Israel. This, without any real public statement critical of Hamas and the rocket attacks into Israel. Keep in mind that a revival of higher oil prices would be of great benefit to Russia, whose economy is also in very deep trouble. An Iran with the the ability to pay for nuclear technology and military hardware from the Russians sweetens the pot even further.
What are your national defense predictions for 2009?
What's on your mind today?
This week's report of Russia's intention to dramatically increase production of several weapon systems as a part of the modernization of nuclear and conventional forces included the construction of 14 new warships. This comes on the heels of Russian warships making a highly publicized visit to Cuba following joint naval exercises with the Venezuelan Navy. This news, and the tone of Russian President Medvedev in his "State of the State" speech in the aftermath of the US Presidential elections, represents a clear and powerful statement of intent on the part of a resurgent Russia to challenge the United States as has not happened since the breakup of the Soviet Union.
China, meanwhile, has announced plans for obtaining an aircraft carrier for its rapidly expanding navy. Though the vessel will not, in the estimates of analysts, be ready for several years, such an announcement represents the continuation of a shift in China's naval strategy. The idea of a Chinese aircraft carrier is not new, having been attempted in fits and starts for the last couple of decades. On this occasion, however, the acquisition of a carrier represents a logical extension of China's vision for her navy's worldwide blue-water mission of protecting what a defense spokesman called "maritime rights and interests" of a globally-engaged economic powerhouse.
Though one is quite overt, and the other much more subtle, each of these two expanding maritime powers represents a serious and direct challenge to the United States Navy. Each country has expressed the desire for a "counter-balance" to what has been perceived as a fifteen year US monopoly on blue-water maritime power.

During those fifteen years, without a maritime adversary of note, the United States Navy has shrunk to levels which call into question its ability to meet with one major challenge, let alone two, in the blue-water maritime domain. While surface combatants of the US Navy are undoubtedly more lethal and capable in 2008 than those in commission in the 1990s, the decline in the number of warships, amphibs, and support vessels represents a reduction of the ability to project power and provide presence that has been the hallmark of the US Navy since the end of the Second World War.
At the conclusion of the Gulf War in 1991, the US Navy had in commission some 529 ships, a total that included 22 mine warfare vessels, 61 amphibious ships, and 112 auxiliary units, those unglamorous platforms so critical to any sustained land or naval campaign. Today, the US Navy has fewer than 290 ships in commission. Of these, the numbers of mine warfare vessels, amphibious units, and auxiliaries, have shrunk to a fraction of the 1991 totals. Additionally, this diminished force is now devoid of any substantial naval gunfire capability so vital to successful amphibious operations. As older (sometimes "old" has meant "very capable but expensive to operate") ships are decommissioned, few new vessels with similar capabilities have replaced them.
It is necessary, then, to reassess former CNO Admiral Mullen's concept of the Thousand Ship Navy, an "international fleet of like-minded nations", comprised of warships, commercial shipping companies, and merchant vessels, willing to band together to promote and maintain Maritime Domain Awareness. This concept is a major pillar of US Global Maritime Strategy. Admiral Mullen described the Thousand Ship Navy "not as an acquisition program, but rather an operating concept". What the Thousand Ship Navy seems to be is an overly-optimistic operating concept that relies on other nations' participation in collective security to make the best of an inadequate acquisition program, a shrinking shipbuilding capability, and a badly flawed Naval Sea Systems Command.
The last decade has extended the 20th Century's dismal record of failure of collective security. The unwillingness of the UN to enforce its own resolutions with Iraq, and the lack of meaningful response to an Iran determined to obtain nuclear capability should have come as no surprise to anyone. However, the events of August, 2008 and Russia's invasion of Georgia provoked an interesting and disturbing range of responses that portend a new and different paradigm.
In the wake of Russia's invasion, NATO, once a bulwark against Warsaw Pact (Russian) domination of Europe, was incapable of any kind of consensus regarding collective action. German Chancellor Merkel's trip to St Petersburg to meet with Russian President Medvedev highlighted the unwillingness of many nations to antagonize a re-arming Russia, particularly a Russia pointing the proverbial energy pistol at their temples. The events in the Autumn of 2008 make clear that even pro-western nations will act in their own national, economic, and security self-interests rather than risk those interests through participation in collective action in defense of a threatened neighbor.
Toward that end, one must ask the question of just how willing the participants in this Thousand Ship Navy, both national and mercantile, will be when required to act on what America defines as maritime security requirements when that action would potentially place them opposite a Russia or China who can leverage economic or military advantage against them.
The multi-national effort to combat piracy in the waters off Somalia is often touted as an example of international cooperation that might be the model for the future of security cooperation on the world's oceans. This international cooperation as a model of the future is illusory, as at the moment the pirate activity furthers no participating nation's aims. What should happen when similar activity is being sponsored by Russia or China as they resurrect their considerable talents for fighting wars (and backing terrorists) by proxy, in order to further national interests or subvert the interests of military and economic rivals (the US)? This prospect is precisely the fear of many analysts who have watched events unfold. If traditional US allies are unwilling to face the Russians in Europe, what would make them, the key partners in The Thousand Ship Navy, more willing to challenge Russia or China on the world's oceans?
The US Navy at its current strength of 280-odd ships has been reduced to being barely adequate for the tasks at hand. Russia (very publicly) and China (quietly) have shown themselves to be willing to challenge US influence around the globe, well beyond their traditional spheres of influence. When confronted with a major maritime adversary who directly or indirectly challenges American strategic interests in a vital region of the world, the answer cannot be US reliance on a collection of other partners, military and commercial, whose capabilities and willingness cannot be counted upon when decisive measures are required.
To allow US naval strength to erode to the point where the assistance of such a Thousand Ship Navy is required to defend US interests or maintain security, is to abdicate this nation's defense to that same collective security model that has failed on each occasion since the end of the First World War. Such a state of affairs would have drastic consequences for the US, and for the Western world.
It is time to sink the Thousand Ship Navy, and replace it with a US Navy whose capabilities meet the requirements of its mission "to maintain, train and equip combat-ready Naval forces capable of winning wars, deterring aggression and maintaining freedom of the seas", in the face of any threat that currently exists or is visible on the horizon.
Our enemies, present and future, are watching.
« Older Entries