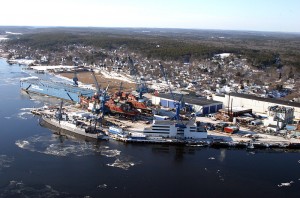 In reading through the blogosphere over the last year whenever a discussion of Navy shipbuilding costs pops up, I note the comments are sometimes filled with inaccurate estimates. Yesterday in proposing an idea for a $100 million littoral ship less than 1000 tons on my blog, I didn't mention that I hope that if we built such a ship, we could build the first in class for less than $200 million. I also didn't mention how much I hope the $100 million cost cap is achievable. The key word is hope. Why do I need hope?
Because I study history, and shipbuilding costs is a confusing subject with discussions often not rooted in cost reality. Design costs and construction costs towards lessons learned in new classes of ships are never cheap. There is a dirty little secret why so many people are concerned DDG-1000 and DDG-1001 will blow out the shipbuilding budget.
Of the nine first in class ships previous to LCS, four had overruns of greater than 100% (MCM-1, MHC 51, DDG 51, LPD-17), three had overruns between 40-60% (FFG 7, CG 47, LSD 41). Only two had overruns less than 20% (LHD 1 and VA 774/75). NONE came in lower than expected. The LCS-1 $631 million /LCS-2 $634+ million first in class ship cost overrun with the artificially low $220 million seaframe target is around 188%, which makes it the worst first of class overrun in 20 years. If you compare the cost overrun with the realistic but discarded target of $297 million, the overrun was still 113%. While 113% would make the LCS cost overrun comparable to the DDG 51's overrun of 110%, it is still over 100%.
This means of the last 10 ships built by the US Navy, five of the last 10 ships have had a cost overrun of greater than 100%. In other words, the DDG-1000 has a 50-50 chance of having a 100% or greater cost overrun on each of the first two ships, and a 20% chance of having an overrun of 155-160 percent. Said another way: there is an even chance the first two DDG-1000s will have overruns totaling a minimum of $6.4+ billion.
First in class ships are only part of understanding shipbuilding costs. A lot of people assume the SAR reports account for all the costs of a shipbuilding program. It doesn't always. In many cases individual systems programs intended for the ships are not calculated as part of the SAR report, but have to be included in the total ship cost because the ship requires the equipment that is specific to that ship. Some of this has changed, we now fund a lot of systems as part of a ship cost included in the SAR, particularly with SPY and VLS, but that wasn't always the case with rail launchers and older radar systems.
Earlier this year I got into a debate regarding LCS costs with Bob Work of CSBA. In those debates some numbers were provided for cost context, numbers produced by Eric Labs of CBO. CBO has all the historic cost data, and Eric isn't just a good source for the final tally of ship class costs, he is the best source for those figures and CBO is probably the only organization other than the Navy who has the exact numbers. Consider the average cost per ship of the last three small vessels built for the US Navy:
FFG-7 4000 tons cost $690 million in FY09 dollars = $172.5 million per 1000 tons

MCH 900 tons costs $251 million in FY09 dollars = $279 million per 1000 tons

MCM 1320 tons cost $262 million in FY09 dollars = $198 million per 1000 tons
Now compare to the LCS expected costs.
LCS 3100 tons cost $608 million in FY09 = $196 million per 1000 tons
$608 million = $550 million hull + $58 million module. $58 million is the average cost estimate of the combined 24 ASuW, 24 MIW, and 16 ASW modules costs / 64.
While the cost of the LCS is much maligned, it is an interesting detail that the LCS represents a more cost effective investment per ton than both of the minesweepers it is replacing, plus it can self deploy and conduct other missions besides mine warfare when forward deployed. However, using these numbers the LCS costs nearly $24 million more per 1000 tons than the Perry class frigate, and is neither built to the same survivability standard nor armed even remotely as well as the Perry was. It is going to be very interesting to see what the LCS frigate version costs Israel and Saudi Arabia should either purchase that model, because if either country sacrifices speed for weapons and survivability and is able to obtain a cost more comparable to the Perry class, the resulting discussion is going to be fascinating to observe (and participate in).
For comparison purposes, the Coast Guard is acquiring the new 350 ton Sentinel class FRC which will have a program cost around $44 million each. At that price, the Sentinel class cost per ton will be around $125 million per 1000 tons. Note the Sentinel class is a cutter, not a Navy ship, and is built to operate 2500 hours a year with a top speed over 26 knots. These metrics are excellent for a Coast Guard ship, but a Navy ship of similar size would require at least 5000 hours a year if it intends to make 6 month deployments.
So for those retired folks out there who love the FFG-7, to build a Navy littoral ship at the same cost standard of the Perry class at $100 million would result in a ~580 ton vessel. To build a 1000 ton ship as is being discussed in various places by the Navy and Marines, the cost would be around $172.5 million per vessel. Welcome to the expensive world of shipbuilding, where the historical record and actual costs of previous ship classes puts current programs into perspective.
From my point of view, it is easy to see why the Navy has become hesitant with so many new ship classes. LPD-17 was 160% over budget, while the first in class USS Virginia (SSN-774) was only over budget 10%. Considering the media hype regarding how expensive submarines are, that fact is often lost in the details. With a one in two chance the first two DDG-1000s could cost $6.4 billion each, twice as much as the $3.2 billion current price estimate, it looks to me like an even bet the third DDG-1000 funded in FY09 will not be built, and the funds will instead be used to pay for the cost overruns of the first two.