After watching the Navy struggle to employ their enormous 70,000 ton Mercy Class hospital ships in unimproved harbors (details here and here), I'm struck by a passage from a September 1937 Proceedings, in "The Fleet Hospital Ship" by Captain Lucius W. Johnson: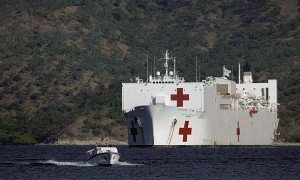 The size of the hospital ship must be based on a judicious compromise between the needs of war and those of peace, since during her expected life of 30 years or more she will be employed under both conditions. During the World War the Aquitania and the Mauretania (30,000 tons), the France IV (29,000 tons) and the Britannia (47,000 tons) were used as hospital transports but proved unsatisfactory for this purpose. They were too large to enter Alexandria, Malta, and other harbors, so patients had to be ferried out on smaller ships, requiring an extra handling and greatly delaying evacuation. A full load of patients was not always available, resulting in uneconomical employment. They required so much fuel and fresh water, it was difficult to supply their needs. Too great size would prevent the hospital ship from entering many harbors where an advanced base might be desirable.
In a service that values the newest things on the firing line, it's awfully easy to dismiss old stuff as "irrelevant" and "dated." But if you can, go visit a few dank sub-sub-sub basement journal store-rooms. there's a heck of a lot of wisdom hidden in some of the old journals. You just gotta find it.

Posted by
Defense Springboard
in
Naval Institute
,
Proceedings