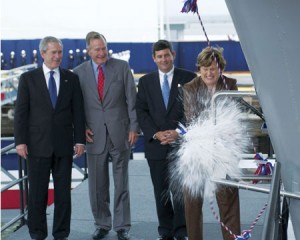 When the Navy responded to reports that the super-carrier George H.W. Bush (CVN-77) was to be commissioned before delivery, the Navy's announcement was imprecise mush. Here's what Navy Times reported:
Commissioning a ship before delivery, while rare, has happened before, the service said in its statement.

"The Navy has commissioned ships prior to delivery on at least 15 occasions. The most recent ship commissioned prior to delivery was USS Chicago (SSN 721) in September 1986."

The submarine Chicago also was built at Newport News, and was delivered 12 days after its Sept. 27, 1986, commissioning.
At least 15 ships? That frustratingly non-statistical statistic deserved some looking into…
So…A quick survey of the Naval Vessel Register offered up some data that could help the Navy sidestep the embarrassment of commissioning an undone ship (although commissioning a $6.4 billion-dollar ship that, with 97% of it coming in as "complete", still has something like $200 million dollars of work left to do…is, at best, a stunner…).
But extra details remove a bit of the sting from providing the President with his second "Mission Accomplished" moment.
Why? Well, the George H.W. Bush is not alone! At least 20 nuclear submarines were commissioned before delivery–with the USS Nautilus (SSN-571) leading the way, commissioned some seven months before delivery. As far as surface ships go, the carrier USS Independence (CV-62) offers the best parallel, commissioned three months before delivery (It was commissioned on 1/10/1959 and delivered on 4/1/1959.).
That's the kind of information commentators–of any political persuasion–can sink their teeth into. And it's the kind of information the Naval Institute should demand from Navy PR people. (Photo: Northrop Grumman Newport News)

Posted by
Defense Springboard
in
Navy