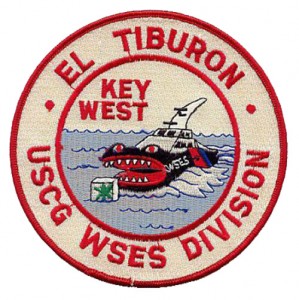 An announcement in Insidedefense.com that the M-80 Stiletto is returning to the Caribbean will, naturally, induce another round of "cool ship boosterism" in the milblogosphere. The Stiletto, a hi-tech platform, built by the M-Ship Company, made for ecstatic headlines last year, chasing a drug smuggler through shallow waters.
Time to temper that blogosphere enthusiasm.
Why? We've been here before. Anybody remember the Sea Bird Cutters (WSES-2)? Or the Pegasus Class Hydrofoil (PHM-1)? Outside of a small group of naval-gazing aficionados, you probably don't. They're all innovative vessels, a collection of strategic oddballs, doctrinal misfits and Big Navy orphans that ended their careers after a sunny Caribbean exile.
I'm hard-pressed to recall a single ship class/tech demonstrator that, once based or made "at home" in the Caribbean, made it out alive.
The Sea Bird Class is an interesting example. Built as oil rig crew boats, the 105 ton (lite) Dorado (WSES-1), Sea Hawk (WSES-2), Shearwater (WSES-3), and Petrel (WSES-4) were pressed into Coast Guard service for a Stiletto-like mission: Fast interdiction in shallow waters (Calling Eagle1!). A surface-effects ship (a 5 foot draft on cushion, 8 feet off), they were, just like Stiletto, an innovative hull form. And, like Stiletto, the vessels had teething problems. The Sea Birds suffered vibration issues, were slow, overweight, had maintenance issues and were pricey to operate. After 10 years, they were sent to layup in 1994, never to be seen again…unless you consider these to be a foundation for Norway's Skjold Class Patrol Craft.
Love 'em or hate 'em, these ships got the job done. Here's a bit from Petrel's history:
"Petrel is one of the most decorated patrol boats in the Coast Guard with forty three drug busts to her credit (more than any other patrol boat in commissioned service)…In addition to her extensive work in drug law enforcement, Petrel has made some dramatic rescues at sea: most recently the sailing vessel Tampawitha which was disabled off the coast of Cuba in 22 foot seas and 55 knots winds…Petrel was also recognized for her humanitarian efforts involving the steady flow of Cuban refugees and the mass exodus of Haitian migrants…"
Not bad for a five million dollar platform! But they didn't take. So, no matter how glo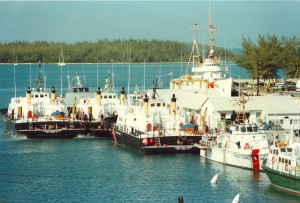 wing the headlines, don't bet the house on Stiletto.
But, that said, don't give up hope, either. With the region now under the close supervision of a Combat Command, SOUTHCOM, the Caribbean may, one hopes, become a sort of Skunk Works for new naval platforms and tactics, rather than a nice, out-of-the-way place to park some otherwise unwanted, career-damaging strategic afterthoughts. So buck up, tech lovers! Stiletto may yet buck the trend. (Photos: US Coast Guard)

Posted by
Defense Springboard
in
Coast Guard
,
Navy
,
Tactics