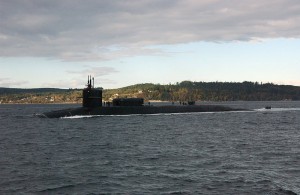 So, with only a few hours left in the Bush Presidency, what went well, Navy-wise? I think many of us can agree on a number of things that went, ah, badly, but…what Bush-era naval projects do you want to see continued in the Obama Administration?
Personally, one of the things that went right for the Bush Administration was the Trident SSBN conversion to SSGN. That conversion, shifting a Trident-missile carrying SLBM sub into a combined SEAL-Taxi and Cruise Missile carrier, was relatively cheap (given the alternative of shedding a high-value hull with a lot of life left in it), offers the Navy some new insights on operating an arsenal ship, and gives DOD a nice test-bed for new tech. It isn't a perfect platform, by any means, but having 16,000 tones of sub around to play with will be darned useful.
What fascinates me is that the converted Tridents are being shopped about as one of the few positive examples of SECDEF Rumsfeld's "transformation." Tom Donnelly on the pages of AFJ:
"And some of his signal successes, such as the conversion of Trident submarines into stealthy, cruise-missile-laden "arsenal ships," were relatively modest expenditures."
Or Robert Kaplan, in the Atlantic:
"Against Navy resistance, he led the effort to refit ballistic-missile submarines with SEAL delivery vehicles in place of Trident nuclear warheads, to make it easier to land special operators on beachheads."
Good lord. That's not transformation…it is just the evolution of a proven platform. We've used old Boomers as SEAL-taxis ever since SALT I forced the retirement of Ethan Allen Class Polaris boats!
In 1984 and 1986, the John Marshall and Sam Houston were converted and served until 1992. The Lafayette Class SSBN conversions, the Kamehameha and James K. Polk served in the SEAL-carrying role from 1992-3 until 2002 and 1999 respectively. Heck, the Kamfish was useful enough to keep in service for 37 years–a service record that should, by itself, be enough evidence that the SEAL conversions/SSN transports were, ah, liked. And now, with the converted Tridents, we've more than doubled the displacement and kept the SEAL/SOF contingent at 65 (give or take). That's a lot of extra space–and a lot of power–for all kinds of nifty goodies.
As far as transformation goes, these platforms will be as transformational as our leadership–and the stuff we put in them–permits. With that, my friends, these platforms will lead to the kind of change we can believe in.
So what else went well? What Bush-era naval projects/initiatives should be kept on in the Obama era?

Posted by
Defense Springboard
in
Navy
,
Policy