I routinely receive "Two-and-a-Half Minute" presentations from various Coast Guard programs at our weekly All-Flags briefing. I thought readers of the USNI Blog would find this week's topic particularly interesting. 
The Cooperative Maritime Strategy states:
…maritime forces will be employed to build confidence and trust among nations through collective security efforts that focus on common threats and mutual interests in an open, multi-polar world. To do so will require an unprecedented level of integration among our maritime forces and enhanced cooperation with the other instruments of national power, as well as the capabilities of our international partners. Seapower will be a unifying force for building a better tomorrow.
One way we are doing this in the Coast Guard, working closely with the DOD and DOS, is through our Foreign Military Sales (FMS) program. Through FMS we:
Build partner capacity

Gain access and influence

Improver interoperability and standardization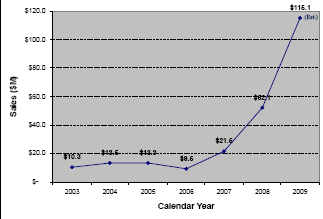 This is the Cooperative Maritime Strategy in action! 
The FMS program is currently running 32 procurement projects valued at $96.8 million. This is nearly a three-fold increase in dollar value since 2006! Since its establishment in 1997, the program has delivered 201 vessels with another 88 pending.
The maps below show the strategic reach and impact of this effort, and these are not all inclusive. Other nations receiving FMS vessels include several Caribbean Island nations(9 vessels), Central America(13), Bangladesh (21), Pakistan(5), Philippines(3), and Sri Lanka (1). The sales and deliveries are closely coordinated with our international training program and delivered as a "Total Package." This includes, spare parts, documentation (pubs and manuals), as well as training.
The FMS program marries international engagement with good stewardship. By increasing the customer base of a specific platform we reduce the risk of our acquisition by achieving economic order quantities and stabilizing production rates. This particularly valuable as we progress with our recapitalization program. We are currently assisting Mexico in procuring the new CASA Maritime Patrol Aircraft and there is strong interest from several nations in South America, Africa and Asia to purchase our new Response Boat – Small, Response Boat- Medium and patrol boat platforms.
Just one more small but significant way the Coast Guard is working to do its part…
Related posts from iCommandant:
Dealing with Piracy — What is your Endgame
Counter-Drug Symposium — Transnational threats that require transnational solutions

Posted by
TAllen
in
Foreign Policy
,
Homeland Security
,
Maritime Security
,
Soft Power
Tags:
Coast Guard
,
Commandant
,
Cooperative Maritime Strategy
,
Thad Allen