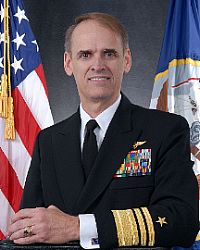 There's been some speculation out there about the Electromagnetic Aircraft Launch System, or EMALS, the transformational catapult system the U.S. Navy is trying to put on the Ford Class Carrier. One of my fellow Navy bloggers is out there claiming EMALS is "a failure, and nobody is really sure what to do".
That may well be the case, but since there's precious little fact to be condensed from the RUMINT now flying around out in the blogosphere (read the comments), I figured it'd be nice to find some kind of official/semi-official statement–anything that might shed some light on the subject.
It just so happens that VADM Thomas J. Kilcline, Jr., Commander, Naval Air Forces, addressed EMALS a few days ago, and his view was…interesting. Read it! Here's a rush transcript (errors are my own) of VADM Kilcline at WEST 2009:
"…The transformational aspects of CVN 78 and that class of aircraft carrier, one of the major parts of that transformation is our ability to generate sorties–a large number of sorties–and we find our catapult systems we have today are somewhat limited after they fire and fire and fire. Especially high-energy shots. High-energy shots are heavyweight aircraft that require either a lot more wind over the deck or a lot more power behind them.

So EMALS was a natural transformational move to "the next thing" in addition to the SPY-1 like radar system in the tower of the aircraft carrier, many more elevators to move things around, a smaller island to have more space for airplanes and to refuel and rearm, it was those catapults that were going to get us off the front end. 

EMALS is currently in Lakehurst, it's in the ground, we brought a bunch of loads on it in a full-sized sim and it wor–not simulator but actually a generator running a load–now we're putting it into the ground to how it's going to work there.

I talked to somebody about this earlier, and see if you can follow me. We had 97 aircraft carriers after World War II, and in one of those 97 aircraft carriers we decided to cut a trough and put a hydraulic cat in so we could put 6 more airplanes on the fightdeck. That allowed us–because we didn't have to do deck runs–to move airplanes a little farther forward.

We pumped a couple off and I'm sure the first guy who took the first hydraulic shot was kinda wondering what was going to happen, but he made it off the front end. Only one aircraft carrier had to be tested–one of 97. Fairly simple change, and then we have a catapult system. Came time for steam–God bless the Brits–they told us steam might work, they worked on it. They did the R&D for us. We had 20-30 aircraft carriers at the time, so we brought an aircraft carrier off-line, put an angled deck on it, and said, ahh…steam. First guy took a steam cat shot probably went "holy smokes," but he made it off the front end. But the point I'm trying to make is that we were able to put S&T dollars–R&D into carriers because we had a lot of them or because somebody helped us

We have eleven aircraft carriers. Our S&T aircraft carrier (chuckles) I'm using S&T instead of R&D. Our S&T aircraft carrier is the next aircraft carrier. It's a full-up round. The time from when it is commissioned until the time it goes on deployment is the same as the Bush which was just (stutters) commissioned. But its first in class with a lot of transformational capability and it makes people nervous. And the first person that takes a shot off that catapult is going to be somebody preparing for a deployment.

So you have to think about CVN 78 a little differently than you thought about the carrier that brought steam and hydraulics into the system. With that in mind, it's a long pole in the tent. We're not planning on flying STOVL aircraft for the entire airwing. We're not going to be STOVL E-2s out there so we're going to have to figure out that it's going to work, that's going to work the first time and we have to make sure that as a transformational piece of gear, Lakehurst works, we understand the generators, we understand the lash-up, moving a lot of electricity around, so you'd be amazed at the amount of work that's gone into making sure this design is right.

But, as you would expect, including me, the closer I get the more I realize that until that catapult is in an aircraft carrier and those generators are lined up and it fires the first guy we're all going to be a little nervous about is it going to work or not. I've given you the answer in that there's still instability in the science and technology. And there's a risk associated with moving forward. In transforming on your front line ship as it comes out is something that makes everybody a little antsy.

Do I think it's going to work? I am convinced it's going to work. And I'm convinced it's going to make an operational difference in how we employ our aircraft carriers. Do I think we're going to have to work through issues to get there? You're darn right we are. Just like in anything that's new like that. So I've given you kind of a long answer and I apologize for that but it's a little more complicated than I think the question in that "how do l make this work." Are there affordability issues? (Nods) Brand new system, never done before. The estimate process, is it going to get you what you need? Are there cost issues? Sure, estimates result in scheduling and cost issues. So what do they look like? I don't know what they look like, I don't even know what the magnitude will be.

The Secretary is engaged, the CNO is engaged, and I guarantee you I'm engaged. I care a lot about that system."
If there's something that will kill EMALS, it is, in my mind, the enormous potential risk of building this carrier before EMALS tech is mature. The prospect of investing billions in a vessel that may not work…is scary. Put bluntly, in the Ford, everything (from the engineering to the strategic justification) is wrapped around the new catapult/recovery system. It will be really difficult–if not catastrophic–to tolerate things like readjusting the carrier's center of gravity to "refit to steam" in the event EMALS proves useless. We've built future strategy around immature platforms before, and it didn't work well. We shouldn't repeat the process.
VADM Kilcline reminded his audie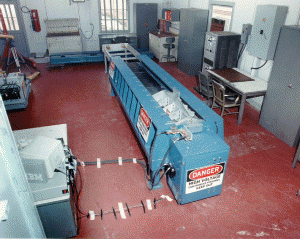 nce at WEST 2009 that the CVN-68 carrier program gobbled up a mere $40 million in R&D dollars–for our entire 10 Nimitz Class carrier production run. The Ford Class is a totally different bird. And I'll bet, in the present budget environment, that there are some budget-hunters out there who are eager to shoot it down.
But if EMALS runs into serious delays–or gets canceled–what are the consequences? If nobody is sure about what to do, can we speculate? Will an EMALS failure boost the fortunes of the F-35 STOVL? Save money by slowing carrier production? I dunno. But your ideas–even your un-sourced speculation–are most welcome. Given the risk, what is plan B?

Posted by
Defense Springboard
in
Aviation
,
Innovation