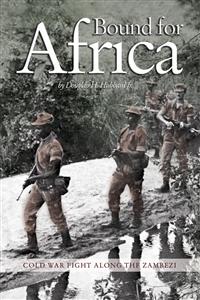 With Africa in the news lately, I recently e-interviewed Douglas H. Hubbard, Jr., about his latest book, Bound for Africa: Cold War Fight Along the Zambezi.
Who inspired you to write Bound for Africa: Cold War Fight Along the Zambezi?

Following the publication of my first book, "Special Agent, Vietnam" (2006, Potomac Press), I wasn't ready to begin a new project soon. It had taken eight years to research and write the Vietnam book.

Two of the men who played important roles in its publication, former DNI RADM Tom Brooks and Naval Institute Press director Rick Russell told me they thought there was another book in my story about what happened after I left Vietnam and gravitated to Africa. Although I was never comfortable about writing an autobiography, I agreed to write the story. Once I began to write and re-contact former colleagues and peers – most of them in Africa — those people were emphatic in their support: As with "Special Agent, Vietnam", this little-known piece of history was being lost as the participants died without telling their stories.

I wrote "Bound for Africa" as an up-close observation of what was then a rapidly evolving counterinsurgency conflict, funded and abetted by Communist China and the Soviets. It had not been my intention to become involved in another war, following three years of Vietnam service, but that's not how it happened. I've done my best to convey to my readers both historical context and my experiences on the ground as events unfolded.

Who should read Bound for Africa?

"Bound for Africa" will have appeal to historians and political scientists – but I wrote it for a broad general readership, intending particularly to recreate the atmosphere, culture and turbulence of the times — a very personal book about the real Africa of the day. I hope that most of my readers will finish the book quietly thinking, "That was a good story, well-told."

Does it have any lessons learned for today's policymakers?

I think it does. Although there were elements of the Rhodesian conflict that were uniquely African, I identify many of the same elements we've seen in more recent upheavals: Diplomatic failure, polarization evolving into violence and major players fueling conflict from afar.

Africa today represents an enormous challenge – and opportunity – for the United States. Director of National Intelligence Blair's recent observations about the potential threat posed by economic instability is particularly prescient in much of Africa today. The continent's greatest asset is its people. They want pretty much the same basic things that most of us hope for: Economic opportunity and the chance to educate their children. The answer, I believe, lies in the economics of commercial engagement.

There is a place for direct aid, there is also a role for educators, doctors and even perhaps carefully-directed military assistance; but in the longer term, responsible jointly-managed trade and business probably has the potential to best bring lasting stability and development to Africa.

I am fond of reminding people that there are multitudes of pro-American Africans today, people who admire our institutions, culture and values. We can now either foster that through constructive engagement or wait for negative economic forces to ripen the seeds of discontent…

How did your time in Vietnam prepare you for Rhodesia/Zimbabwe?

Doubtless it did, in practical ways. I went to Rhodesia intending to become a rural policeman, as a means of experiencing Africa and serving the people. The war intruded on those plans. Vietnam, despite the fact that I'd served as a civilian Special Agent, gave me some good basic military skills – as well as a real sensitivity to the machinations of the West's perennial Cold War enemies, who were then dabbling in many regions of Africa.

If you had to do it all over again, would you have gone to Africa?

I think so. There is an old saying that once you've been to Mother Africa, you never truly leave. That has been true in my case. I'm still working in Africa – and consider myself both fortunate and enriched by the association.

What projects are you working on now?

I've made strong starts on two new manuscripts. They are on the back burner now, as I am fully engaged in establishing and starting several commercial projects in West Africa. None is on behalf of American investors, though I hope that will soon change.
Many thanks to the author for his time in making this interview happen and best of luck in his future endeavors.

Posted by
Jim Dolbow
in
Books
Tags:
meet the author