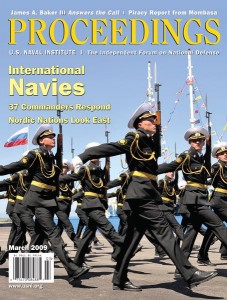 Hot off the presses! Topics in the International Navies issue include:
The Commanders Respond – Chiefs of 37 navies from around the world answer the question: What is the most significant maritime security threat facing your nation, and how do your sea services address this challenge?

The anti-piracy deployment of the People's Liberation Army Navy of China to the Gulf of Aden

We need more Icebreakers!

Scandinavian military cooperation

Eric Wertheim's World Navies in Review

Defeating Somali Pirates on Land: The Kenya Connection

Highlights from the annual AFCEA/USNI conference tackles

And much, much more….
What do you think?

Posted by
Jim Dolbow
in
Naval Institute
,
Proceedings