With Civil-Military relations a hot topic, I recently interviewed Joel Davidson, author of Armchair Warriors: Private Citizens, Popular Press, and the Rise of American Power.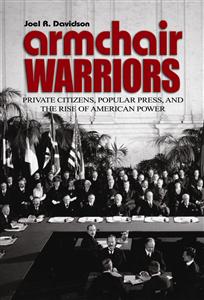 What inspired you to write Armchair Warriors?
The book came about purely by accident. I was researching for my first book "The Unsinkable Fleet", browsing through the index to the Army War Plans Division, which is on microfilm rolls at the National Archives. I was looking for the topic "submarines," but scrolled too far and landed on the topic "suggestions." Curious, I looked at the entries there, which referred to letters from private citizens. That gave me the idea for writing a book on ordinary Americans' ideas regarding military issues.
What ciriteria did you use to select the letters you used in Armchair Warriors?
The letters had to cover topics of general interest, be clearly written, and not overly technical. Also, I tended to discard submissions that were obviously the work of cranks. Many of the most interesting letters referred to attached maps or diagrams. Because the attachments were impractical to include in the book, those letters had to be excluded. I would estimate that I screened ten to twelve thousand letters to select the ones that are in the book.
Do you have a favorite armchair warrior?
No single one stands out. I do find it interesting that some of the nation's greatest minds likeThomas Edison and B.F. Skinner, along with powerful politicians, tried to contribute in the same way as ordinary correspondents. Also, I like the idea that the father of our generation's most recognized environmentalist advocated turning central Korea into a radioactive wasteland.
Who should read Armchair Warriors?
The book is for anyone with a general interest in military history, expecially civil-military relations, or American intellectual history. Also for someone studying the impact of the media on public opinion.
How long did it take you to write this book?
About ten years from start to finish, working sporadically. Most of the time was spent combing through various archival holdings looking for letters, which tended to be scattered in among other types of correspondence.
Any future books you are working on?
I'm a criminal defense attorney by trade. I'm trying use that knowledge in my next project, which I hope will be a look at how the Jim Crow justice system was applied to American troops in occupied Europe after the end of World War II.
Anything else you would like to add?
The most satisfaction I got from this book was giving a voice to these often obscure writers who were trying to do their bit for the common defense. The research also impressed upon me the importance of having an alert, objective, and unfettered press reporting on the vital issues of war and peace in dangerous times.

Posted by
Jim Dolbow
in
Books
Tags:
meet the author