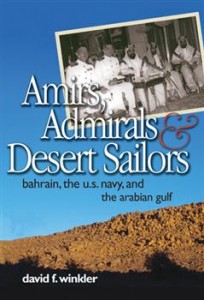 With some of you loyal readers possible getting orders soon to Bahrain, I recently e-interviewed Dave Winkler about Amirs, Admirals & Desert Sailors: Bahrain, the U.S. Navy, and the Arabian Gulf. 
What inspired you to write Amirs, Admirals & Desert Sailors?
Actually the question should start: "Who inspired you…." and the answer is the Commander Fifth Fleet in 1998, Vice Admiral Charles W. Moore who had just taken over the Bahrain-based job and wanted an appreciation for the 50 years of relations between that Gulf state and the USN. He told his staff that he wanted a book written on the subject and next thing you know I was plucked out of my day job at the Naval Historical Foundation and found myself heading to Bahrain on active duty.
What were the early years of the relationship between the USN and Bahrain like?
Until 1971, Bahrain was a British "protectorate" with the Royal family having responsiblity for internal affairs while the British handled Bahrain's defense. The USN had a small presence at the Royal Navy base HMS Jufair supporting Middle East Force ships that rotated in and out of the region. Relations between the different Middle East Commanders and the Royal family were cordial.
What made this unique relationship thrive during some tumultous times in Middle East history?
I would argue that over the years a strong bond was built between the men who served as Commander Middle East Force/Fifth Fleet and the Amir/King. Shaikh Isa, who led the nation from before its independence from Britain until his death in 1999, referred to the senior American naval officer based in Bahrain as "his admiral."
However, personal relationships can take you only so far. Both countries appreciate that the region's well-being depends on peace and stability. This partnership serves both nations security interests well.
In addition, the Bahrain International School, a DoD operated K-12 facility allowed Bahrainis and children of other nationalities to attend and this facilitated cultural understandings that helped in the long-term. For example, the present Crown Prince is a graduate of the school.
Who Should Read Amirs, Admirals & Desert Sailors?
First and foremost, anybody in the Navy and their families who may be lucky enough to receive orders for an overseas tour there. The book will provide wonderful context for what will be an interesting tour. A second group are those who had served in the Middle East or are studying the region. This book highlights an important aspect of America's long-standing interest in the area. Finally, those who are interested in naval history in general. This book covers aspects of American naval history that are not found elsewhere.
Are there any lessons that could be learned from this unique relationship that might be helpful in developing new ties or strengthening old ties with other nations around the globe?
Only that relationships are not formulated overnight. The USN-Bahrain relationship is strong because of patience and trust that occurs over time.
Is there anything else you would like to add?
Thanks to Naval Institute Press for publishing the book. It has been well-received — especially in Bahrain.

Posted by
Jim Dolbow
in
Books
Tags:
meet the author