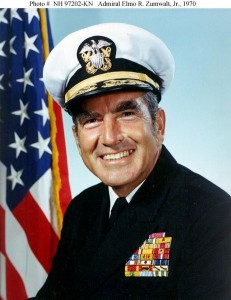 As Chinese and American warships ships go toe-to-toe in the seas off China, I find myself wishing Admiral Elmo R. Zumwalt, Jr. was still alive.
The venerable Admiral knew China. In the closing days of World War II, he helped China re-occupy the Yangtze River, and found his wife–a Harbin native–in the chaos of 1945 Shanghai.
Admiral Zumwalt also knew how to confront challenges at sea. As a young captain of the guided-missile frigate Dewey, Admiral Zumwalt kept his cool as Russian vessels charged to within 50 yards of his new command.
This sagacious officer eventually became the 19th Chief of Naval Operations, and, in his memoir, "On Watch," Admiral Zumwalt offers some wisdom for those powers eager to engage in an at-sea shoving match. First, the primary actors–warship captains on either side–are young, brash and competitive:
"Incidents at Sea can be described with a fair amount of accuracy as an extremely dangerous, but exhilarating running game of "chicken" that American and Soviet ships had been playing with each other for many years. Official Navy statements always have blamed the Russians for starting this game, but as any teen-aged boy knows, it takes two to make a drag race…"
Second, things can get out of hand:
"…Of course, in addition to being juvenile, these incidents were terribly dangerous. Beyond the immediate damage to property and the loss of life any one of them might cause, any one could lead people to shoot at each other with results that might be by that time impossible to control…"
Finally, it is up to responsible elders to restrain their "little emperors" at sea:
"…The three year agreement on Incidents at Sea, with automatic renewals, signed in Moscow was less significant for what it said, which was little more than a reaffirmation of the Rules of the Road, than for what it represented, which was a desire on the part of the Soviet leadership to normalize maritime behavior, now that they were strong at sea. It was always my opinion that the leadership on both sides was less anxious to play the kind of game I have described than peppery young ship captains were. Thus the agreement can be taken, for one thing, as a public admonition to peppery youngsters in both camps to behave themselves."
We may yet discover Chinese leaders, though they might be willing, are unable to quickly normalize maritime behavior. When intimidation becomes more a habit than tactic, such behavior is very, very hard to stop.

Posted by
Defense Springboard
in
Foreign Policy
,
History