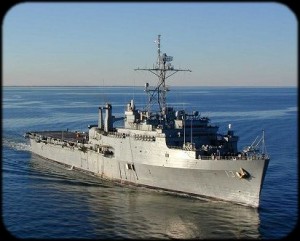 In response to a question I asked during a recent DOD Bloggers Roundtable regarding lessons learned, Captain Cynthia Thebaud, USN, Commodore for Destroyer Squadron 60 aboard the USS Nashville told USNI Blog that the lessons learned so far during their deployment included:
the involvement of partner nations in the planning process;

the importance of the partnership and cooperative dialogue in developing the deployment itself: where we are going, the duration of the visits, what will be done in each visit and also the importance of the multinational aspect of the staff and also our embarked training program;

the benefit afforded for the various participants: the opportunity to come and work in a collaborative and cooperative environment with members of other west and central African navies.
My second questioned of Captain Thebaud pertained to an update on the community relations projects that have occurred on this deployment. According to the Commodore,
We have continued to work very, very closely with Project Handclasp on donated materials and goods. We've deployed, it's about 240 pallets, roughly, of a variety of donated goods, particularly in the education and health areas.

One of the things that we have been able to do is work closely with our consulates and embassies and USAID and identifying in advance projects in areas in need of assistance that we can provide both engineering and assistance to, whether in terms of renovation and rebuilding of the facility and sprucing up of facilities, as well as areas that are in need of either health supplies, educational supplies, childcare supplies, the types of things that the Navy traditionally has been involved with.

On our civil affairs team, we have a couple of our partner nation personnel instrumentally involved in that in working with local communities and when we were in Sekondi, in Ghana, the Navy there, the base, in fact, the Navy has a very strong outreach program already in existence, and through coordination with them and our embassy in Accra we were able to identify a number of medical sites, an orphanage and schools to work with, both in terms of material donations and then there were a couple of renovation projects. One of them was in a combined civil-military hospital in the Sekondi region that has had a wing that they have wanted to get refurbished and be able to use as an ICU facility for that clinic.

And so in cooperation with military craftsmen from the naval bases — (inaudible) — the Seabees onboard the ship, as well as a number of volunteers from ship's company and the APS staff, did considerable work on renovating the wing of that facility so that they can start making it ready for use as an ICU facility. It's very much needed in that locale.

One of the other things that worked particularly well in Sekondi is that most of the things they were doing had a direct impact on the local fishing villages, and were seen by local people as relevant to their lives, and helped reconfirm the fact that we were indeed there with an interest in helping to build safety, security and the prospect of achieving upper economic prosperity development in the region, particularly for the fishing villages along the coast.
Full transcript of the roundtable can be found here.

Posted by
Jim Dolbow
in
From our Archive
,
Soft Power