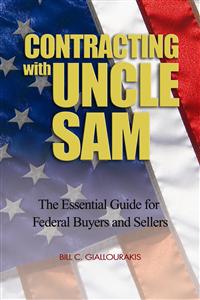 With scrambling for Federal $$$ more important than ever before given today's economy, I recently e-interviewed Bill C. Giallourakis, author of Contracting With Uncle Sam: The Essential Guide for Federal Buyers and Sellers.
What inspired you to write Contracting With Uncle Sam?
Trying to fill a need of Engineers; Procurement Specialists, Logistics Planners; and Program Managers to have a reference which explains the Federal Procurement System in simple terms, explaining the Federal acquisition process and related procedures before they log onto the plethora of websites to face the Federal Acquisition Regulations (FARs).
The need was defined as I taught students from industry and government that came to my contracts classes sponsored by AFCEA in the Washington area. The staff at AFCEA were part of my support for the new book. The big push to actually write the manuscript came from my main cheer leader, my wife, Antonia, who encouraged me to write even as I waited outside the patient and intensive care rooms of Memorial Sloan-Kettering Cancer Center in New York as she fought with cancer in the years before she succumbed. I could not let her down!
What are some of the key topics you cover in Contracting With Uncle Sam?
(a) Conduct of market searches for multiple sources in order to conduct the requisite full and open competition;
(b) The dissection of federal solicitations in preparation of submitting a responsive proposal;
(c) The anatomy of each principal type of contract used by the Government to purchase equipment, supplies and services;
(d) The methods available and their related criteria for use in the process of selection of a seller of required goods and services by the federal contracting officer;
(e) Cost estimating and cost accounting principals as related to preparation and analysis of cost and pricing data in a vendor's cost proposal;
(f) Protection of seller's intellectual property with focus on technical data for reprocurement;
(g) Use of the federal procurement system to implement National socio-economic policies to provide preferences for selected groups(disabled veterans, small business, women owned small business, et.al);
(h) Tools for contract admininistration; and
(i) Procurement intregrity, ethics v. fraud and abuse.
Who should read Contracting With Uncle Sam?
Procurement officials at all levels in industry and government; engineers; quality control officials; logistics officers, contingency planners, project managers, et.al.
Moreover in today's extended recession, Contracting with Uncle Sam is an excellent primer for any business (new, small ,or large) needing a customer to survive — one that has requirements and money to spend– That customer is the United States of America, represented by its contracting officers. What better client could one find!
How did you make a complex subject interesting and current since it is not a dry restatement of federal regulations and statutes?
Use of lots of diagrams; incorporation of personal procurement experiences from the field, and use of internet websites to insure that the text would remain current based on the fact that government websites are periodically updated by their respective sponsors. Without reference to the internet websites, the text book would have been over 500 pages and would become outdated in less than a year.
Is there anything else you would like to add?
It was my honor to have been published by USNI in such a critical economic time. Contracting with Uncle Sam is timely, current and an excellent tool in assisting firms to weather the tough economic times that lie ahead. It was just fortuitous that the text was published at this time.

Posted by
Jim Dolbow
in
Books
Tags:
meet the author