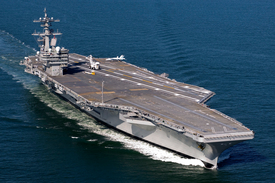 You know, CVN-77, the USS George H.W. Bush? How is it doing?
Didn't you all tell Navy Times the ship would be done by now?
"Northrop Grumman Shipbuilding says the Navy's newest aircraft carrier will be completed by mid-March, about two months after its commissioning."
So what's up? Builder's trials were completed Feb 16, and we still don't have a delivery trial yet?
Just to compare, the USS Ronald Reagan (CVN-76) completed builders sea trials on May 8, 2003 and began acceptance sea trials 19 days later, on May 27, 2003. And USS Harry Truman (CVN-75) completed her builders sea trials on June 11, 1998 and finished acceptance sea trials days later, on the June 25, 1998.
Here we are, day 37….
If the Navy is demanding Northrop Grumman deliver…a complete ship, then, well, Bravo.

Posted by
Defense Springboard
in
Navy