Heritage's Mackenzie Eaglen and Eric Sayers recently wrote,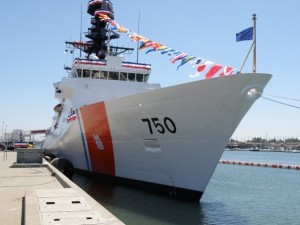 …the Coast Guard must procure a much larger and modern fleet of national security cutters (NSC) and move ahead with the development of the offshore patrol cutter (OPC). This would then allow one national security cutter to deploy with each carrier strike group and expeditionary strike group. This increase would satisfy the growing demand of Combatant Commanders for more Coast Guard assets in theater following recent deployments by the USCGC Dallas last year in support of Africa Partnership Station and relief efforts in Georgia.
I totally agree. What do you think? Going back to my days as a congressional defense staffer, I have long felt the Coast Guard's modernization program reflects a pre-911 world. Moreover, increasing the number of cutter days in the various combatant commands would allow the Coast Guard to win more hearts and minds around the world.
In this era of bailouts and stimulus packages, spare me that our nation can't afford to have one cutter with each and every carrier and expeditionary strike group. And yes, I know this would require an increase in Coast Guard end-strength.
To read the entire report, click here.
photo credit (me)

Posted by
Jim Dolbow
in
Coast Guard
,
Homeland Security
Tags:
Coast Guard