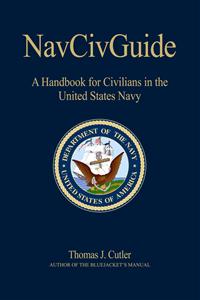 Civilians are an important part of the Navy-Marine Corps Team! It is what that fact in mind I recently e-interviewed Tom Cutler about his latest book, NavCivGuide: A Handbook for Civilians in the United States Navy. This book is a gem! 
What inspired you to write NavCivGuide: A Handbook for Civilians in the United States Navy?
One day I was reading an article that championed the idea of the Navy as consisting of a triad of personnel and how the three components-active, reserve, and civilian-are of vital importance. The article made sense, and it pointed out that there some 180,000 civilians in the Navy in a wide spectrum of activity (as engineers, secretaries, teachers, etc, etc.). It suddenly occurred to me that this large component of the Navy-unlike the other two-does not go to Boot Camp or OCS or any other formalized introduction before entering this strange new world. And they have no introductory/reference book like The Bluejacket's Manual to help them with this transition. So I decided to write such a book, geared specifically to them.
What are some of the topics you cover in NavCivGuide and what process did you use to select them?
I tried to think about what it would be like to be a civilian with no prior knowledge of or experience with the Navy, what it would be like to enter a world where people often referred to floors as decks, where 1315 was not a date in ancient history but a time in the here-and-now, where acronyms are a new language with no Rosetta software, where people have all sorts of things attached to their clothing that are not mere ornamentation. I tried to imagine what it would be like for a civilian to go aboard an aircraft carrier for the first time and have to find their way about. I then set about helping those individuals "crack the code" by writing NavCivGuide to cover all of these things and a great deal more.
Who should read NavCivGuide?
The obvious answer is anyone who is hired by the Navy, but there are many civilian contractors who could benefit from this book as well. And there are the so-called "buffs"-people who have no official connection to the Navy, but who have an interest in the service nonetheless.
What is the Blue & Gold Professional Library series?
These are all the books that the Naval Institute has been publishing, almost since its very beginning, that help Navy professionals do their jobs better. Such things as The Naval Officer's Guide, Career Compass, Naval Shiphandling, The Chief Petty Officer's Guide, and many more.
Most of the information found in these books can be found in Navy Instructions, on the Internet, and in various other locations, but what these Blue & Gold books do is collect that information into a single, organized source, synthesize the information so that it is much more accessible (free of official-speak, etc.), and perhaps most important of all, provide advice and guidance that you will not find elsewhere.
Are you working on any other books?
Always. I just finished a revision (24th edition) of The Bluejacket's Manual that will be out soon, and I am currently working on a Navy equivalent of the Naval Institute's recently well-received illustrated history of the U.S. Marine Corps: Leathernecks.
Is there anything else you would like to add?
Only my thanks for the opportunity to talk about these things. I love writing, but it is a strangely lonely occupation in that, even though you trust you are communicating with lots of people, you do not so directly and you must work in a kind of vacuum. It's always a treat for a writer to be able to talk about his/her work.

Posted by
Jim Dolbow
in
Books
Tags:
meet the author