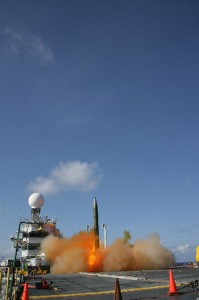 The internet is an interesting place, particularly in a world of information where credibility demands us to study our sources. We have to make judgments on credibility, do background research and analysis, and form conclusions regarding credibility of both information and author. For its part, the Navy mostly runs at EMCON ALPHA regarding force structure and other budget related issues, and has had this policy for a long time regarding foreign threats and capabilities that may drive the decision process. As a result, the maritime world has been forced to turn to other places for information, including blogs like this one or the blogs of the various authors who write here. All of sudden, a credible source might not be someone whose title is a rank like Admiral, but whose name is essentially a call sign like Galrahn. When dealing with the former, credibility is generally accepted, while with the latter credibility must be developed and earned.
One of the authors on my blog Information Dissemination is someone I have known online for many years, long before I began blogging. Feng is a long time contributor (even a part time moderator for validity purposes) at various military related internet forums, and runs a blog of his own that specifically discusses China Air and Naval Power. It isn't enough for me to say Feng, who enjoys being anonymous for valid reasons, is a credible source; trusting some guys word (even mine) should never be enough. I would note however, that careful analysis to his credibility has been given by serious researchers in our government. For example, Ronald O'Rourke cites Feng a dozen times in his Congressional Research Service report titled China Naval Modernization: Implications for U.S. Navy Capabilities — Background and Issues for Congress last updated November 19, 2008. Personally, I find Feng to be one of the very best serious researchers publishing English language content in the open source on China military activity relating to Naval and Air Force issues, and note that his contributions on my blog often provides imagery and analysis unique on English language open source forums.
I was recently given a tip regarding a blog post on a Chinese blog by a very well informed individual who studies Chinese threats and capabilities being developed by China against the United States Navy. Within 3 days, I was sent the blog address again, this time from a high ranking naval officer who has more than a passing interest in the subject. It is one thing to get a link from someone who simply passes on a link and says "check this out." It is quite another to get the same tip from two credible individuals who do two very different things and most likely do not know each other.
I am not familiar with this Chinese blog, but I do note the blog cites sources for its content, consistently cites information that is verifiable and accurate in the various posts, and does appear to be very credible. Feng has done detailed analysis of the blog post on Information Dissemination, so there is no need to repeat his work, but it is appropriate to consider what this information means if Feng's analysis is accurate. For the record, most of the conclusions Feng came to were similar to my own, but I wanted his second opinion before discussing in depth.
The generic summary of the article is that the blog post describes an anti-ship ballistic missile weapon system China has developed built around the DF-21 solid propellant ballistic missile. With a range of 2000km, the ballistic missile is intended to cover the radius out to the second island chain and sink US Navy aircraft carriers and other surface vessels. The weapon system has been given a maneuverable warhead, a complex guidance system, and adds a third stage to the ballistic missile system to add penetration capability and maneuverability.
To support this weapon system, China has also developed a series of reconnaissance capabilities ranging from satellites to signals intelligence to UAVs intended to locate US Navy surface forces and engage any ships moving into an attack zone, suggested to be inside the second island chain.
While elements of the program, including the DF-21 ballistic missile system itself, is thought to be IOC with published information now coming out in Chinese military journals, what is very clear is that the weapon system, and the supporting tracking and reconnaissance networks, are all in a steady state evolutionary development. This suggests that just as the US Navy is in an evolutionary process with ballistic missile defense, China is engaged in a similar evolutionary process for ballistic missile offense against major vessels at sea.
While not said specifically, previous news media reports have suggested that this capability that China has developed is the specific reason the US Navy changed directions so suddenly in the July 31, 2008 hearing in the House regarding the DDG-1000 Zumwalt class. As Vice Admiral Bernard J. "Barry" McCullough put it in his testimony that day (PDF):
Rapidly evolving traditional and asymmetric threats continue to pose increasing challenges to Combatant Commanders. State actors and non-state actors who, in the past, have only posed limited threats in the littoral are expanding their reach beyond their own shores with improved capabilities in blue water submarine operations, advanced anti-ship cruise missiles and ballistic missiles. A number of countries who historically have only possessed regional military capabilities are investing in their Navy to extend their reach and influence as they compete in global markets. Our Navy will need to out pace other Navies in the blue water ocean environment as they extend their reach. This will require us to continue to improve our blue water anti-submarine and anti-ballistic missile capabilities in order to counter improving anti-access strategies.
The Navy's reaction is telling, because it essentially equals a radical change in direction based on information that has created a panic inside the bubble. For a major military service to panic due to a new weapon system, clearly a mission kill weapon system, either suggests the threat is legitimate or the leadership of the Navy is legitimately unqualified. There really aren't many gray spaces in evaluating the reaction by the Navy, and given that Gene Taylor was convinced by the argument of Roughead regarding the necessity to adapt due to emerging requirement, the data tends to support the legitimacy of the threat.
For those who have read my content over the last few years, I would not be what is known as a China hawk, but I admit I find the idea that an anti-ship ballistic missile weapon system has achieved IOC very troubling. For the most part, I tend to dismiss the likelihood of a direct military confrontation between the US and China as long as our two economies are linked the way they are. I see China's current rise very similar to our own nations path as a rising power prior to WWI, and think the odds of a US-China partnership in the 21st century are more likely than a US-China war. However, there is one trend that I do think our nation must keep a keen watch for in the 21st century, because it is the story of military procurement since the end of the cold war. Any military capability utilized by a major power will eventually be utilized by a lesser power, and I note all of the nations who seek ballistic missile weapon systems with their disconnected economic systems; North Korea, Iran, Syria, Pakistan; and interest in the technology expanding to both South America and African nations; are essentially where the worlds troublemakers live whom we are most likely to fight if human history is our guide. We will fight them because of our superpower status, and that those are the countries more likely to start a fight with someone else, not necessarily us though.
There are a number of issues that interconnect the nature of this threat and build its credibility as a weapon system likely to be used by lesser powers. First, a nation with a robust ballistic missile capability can field satellites. Unmanned aviation vehicles are being propagated globally through legitimate exports, and the market is driving towards many advanced systems. Many of the state actors who are seeking ballistic missile capabilities are maritime powers with island bases distributed in major sea lanes, which increases reconnaissance options for tracking while decreases the expensive reconnaissance requirements.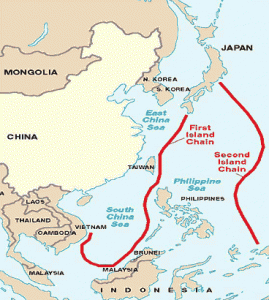 These conditions raise several questions. Does the emergence of a new kill weapon demand a new discussion of fleet survivability? Should our traditional approach of developing counter-systems capabilities be the priority, for example, is AEGIS ballistic missile defense our best option for countering the capability being developed? While I think the idea of a 14,500 ton stealth warship in the littoral is hilarious (as in stupid) due to being countered by the MK 0 eyeball from the littoral population, perhaps stealth in blue water is something that needs serious discussion, after all, there are very few MK 0 eyeballs in the deep blue nowhere.
For the China specific threat, the trends in thinking suggest the solution lies in increasing the range for strike capabilities of the US Navy, the primary drivers being longer range precision missile systems with the MK57 and longer range carrier air wings with UCAVs. This does make some sense, but the question I would raise is how this is applied to the North Korea or Iran scenarios? In the case of both of those countries, the lanes of communication at sea are restricted through littoral channels and several islands extend the range of detection capabilities the enemy could field in those confined waters. That tends to support the ballistic missile defense capability.
Another suggestion often discussed is that submarines, not surface combatants, are the future because any ballistic missile system developed for offensive capabilities is specific to surface vessels. This is true, but submarines still require air cover for defense, and that air cover comes from either area air-warfare capabilities provided by surface vessels or aircraft, which may require an aircraft carrier.
The DF-21 anti-ship ballistic missile system represents in one capability the most important discussion the Navy is not having, and considering how many discussions the Navy is not having with the American people and Congress; I think that is saying something. The capability specifically raises the fundamental strategic choices that Congress faces, likely in total ignorance, when looking to how many and what type of ships the US Navy needs to build. Countering this weapon system is going to require very expensive ships, and several of them per high value unit (carriers and amphibs). Countering the capability requires additional assets, like rapidly deployable satellite systems, Air Force tankers, UCAVs to extend the strike range of the carrier air wings, and newer, more capable long range strike platforms that may include replacements for the highly capable but enormously expensive Ohio class SSGNs. The range of attack and defense for the US Navy will not only extend out to 2000 nautical miles, but will also be required to range up, perhaps to specifically engage satellite systems that provide guidance to those weapon systems. Most importantly, the US Navy will require large numbers of these very expensive systems, and anything less would represent a calculated political decision to accept the risk. If large numbers of very expensive and capable ships is not the political option available, then Congress needs to be open to other ideas.
Right now, there is absolutely ZERO evidence Congress is open to other ideas no matter what they say, and in person I observed in shock the evidence last week.
As I have thought through the challenges these type of emerging kill weapons bring to the maritime domain, my thoughts have been trending towards the necessity for a new fleet survivability discussion similar to the one raised in the late 1990s regarding littoral warfare by Cebrowski and Hughes. Hughes in particular raises the fleet survivability discussion in his book Fleet Tactics and Coastal Combat, noting that one hallmark of naval combat in history is that it becomes a war of attrition. As a theory, this is accurate, but there is a major political pressure against the theory of attrition that prevents the discussion from even taking place.
I was struck this week when I sat in the House Seapower and Expeditionary Forces Subcommittee hearing on Thursday discussing the requirements for the future capabilities of the United States maritime forces. During the hearing, Dr. Thomas P.M. Barnett was discussing the Littoral Combat Ship, and as a former member of Cebrowski's staff, he was reviewing with the committee his own experience regarding some of the idea discussions regarding the driving strategic concept the ship was attempting to inject into the fleet constitution discussion. Part of Cebrowski's intent, according to Barnett, was to get the Navy to think about surface combatants in a different way, a move away from traditional platforms and towards new strategic paradigms that would encourage the Navy to think about how fleet forces operated. In his explanation, Dr. Barnett used an example of ejection seats as a way for a crew to survive a hit.
At that moment Dr. Loren Thompson jumped into the discussion, capitalizing on Barnett's example as a form of fleet expendibility. I had been waiting, hoping actually, for exactly this kind of confrontation between Dr. Thompson and Dr. Barnett in the hearing, and was looking forward to seeing the two bloody the other a bit for the audience.
But inexplicably, Gene Taylor is sucked into Dr. Thompson's distraction technique and chides Dr. Barnett about expendable crews, making the argument that if ships were expendable then it implied that crews are expendable; the irony being Dr. Thompson's spin job is so effective Gene Taylor forgets the purpose of an ejection seat. Gene Taylor should have asked Dr. Barnett to respond to Dr. Thompson, and had the men beat up the arguments, because the results of Gene Taylor snipe at Barnett is very troubling, and probably undercut the intent of the entire hearing in the first place.
If the Chairman of the House Seapower and Expeditionary Forces Subcommittee is unwilling to even consider a fleet survivability discussion within the context of a future capabilities discussion for US maritime forces, then he has established a policy that insures only the highest future capabilities should be considered by the US Navy when developing warships. If war at sea is historically, and by definition, a war of attrition, and political policy is established that no ships at all are expendable, even low intensity fighting forces, the only translation and conclusion one can make under such a policy is that no losses at sea are acceptable.
Policy drives strategy, so Gene Taylor's policy would therefore drive fleet constitution strategy, and if we accept policy and align strategy to it, I honestly cannot think of any valid reason Gene Taylor's policy shouldn't inform the Navy the way ahead. Gene Taylor's policy of unacceptable losses means under no condition can the Navy even consider a National Security Frigate based on the National Security Cutter, regardless of Gene Taylor's support for it, because that ship has an even lower survivability standard than the Littoral Combat Ship, which already has the lowest allowable survivability standard of any "warship" the US Navy has built since WWII. It is a great irony that Gene Taylor probably felt satisfied beating up Dr. Barnett with his comment, but his comment was a political miscalculation with enormous consequences, because if the Navy has anyone intelligent in NAVSEA, that quote will be the primary quote used by the Navy to sink Gene Taylor's own National Security Frigate idea because he laid down a policy that prohibits risk. Gene Taylor thought he was smacking Dr. Barnett, but he got played by Dr. Thompson's mind games and shot his own leg off instead. I'm sure Northrop Grumman was impressed.
The Navy should be celebrating Gene Taylor's policy moment, it is essentially top cover for everything they have done since July 31, 2008. Regardless of any future capabilities that could drive future fleet constitution, Gene Taylor's comment can only be interpreted as guidance for the Navy to insure the Navy takes no chances and accepts no risks in developing future surface forces. When the most influential political figure in the United States regarding the US Navy makes clear that risk to warships is the single most important factor in a strategic discussion of future capabilities, the Navy would be absolutely foolish to develop the future fleet towards any other threats than the kill weapons. That means the DF-21 anti-ship ballistic missile system, submarines, and anti-ship missiles must be the focus of the future fleet, and all the low end pressures will go without attention due to politically mandated policy that prohibits risk to ships.
Said another way, the Navy's future surface fleet strategy would be more in line with policy to discuss stealth for future aircraft carriers, something I actually will discuss later this week, rather than discussing low intensity pirate activity because piracy doesn't represent any threat at all to a US warship. It may not be a popular position, but Gene Taylor's statement directs warship design specifically towards threats to ships, as opposed to threats to the global environment, and was very clear regarding the suggestion a ship can be expendable. Absent a higher political authority, like the President, Gene Taylor's guidance should be taken very seriously (particularly in light of how much influence Rep Taylor has exercised since Roughead became CNO).
Gene Taylor was unwittingly fooled by Dr. Thomspon into arguing against his own National Security Frigate while essentially establishing a policy for guidance that makes questionable sense strategically in this fiscal environment for the sole purpose of slapping around Dr. Barnett, for what gain is unclear. The effect is clear though, the quote can be used by the Navy as top cover, and it doesn't even have to be used out of context.
From this outside observers perspective, this is just one more example of how completely adrift at sea the entire political leadership establishment looks to be in strategic maritime discussions taking place in this country. Next thing you know we will have Congressional hearings on future capabilities and the future strategic environment where the Virginia representative complains about the maintenance facilities in Mayport so as to argue keeping carriers in Virginia, or the Connecticut representative will discuss submarine procurement rates for his local shipyard, or the Hawaii representative will discuss the damage to a coral reef due to a cruiser grounding off Pearl Harbor, or the Maine representative will want an engineering comparison regarding the differences between the DDG-51 and DDG-1000.
Oh damn, nevermind, that was exactly what happened last Thursday! Anyone want to take 3 guesses what the questions will be to the Navy come the May budget hearing? I predict the Navy will sail through the House hearing regarding the FY 2010 budget time under a light breeze now that the Navy knows exactly what questions to expect.
Bottom line: as long as the Navy makes sure no one gets hurt, no mistakes are made, and every ship is gold plated enough to remove any risk at all to their ships and crew, the Navy will be completely in line with the political policy and strategic vision of the future I saw advocated by political leadership on Thursday during a Congressional discussion that looks to the future. In other words, the Navy culture that is sometimes discussed in the context of being risk averse is more appropriately described as a reflection of political policy. When the political policy driving naval forces decisions favors the protection of technology instead of protecting strategic interests, the policy accepts greater risk for strategic miscalculations in favor of less risk for industrial interests.
I don't care how much money one cuts from the defense budget, no amount of defense acquisition process reform can fix that problem.

Posted by
galrahn
in
Foreign Policy
,
Maritime Security
,
Navy