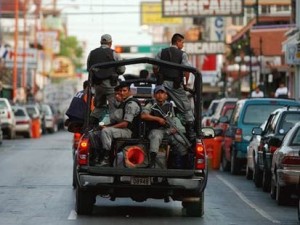 Zenpundit is discussing an interesting intellectual exercise on 4GW and Mexico. In this post he proposes a fictional scenario as a thought experiment, but everything in that scenario is built in response to this recent comment by DNI Adm. Dennis Blair, who dismisses any strategic implications regarding the strength of Mexico's drug cartels that the Mexican government is struggling to suppress:
Mexico is in no danger of becoming a failed state. [Let me] repeat that. Mexico is in no danger of becoming a failed state. The violence we see now is the result of Mexico taking action against the drug cartels. So it is in fact the result of positive moves, which the Mexican government has taken to break the baneful influence that many of these cartels have had on many aspects of Mexican government and Mexican life.
Zenpundit actually follows up his first debate with a point-counterpoint on whether Mexico is a failed state.
I for one tend to agree with DNI Blair that Mexico is in no danger of becoming a failed state. The rest of his commentary regarding the activities being observed in Mexico is certainly subject to debate, but I do not see evidence that the Mexican government is in danger of collapse, nor do I see evidence that the cartels are attempting to overthrow the government.
My point would be this: there is no value in the cartels overthrowing the Mexican government because its existence helps them more than its absence helps them.
But this is my larger point. There are currently zero, none, nada 4GW/COIN/Whatever military solutions for failed states; our emerging 4GW/COIN/Whatever doctrines, strategies, and theories only apply for weak states that have legitimate governments that can be supported. Failed states are problems that can be handled, even in an ugly way, by conventional military forces. The danger to US strategic interests is not failed states, as is often claimed, rather the real danger to US strategic interests always comes from weak states.
The ugly truth is, failed states allow for freedom of action by military forces without consequence; weak states do not allow such freedom of military action. Afghanistan before 9/11 was a weak state, not a failed state, thus Al Qaeda operated under the state governance of the Taliban and had top cover to carry out its evil agenda. In Somalia, pirates operate in a failed state, and as a failed state the west has taken military action, including cruise missiles, hostage rescue attempts with special forces, and other military activities without consequence against targets as they have been identified. The danger Somalia poses in the future to US strategic interests is not that Somalia continues as a failed state, rather if it were to become a weak state with a recognized legitimate government strong enough to say, eliminate the pirate threat while still being too weak to prevent the training and development of terrorist cells.
Another weak state would be Pakistan, which is strong enough to be legitimate with its nuclear arsenal, but too weak to remove the Taliban/Al Qaeda from its own borders. The same is true for Afghanistan and Iraq, indeed Iraq surviving as a weak state after it was a strong state under Saddam is the worst long term case scenario for that country, because it will require us to stay to stop the development of terrorist cells for a very long time.
Now look at Mexico in the same context. Mexico is a weak state, and in a weak state we find non-state and transitional actors like the cartels who operate with freedom, but because it is a weak state, we face serious and complex diplomatic obsticles in taking freedom of action, even along our own national border. In a failed state, we could do what needed to be done to take out the bad guys. As a weak state, we are far more limited in options, and must account for the legitimate governments perspective a lot more than we would if Mexico was a failed state.
Zenpundit may or may not be right regarding the threat posed by Mexico, but if he believes Mexico as a failed state is more dangerous than a Mexico as a weak state, he is mistaken. If the cartels take out the legitimate government, our options become clarified, not confused. It is with the presence of the government that limitations exist. Weak states is where COIN theory begins while failed states is where conventional military options begin. If we don't get that right, we will be fighting a counterinsurgency on the behalf of no legitimate government, which last I checked, isn't really a counterinsurgency at all but a competition for government control of territory. That may be a 4GW problem, but it doesn't become a COIN solution until a legitimate government stands up.

Posted by
galrahn
in
Foreign Policy