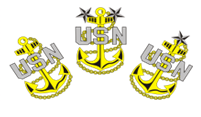 Today is the 116th Birthday of the U.S. Navy Chief Petty Officer. Established 1 April 1893 by U.S. Navy Regulation Circular No. 1, dated 13 March 1893, the rank of Chief Petty Officer holds a special place among military ranks. The Chief Petty Officer Creed very effectively tells the story of what it means to be a Chief, and much of it can be summed up with these words from The Creed: "… only in the United States Navy does E-7 carry unique responsibilities no other armed force throughout the world carries, nor which grants privileges to it's enlisted personnel comparable to the privileges and responsibilities you are now bound to observe and are expected to fulfill."
A very brief history of the Chief Petty Officer, marking the 100th birthday, is available here.
So, just as we honor our Marine brothers and sisters with a hearty Happy Birthday each November 10th, it is appropriate, and a much-appreciated gesture, to wish every Chief, Senior Chief, and Master Chief a Happy Birthday on April 1st. This is one of the many days in our Navy's history that should not – but too often does – pass without acknowledgment.
Happy Birthday to every Chief Petty Officer past and present.

Posted by
Fouled Anchor
in
Navy
Tags:
Add new tag
,
CPO history
,
naval history