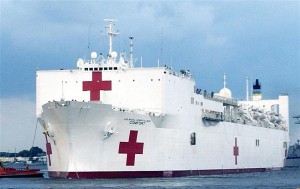 Beginning on Monday, I will be blogging from aboard the USNS COMFORT as she steams towards Haiti on the first stop of Continuing Promise '09 (CP 09). 
For some background on CP 09, see the following Navy press release:
CP09 is an equal partnership mission between the United States and its international partners to provide humanitarian and civic assistance in seven countries located in Latin America and the Caribbean. Comfort will visit Antigua and Barbuda, Colombia, Dominican Republic, El Salvador, Haiti, Nicaragua and Panama.

"The Comfort will serve as a Navy platform through which U.S. military, interagency personnel, partner nations and non-governmental organizations will carry out humanitarian efforts," said Navy Capt. Robert G. Lineberry, CP09 mission commander. "It's a great team of people going down to Latin America and the Caribbean to do great things."

The hospital ship has been configured to provide health services and engineering support through humanitarian assistance and disaster response. Additionally, Comfort leadership explained how the ship will provide the host nations with the services of a fully functional hospital. Originally, the ship was an oil tender converted to a hospital ship meant to serve as a platform for treating war casualties.
I am thankful to Lt. Jennifer Cragg, USN, and Jack Holt from DOD's New Media Office and LT. Matt Gill, USN, COMFORT PAO, for making this opportunity available to bloggers like myself. 
Check back often for updates! Now I have to go pack and learn how to use my new video camera…

Posted by
Jim Dolbow
in
Soft Power
Tags:
CP 09