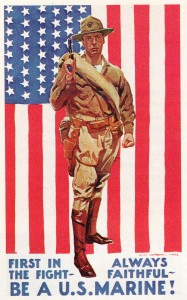 The U.S. Marine Corps has never had a week of it's own until now! The first Marine Week–ever–is going to be held in Chicago, May 11-17. That's fantastic! As benefiting Chicago's Marine Week's status as a "Premiere", a whole lot of Stars (From the Commandant on down) best plan to attend.
It's a Marine Corps show, after all, and you Marines only get one chance to make a first impression! The (tentative) schedule is here, and, even though the "official" Marine Week Web page has not launched, you can get a good look at what sort of activities the Marines are planning for their first Week.
There's some great stuff here. Marine Corps volunteering, the Silent Drill Platoon, robotics, technology and vehicle displays, combat fitness demonstrations, bands, aircraft demonstrations….But what's missing? This is a first, so it poses a real opportunity to try and build some new traditions.
What ideas are out there? What would would you like to see in a Marine Week? Just to get the ball rolling, here's a few suggestions:
Regional JROTC/NROTC Legacy Dinner: Mirror the Marine Corps Birthday, where the oldest serving Marines serve regional JROTC/NROTC units–the folks who are, potentially, the most youthful Marines around.
Storytelling competition: Where the best short, "suitable for public consumption" Marine story (as told by veteran or active duty Marine and judged by the audience reaction) wins.
Unit competitions: If there's a logical unit breakdown, then get the attending units to engage in a friendly "competition." You know…which unit can win a civic relay, and can restore a Park faster? Or build a Habitat for Humanity House quicker? Or remove graffiti faster? Which unit's officers' have the best command potential, with smarts (can win at a Chess tournament?), informed luck (oh…guess the number of cartridges in a fishbowl?) and command potential (An decibel-read on an order-yelling competition?). And then just the basic which-unit-is-tougher test (Tug-of-war is always a crowd pleaser).
Marine History outreach. Send somebody to every local Jr. High or High School History Class you guys can to talk about the history of the Marine Corps.
Neighborhood Watch: Pick a tough neighborhood, link up with neighborhood community groups and send the Marines out for an evening. Give the participants some basic "don't break any rules" training, have 'em program their cellphones to direct-dial the local cops, and a neighborhood can sleep easy.
A General Officer/NCO Joust: Where the Senior Noncoms have the attending Generals participate in a good-natured, noncom-administered contest of command ability. Of course, the Generals must get a chance to do the same to the NCOs, right?
A Support-To-Civil-Authorities Olympics or disaster exercise: Arrange an event local First Responders might use to bring Marines (and maybe even interested civilians) up to speed on civil support activities that might be of somewhat general use, with world-wide applicability or…just particularly applicable to Chicago.
Just some ideas. Yes, only one or two might work! But what do you all think? What are your ideas to make the first Marine Corps Week a week Chicago will remember?

Posted by
Defense Springboard
in
Marine Corps