Several items on the docket today:
If at first you don't succeed…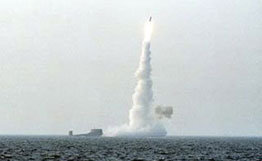 From Ria Novosti comes word the much troubled Bulava SLBM will be tested five times in the coming year:
Despite five failures in 10 trials, Russia's Defense Ministry is planning to complete a series of Bulava tests and put the ICBM into service by the end of 2009.

"Considering that we must ensure reliable performance characteristics of the [Bulava] missile, we have decided to raise the number of additional test launches to five, if everything goes well," Vladimir Popovkin said.

Popovkin, who is visiting the Russian exposition at the IDEF-2009 arms show in Turkey, said that a faulty detail caused a test launch failure in December last year, and that the on-board systems would undergo additional ground testing in June-July prior to the next test launch.
At the same interview, it was revealed that sea trials of the Yury Dolgoruky, Russia's first Borey class strategic nuclear submarine, are due to start in the summer, and two other Borey class nuclear submarines – the Alexander Nevsky and the Vladimir Monomakh – are currently under construction at the Sevmash shipyard. They are expected to be completed in 2009 and 2011 respectively. Russia is planning to build a total of eight submarines of this class by 2015.