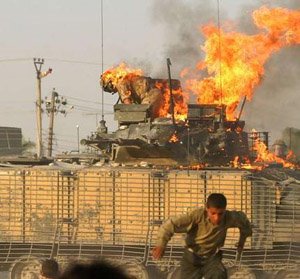 Following the failures of the Boer wars Kipling wrote, "Its a difficult thing to admit it, but as a grown-up nation we should; we've had a hell of a beating, it will do us no end of good." Is there a Kipling in Great Britain today? If so, he or she is probably a journalist or blogger, and likely dismissed as a malcontent.
It may or may not be time to ask the question, but I don't think they are capable politically to have an honest debate across the pond right now, so I'll use this space to ask the question.
I have been reading about the final withdrawal of the British military from Iraq. I am quoting from this BBC article discussing the withdrawal.
British military commanders are fiercely proud but defensive too. There are stories of unbelievable courage.

They also know, however, there are those in the Washington corridors who say Britain allowed the militias to effectively take over Basra and that the city was only freed by the Iraqi army.

They say British forces were overstretched and under-resourced and there was not the political will to support them in the fight against the militias.

"I've had senior military officers say to me that the Army is broken as a result of Iraq and Afghanistan", said Lord Ashdown.

Others believe that the legacy of Iraq has weakened Britain's will to use force globally without a clear mandate.

"I don't think we'll ever do that again," said Sir Jeremy, "without a clear UN resolution… and a much wider partnership."

Still some of these initial supporters of the war argue that it is too early for a final judgment. History shields its hand.
First this is not about effort, this is not about courage, this is not about pride, and this is not about intent. This is about the facts on the ground including the political support from home. My question is:
Was the British military defeated in Iraq?
The facts on the ground are that Britain allowed the militias to take over Basra, and that the city was freed by the Iraqi army. The BBC article suggests some in Britain are in denial about that. Britain was unable to hold the most important city in their theater of operation, and ultimately required the Iraqi forces supported by the United States to do the job they were unable to do. Political support from Great Britain clearly eroded over time, which means the entire country carries the responsibility of the military defeat.
It should be noted that the majority of citizens are OK with being defeated. While this is a damning historical note that reveals the strategic priority (or lack of strategic priority) of the Iraq war, it would be foolish to ignore that in the fine historical tradition of weak political leadership the British government is accepting military defeat and attempting to turn defeat into a cultural victory. In politics this type of behavior can be expected, but how should we judge Generals who ignore defeat and instead simply declare victory and leave?
This point is important, and a reminder of Kipling's observations. The United States was on the verge of defeat in Iraq as well, but instead of accepting a military defeat, Secretary of Defense Gates under the Bush administration reevaluated strategy in an attempt to achieve military victory. This was followed up last month under the Obama administration when Secretary of Defense Gates reassessed requirements for achieving victory with a balanced force necessary to meet a broader spectrum of the nations strategic challenges where military power may be required. Instead of accepting a military defeat and claiming it as a cultural victory, the Obama administration is expanding the size of the military force and has kept military power in Iraq to finish the job.
The difference between a country that doesn't accept a military defeat vs a country that does accept military defeat is the difference between a country with strong political leadership with a conviction towards victory vs a country with weak political leadership absent conviction towards victory. In my opinion, Great Britain as a Great Power is not only in decline, they are gaining speed in that decline becoming subservient to the United States in the spirit of a military puppet state.
I believe the answer to the question asked above is yes. The British Army was not only defeated in Iraq by a militia supported by a third world country (Iran), but was broken in Iraq by that foe. The British continue to lose credibility in maintaining control of Helmand Province in Afghanistan, which suggests military defeat is viewed with cultural acceptance among current political leaders. With the Royal Navy at the smallest level in several centuries, it is possible that Great Britain is a technologically advanced paper tiger with a military nowhere near sufficient to support the strategic or economic interests of that nation.
I could be wrong, but the last time the British Army was defeated this bad by a small state insurgency was when the US defeated Britain in North America supported by France led by then General George Washington. It didn't hurt Britain as bad at that time though, because the British still took sea power seriously in those days and had something to fall back on.