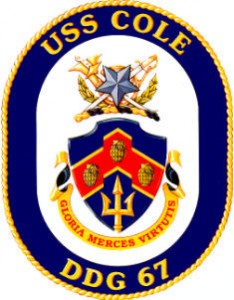 In a recent op-ed piece in the Newport News Daily Press, John L. Wiley accused the crew and officers of USS COLE of "fail[ing] the United States and the Navy" when the ship was attacked in Yemen by Islamic radicals. That's a pretty damning accusation, and much undeserved.
There was undoubtedly blame to be assigned, and it was, but to blame the crew, which implies EVERY Sailor onboard, is unfair. Which members of the crew, specifically, failed, and how so? Media reports abound regarding the incident, the aftermath, and investigation; I won't go into all that. What I will do is point out that the crew was vindicated.
In the words of then Secretary of Defense Cohen:
"One other aspect of this incident deserves specific mention – namely, the extraordinary professionalism and heroism of the COLE's Captain and crew in the aftermath of the attack."
While allowance was made for assignment of accountability, Secretary Cohen also pointed out that:
"Navy leaders have concluded that the overall performance of the captain and his crew does not warrant punitive action."
Well sir, there were many lessons learned. You can read about them in the USS COLE Commission Report. And now is not the time to talk less about this tragedy. The more we talk about the lessons learned, and remind our Sailors, and our citizens, that we still live a dangerous world, and young Americans are still going into harm's way, the better. 
Mr. Wiley finished his report with:
"I'm certain there were many "lessons learned." And the less said now about this sad and embarrassing failure of U.S. forces' security, the better."
Blame the crew? I think not. Instead, Mr. Riley should join Secretary Cohen "in paying tribute to the seventeen men and women of USS COLE who made the ultimate sacrifice in service to their country. Their performance of duty was in the highest tradition of the U.S. Navy… Our nation shall not forget their sacrifice…" Mr. Wiley obviously doesn't share those sentiments.

Posted by
Fouled Anchor
in
Navy
Tags:
USS Cole