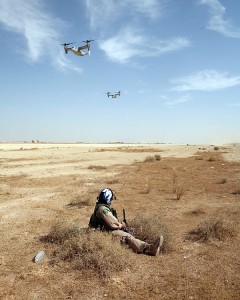 There was supposed to be a Committee on Oversight and Government Reform hearing on the V-22 this morning with the GAO's Mike Sullivan, CSBA's Dakota Wood, Marine Corps Lt. General Trautman and Lt Col. Karsten Heckl (CDR VMM-162). But, well…let's just say it was attenuated. And Edolphus Towns (D-NY) is, well, angry. VERY angry. Read:
Good morning. Thank you all for being here.

We had hoped to conduct today a thorough examination of the Defense Department's V-22 Osprey, an aircraft with a controversial past, a troubled present, and an uncertain future. However, the Defense Department has evidently decided to stonewall our investigation. On May 5, 2009, I wrote to Secretary of Defense Gates to request information on the Osprey, including copies of two reports on the performance of the Osprey in Iraq, called "Lessons and Observations." I also requested a list of all V-22 Ospreys acquired by the Defense Department, including their current locations and flight status.

However, to this date, the Defense Department has failed to provide this information, despite repeated reminders from the Committee. This is simply unacceptable.

General Trautman, I want you to carry this message back to the Pentagon: We will pursue this investigation even harder than we have so far. We will not be slow-rolled. We will not be ignored. I intend to conduct a full investigation of the Osprey, not just an investigation of the information that you want me to see. We hope you will provide it voluntarily, but if you do not, we will compel your compliance.

To ensure a thorough investigation and to allow the Defense Department additional time to provide us with these records, we will continue this hearing in two weeks and I am asking the witnesses to return to present their testimony at that time. This hearing is now adjourned, to be resumed in two weeks at the call of the chair.

Thank you.
Ouch. Here's what Congress wanted–and the Marine Corps did not provide:
1) an inventory of all Osprey, indicating date of acquisition, current location, and whether still in service.

2) A list indicating the readiness condition of each aircraft for each day for the period beginning with the Initial Operational Capability date in March 2007 through April 30,2009, and the specific reasons for each aircraft not being Mission Capable or Full Mission Capable.

3) Two reports: MV-22 Combat Operations in Iraq – Lessons and Observations from VMM-263 Deployed October 2007 – April 2008 OIF 06-08.2, dated May 14, 2008; and MY-22 Combat Operations in Iraq – Lessons and Observations from Tiltrotor Squadron VMM-266 in Operation Iraqi Freedom, September 2008 – April 2009, OIF 08.2, dated March 9,2009.

4) Copies of all other memoranda, studies, and reports that discuss, assess, or analyze: (a) the overall readiness condition and availability of the V-22 aircraft; and (b) the operational effectiveness and operational suitability of V-22s used in Iraq since October 2007.
Some of this (particularly #2) is Congressional fishing expedition-type stuff. But failing to give Congress what is, in essence, some simple, already complied information is inexplicable. With all this reluctance to show the unwashed, unspun data, I have to ask–is the MV-22 program up to it's old habit of massaging away uncomfortable data?
If so, we need to fire some people. (Heads, pikes, the lot…)
Look. We've wrapped our whole amphibious fleet around this platform. We've spent billions to accommodate this rotary wing platform (all while the carrier fleet has doubled-down on conventional helos…) The least the V-22 program office can do for the country is to stand up, show cards and face the music.
I mean, if there's nothing wrong, and the MV-22 is as wonderful as everybody claims, then…WHAT DO WE HAVE TO HIDE, eh? Why not show the data and let Congress sing ya'lls praises? (And if you need help, then, well, ask. The MV-22 has plenty of friends…)
Gotta wonder if somebody spilled some beans someplace. What sparked this inquiry? We'll probably never know, it's sure fun to see Congress show a little spunk and get riled up. Let's see more!

Posted by
Defense Springboard
in
Aviation
,
Marine Corps