Douglas SBD-3 Dauntless
The Douglas SBD Dauntless was the U.S. Navy's main dive bomber from mid-1940 until late 1943, when it was supplemented (although not entirely replaced) by the SB2C Helldiver. Derived from the Northrop Model 8 attack bomber developed for the Army and export market, the Dauntless was developed at the Douglas Northrop facility at El Segundo, Calif., and featured a novel "Swiss Cheese" style dive flap arrangement. Slow but rugged (the aircraft was tagged as the "Slow But Deadly" Dauntless by her aircrew) the Dauntless when used in a steep dive profile was proved deadly to shipping, accounting for more ships sunk in the Pacific theater than any other US or Allied aircraft.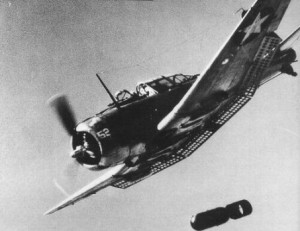 The SBD was involved in combat from the first day of the Pacific War, as Dauntlesses arriving at Hawaii from USS Enterprise were caught in the Pearl Harbor attack. The type's first major use was in the Battle of the Coral Sea, when SBDs and TBDs sank the Japanese aircraft carrier Shōhō. SBDs were also used as anti-torpedo combat air patrol and scored several times against Japanese aircraft trying to attack USS Lexington and USS Yorktown. the SBD's most important contribution to the American war effort probably came during the Battle of Midway (early June 1942), when SBD dive bomber attacks sank all four of the Japanese aircraft carriers (the Akagi, Kaga, Sōryū, and Hiryū) as well as heavily damaging two Japanese cruisers (including the Mikuma, which sank before a Japanese destroyer could scuttle it.). 5,936 SBDs were produced in WWII.

General characteristics
* Crew: Two
* Length: 33 ft 1 in (10.08 m)
* Wingspan: 41 ft 6 in (12.65 m)
* Height: 13 ft 7 in (4.14 m)
* Wing area: 325 ft² (30.19 m²)
* Empty weight: 6,404 lb (2,905 kg)
* Loaded weight: 10,676 lb (4,843 kg)
* Max takeoff weight: 10,700 lb (4,853 kg)
* Powerplant: 1× Wright R-1820-60 radial engine, 1,200 hp (895 kW)
Performance
* Maximum speed: 255 mph (410.38 km/h)
* Range: 773 mi (1243.8 km)
* Service ceiling: 25,530 ft (7,780 m)
* Rate of climb: 1,700 ft/min (8.6 m/s)
* Wing loading: 32.8 lb/ft² (160.4 kg/m²)
* Power/mass: 0.11 hp/lb (0.18 kW/kg)
Armament
* 2x 0.5 in (12.7 mm) forward-firing machine guns
* 2x 0.3 in (7.62 mm) flexible-mounted machine guns
* 2,250 lb (1,020 kg) of bombs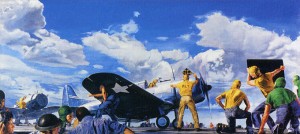 Posted by
SteelJaw
in
Homeland Security
,
Navy
Tags:
Battle of Midway