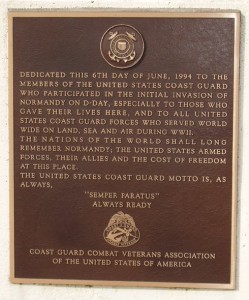 65 years ago today, the liberation of France commenced under the command of General Eisenhower. We have all seen the footage of the battleships pounding the shores and men disembarking from thousands of landing craft. The CG Historian's Office has compiled an outstanding site for those who want to learn more about the CG's role in the liberation of Europe.
Scott T. Price of the CG Historian's Office writes:
"Coast Guardsmen manned 99 warships and large landing vessels for Operation Neptune and dozens of smaller landing craft. The Coast Guard lost more vessels that day than on any single day during its history, mute testimony to the ferocity of the German defenders and the bravery of the crews who took the infantry right to the enemy's doorstep. Eighteen Coast Guardsmen paid the ultimate price that day as well, while 38 more were seriously wounded. There were more casualties to come that summer from mines, torpedoes and attacks by the Luftwaffe as the ships sailed the English Channel carrying supplies and reinforcements and returning with prisoners of war and wounded GIs."
Originally posted at AN UNOFFICIAL COAST GUARD BLOG.

Posted by
Jim Dolbow
in
Coast Guard