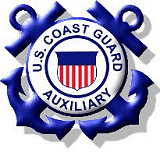 The Coast Guard Auxiliary celebrates 70th anniversary:

"The Coast Guard Auxiliary is the finest all-volunteer organization in our nation," said Adm. Thad Allen, Commandant of the Coast Guard. "It is an integral part of our Coast Guard. We simply could not meet the challenges we face or conduct the missions we do on a day-to-day basis without their selfless devotion to duty."For the past decade, Coast Guard Auxiliary efforts have accounted for more than 3,100 lives saved, assistance to more than 91,000 boaters in distress, the prevention of the loss of more than $437 million in property and the education of more than 1.6 million boaters through boating safety courses, in addition to the many other services the Auxiliary provides. Coast Guard Auxiliarists accomplished these feats by volunteering more than 36 million hours of their time.

The Coast Guard Auxiliary was founded June 23, 1939, when Congress authorized legislation that established a volunteer civilian component of the Coast Guard to promote boating safety and to facilitate operations of the Coast Guard. Auxiliary members initially conducted safety and security patrols and helped enforce provisions of the 1940 Federal Boating and Espionage Acts. In 1996, the Auxiliary's role was expanded to allow members to assist in any Coast Guard mission, with the exceptions of law enforcement and military operations.
An earlier salute to the CG Aux at Sunday Ship History: The Coast Guard Auxiliary .
You can join, too, by visiting here:
Applicants must be U.S. citizens, at least 17 years old, and pass a basic background check. There are no upper age limits or height/weight standards, although for operational activities, you must be physically able to perform certain tasks. There are no minimum service hours – you can serve as little or as much as you want.

You do not have to own a boat or participate in water-based operations to join the Auxiliary.
Your neighbors. Your friends. All volunteers.

Posted by
Mark Tempest
in
Coast Guard
,
History