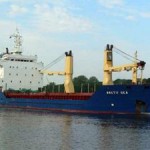 Whatever else comes of the mystery surrounding the putative serial hijackings, loss and finding of the timber carrier MV Arctic Sea (most of which is set out here and the links therein), professional maritime security people ought to be concerned about what this ship's misadventures say about (1) the ability of a 4000 ton ship to take itself off the grid and (2) our inability to find it.
Let's see, with the AIS switched off and, perhaps, crew cell phones dumped overboard (preventing their use as GPS trackers), you seem to have -Poof!, an instant ghost ship! Radio silence creates a status that leaves those hunting for the vessel in the dark with a great big ocean to search.
Now, this may all prove to be a great insurance scam, but …for several years we have been hearing, giving and responding to warnings about the danger of a rogue ship wandering the seas. And now we seemingly have a case in point.
During his comments to the BBC (here), Major General Tom Wilkerson of the USNI refers to a couple of concerns, including the placement of something of value other than the ship's normal cargo on the vessel, or, more ominously, something dangerous to others on the ship.
For example, on one extreme, there have been warnings of "SCUD" missiles being placed on small merchants and launching missile attacks (see here). A more likely scenario involves the use of a small ship as a carrier of massive amounts of explosives and other weapons of mass destruction and sailing the vessel into a densely populated port area and triggering the device. Further, another scenario is even less complicated. As every sailor knows, the capture of a ship near busy shipping lanes poses other dangers to vessels sailing nearby – as well stated by CDR Salamander in a post comment from a couple of years ago about meeting up with a "suicide ship" in restricted waters:
CDR Salamander wrote: "… If you are toddling around a 7kts and she turns prior to her 5,000yd CPA to port? Oh, lets be nice and say he is only going 20kts (sneaky fellow is he). Being simple men, lets round things down to a 20kt average combined closure speed when he turns prior to CPA (he then goes to flank and you respond by a turn to starboard and hit the juice….but you are on a LHD, not a nuke and it takes awhile to speed up). Using our handy "6 minute rule", you have about 7.5 minutes to react there shipmate. Mmmmm. Its the mid-watch. It takes 45 seconds for Seaman Farmer and the OOD LTJG PilotWashout to realize what is going on, and 15 seconds for brain-mouth-helm to do anything (oh, and don't forget to tell the Skipper-oh there he is, in his undies yelling his head off). Lets say you are in the Babara Mandral, um I mean Bab-El-Mandab Straits …."
Roughly translated- if a ship unexpectedly and intentionally turns toward you in restricted waters, you have very little time to react and that time is diminished by a variety of human factors, including the time it takes to recognize the danger, communicate the danger and take actions to avoid the danger. This "time shrinking" is also dependent on your own ship's ability to maneuver, accelerate or decelerate. A collision that follows could result in sinking, death or severe damage.
Okay, Salamander was writing, based on a real incident, about a very large ship doing something bad in restricted waters. Suppose, however, a ship the size of Arctic Sea was turned into a "Vessel Borne IED" (VBIED) and maneuvers itself against a cruse ship or a tanker in a shipping lane? What are you going to do?
The whole point being we have to get a better handle on tracking ships – perhaps even to the point of mandating the locator equivalent of a "dead man" switch which lights up when attempts are made to disable AIS or other systems.
Something to think about. We've had our warning shot across the bow.
UPDATE (17 Aug 09) Ship found, without hijackers or pirates . . .
UPDATE (18 Aug 09) Eight suspected pirates arrested by the Russian Navy.
UPDATE (18 Aug 09) But wait – there's more !- according to the Finns.

Posted by
Mark Tempest
in
Maritime Security
,
Piracy