The US Navy is researching creating jet fuel from seawater:
Dorner and Co have been working on mixing CO2 and hydrogen to produce light hydrocarbons which could then be processed into jet fuel. As jet fuel is rich in energy, doing this uses a lot of energy – and even then, a lot of the CO2 and hydrogen actually turns to methane.

…

But Dorner and his colleagues have managed to get the amount of methane produced down to 30 per cent or so, using special catalysts. The "sea water" bit comes from the fact that Dorner has also noted that there's a fair bit of CO2 in sea water, plus hydrogen too if you have even more energy to crack water molecules apart.

…

Thus it would actually be useful if you could build a plant on a carrier which could scoop CO2 out of the water, crack hydrogen from it too, and combine these to top off the ship's jet-fuel tanks. The carrier would be able to keep dominating airspace without needing to break off and replenish its supplies so often.
I can already see the posters: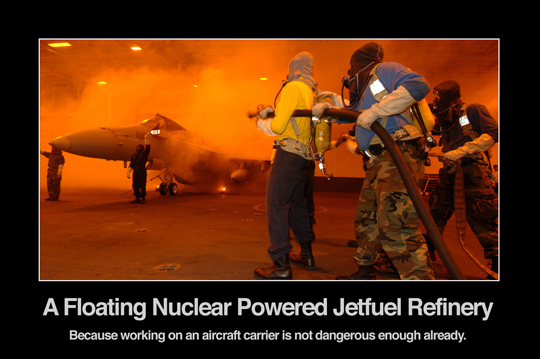 Update: See Information Dissemination for a more informed discussion of the technology.

Posted by
Christopher Albon
in
Navy