Archive for August, 2009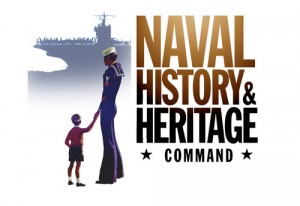 The Naval History & Heritage Command has joined the ranks of military officials and commands utilizing Web 2.0 tools to reach new audiences.
If you are interested in becoming a fan of the NHHC on Facebook, following them on Twitter, joining their group on LinkedIn,viewing their bookshelf on Goodreads, or sharing bookmarks on Delicious, click below:
Goodreads (Goodreads is the largest social network for readers in the world)
Delicious (Delicious (formerly del.icio.us, pronounced "delicious") is a social bookmarking site for storing, sharing, and discovering web bookmarks)
Stay tuned for future developments!
The hospital ship USNS Comfort arrived in Baltimore today, finishing a four month humanitarian and health diplomacy mission (Continuing Promise 2009) to Latin America. While it is a great day for her crew and their families, I am selfishly a little sad to see an end to the ship's blog. The postings had became a regular part of my internet reading list. Want to know what it is like to be on a health diplomacy deployment? Captain Negus, Commander of Continuing Promise 09, said it best:
My old theory was that the strength of any organization is a function of the character of the people involved, but my experience during CONTINUING PROMISE 09 has caused me to expand my thinking. As I look around the messdecks, and as I tour the sites far inland at our present location of El Salvador, I see scores of different groups of people who have all come together for this amazing mission: Army reservists working side by side with Project HOPE volunteers; Air Force technicians sweating side by side with private citizens from Latter-Day Saints; Dutch medical professionals laughing side by side with students from UCSD. In all we have had participants from 11 different countries, 18 different non-governmental organizations, and have a host of interagency support throughout our four month long deployment. In fact, my current Political Advisor, Ms. Melissa Francis, is a Foreign Service Officer with USAID stationed in San Salvador. Each person, and each organization, has something unique to offer to this mission. We simply could not do the things we do without everyone involved.
Good job all!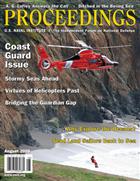 What do you get somoene who is 219 and is supposed to have everything?
An article in Proceedings that lays out some hard facts with a suggested remedy. Yes, my friends, a Proceedings article that is bold with no pale or pastel colors.
I joined forces with CAPT Jim Howe, USCG-Ret, to co-write an article for the August 2009 Coast Guard edition of Proceedings entitled, "Heavy Weather Ahead for the Coast Guard." Brief excerpt follows:
Competing priorities and shrinking budgets threaten to swamp the service.

The U.S. Coast Guard faces a stark and troubled future. If our nation's fifth and smallest military service was a cutter it would be listing severely, crippled by decades of undercapitalization, a lack of political support, an overwhelming workload, and the five words most feared by any Guardian: "the curse of can-do." In the face of an impending budget meltdown, the Coast Guard must confront severe challenges that threaten its performance and long-term viability, as it comports with the realities of the post-9/11 environment. Will it remain the world's best Coast Guard or will it proceed down the path of Britain's Royal Navy, becoming a shadow of its former self?
The rest of the article can be viewed here (free).
Happy Birthday everyone!!!
Now here is something that everyone can embrace – a Congressman with a "Top 50" book list and believes,
…strongly that officers and senior enlisted members need to read books about military strategy and American history to benefit from lessons of the past and better understand American values.
Generally speaking, especially on National Security Issues, a village elder such as Rep. Skelton should be listend to very closely. When he recommends something to feed 'yo nogg'n – doubly so.
Some of his Top 50 are very Navy-Marine Corps specific, such as The Age of Nelson
, At War at Sea
, Pacific Alamo: The Battle for Wake Island
, The Last Stand of the Tin Can Sailors
, Danger's Hour
, and Flags of Our Fathers
,
There is even a Naval Institute Press book on the list, Defense Logistics for the 21st Century
.
Also on the list is one that, simply by its title, lends itself as a nice gift to that new ENS or 2LT … or freshly minted First Class; The Past as Prologue: The Importance of History to the Military Profession
.
The Navy Times article here has a link to the list – but if you want a user friendly visual tour of the list – I have it on an Amazon widget at my home blog here.
Good stuff!

Midshipman Withington brought up the first Danger Room article suggesting that the DoD may take drastic steps to shut down access to social software services, but I wanted to touch on the details in the second, updated Danger Room post on the subject.
As a reminder, the debate is the full spectrum of access options for DoD employees. It isn't just whether DoD networks should be used to post information, but whether DoD networks should have access to read social networks. To understand the scope of the problem, it needs to be noted that anyone on an external internet network can use Twitter to update nonsense like this:
On duty @ the Pentagon's National Military Command Center. All is currently (relatively) quiet. Honor 2 be back w/ my fellow Navy colleagues
Thank you very much Commander Mark Kirk, Navy Reserve. BTW, who is Mark Kirk? I couldn't make this up if I tried.
Mark Kirk represents the 10th Congressional District of Illinois located in the suburbs north of Chicago.

Now in his fifth term, Congressman Kirk is a member of the powerful House Appropriations Committee and is co-chairman of the moderate GOP Tuesday Group and the bipartisan House US-China Working Group.

In Congress, Congressman Kirk works to advance a suburban agenda that is pro-defense, pro-personal responsibility, pro-environment, and pro-science. He wrote a number of provisions which became law, including funding for commuter rail, improving veteran's health care, ensuring military voting, and boosting aviation security.

Kirk, who holds the rank of Commander, is a Naval Reserve intelligence officer and has served during conflicts with Afghanistan, Iraq, Haiti, and Bosnia. He recently became the first member of Congress to serve in an imminent danger zone since 1942 when he deployed as a reservist to Afghanistan in December. The U.S. Navy named Kirk 'Intelligence Officer of the Year' in 1999 for his combat service in Kosovo.
If the DoD sees this as a software problem, then the DoD is helpless and hopeless in the next information war. This is 100% a human problem, and is specific to policy and lack of decisive leadership when it comes to social software.
If I was contributing advice to the DoD, I would come down like this. What is the functional purpose of social software to the work of folks inside the DoD and the Navy? Until that question can be answered with an acceptable use policy for an organization, actions like those of Commander Kirk should be expected to be the rule even if they represent the exception today.
The tools should be evaluated individually as part of this process, because for most organizations, even popular tools like Facebook and Twitter may not have a functional purpose while a bandwidth hog like YouTube may have an important functional purpose for the average employee. The reality is, in many government organizations, Facebook and Twitter offer almost no business function whatsoever to the typical employee. For example, I do not see how any soldier, sailor, or airman whose job function isn't specific to public information disclosure of some kind can find the use of Twitter or Facebook useful to their work.
If you disagree with my take on Twitter, leave a 140 character work related comment that somehow generates a response that improves the quality of your work in a way that doesn't give any detailed identifying information.
In my professional experience, tool analysis is usually the missing aspect of the social software acceptable use policy. Twitter may be great for the public affairs employee, but for the 99.9% of other employees it offers no value at all for any time spent using the tool while on the clock. Another example is how public affairs blogs tend to be so boring, so as a general rule blogs are not very productive for public affairs purposes. With that said, a blog post by a respectable doctor discussing details of H1N1 can be useful to any of several thousands of employees in any organization, so access to blogs by employees is often much more useful than access to Twitter by employees.
It is a very simple concept. Once an organization knows which tools are productive for workers, and which tools aren't, the resulting acceptable use policy of the organization often assists employees towards understanding not only why they are and are not allowed to use specific tools, but what makes the specific tools that are allowed useful and productive and thus justifies the stated policy. Like I said, very simple concepts…
Most military investigations I've read reveal that the mistakes we officers and staff NCO's make can be traced to ignoring the fundamentals. Commander Scott Waddle, the skipper of the USS Greenville, as an example, ignored the fundamentals of boat-handling back in February 2001 when he conducted an emergency ascent demonstration without coming to periscope depth and clearing his surface waters. Those on the fishing vessel Ehime Maru paid dearly for this commander's carelessness to the tune of 9 civilians killed.
Six months later the Greenville ran aground entering Saipan, and five months after that to the day, and less than a year after the Ehime Maru, the Greenville collided with the Ogden. I'm not sure of the details, but if I was a betting man (and I am, when the situation requires), I'd say each incident could be linked back to missing the fundamentals.
Some mistakes we make are deadly, others embarrassing, but most all mistakes can be altogether avoided by remembering the fundamentals we were taught day 1 in the forests of Quantico, on the bridge of our first ship, in the classrooms of Charleston, the beaches of Coronado, or the air-space of Pensacola. Why does something as easy as this slip our minds so frequently? Ego, complacency, insecurity, over-confidence, and negligence play a part. But ignoring the fundamentals is always at the heart of it all.
A story I was told recently about the fisherman's $10 hook reminded me not to over think things and that everything in life – from fighting for a piece of some enemy's terrain or a piece of some girl's heart – comes down to the fundamentals. And this wasn't my wisdom (it never is); this was the wisdom of Mason Phelps.
This story is not about our great fleet, our Marine Force, or logistics or terrorism or anything that specific or topical. This is a story about how I came to be reminded about the fundamentals at a very important time in my own career, at that dangerous time when we think we have our job figured out. This story reminded me how we must stay humble and hungry and eager to learn more and more and remain on-edge and that we must never fail the troops or sailors we work for in any instance that could otherwise be avoided. This is that special trust and confidence part. This story is also a reminder to our Navy's leaders the importance of finding your own mentor or life coach. I've found this matters a great deal.
Ironically, (and in classical naval fashion) this story starts with a cold bottle of booze and laughter among friends. For these reasons, especially the part about never failing our Sailors or Marines, I wanted to share this story here; a brief account of Mason Phelps, the fundamentals and the $10 hook…
On Saturdays I drink an ice cold bottle of Sancerre at noon and eat fresh shrimp roasted in garlic and salt and a mahi steak served on a toasted bialy loaf with shredded lettuce and a sweet Cajun sauce. I order a bottle of Pellegrino, but usually only drink half. This restaurant is first a fish shop, but it feels like a provincial seaside café. It's a small market, a perfect sort-of small and inside are black-and-white pictures of La Jolla's fishermen legends and sailors and there are menus written in colorful chalk and also sturdy wooden chairs and tables that customers share when they sit down to eat, even if they don't know each other. The employees here are the friendliest staff I've ever encountered – all local surfers or divers, and all ocean enthusiasts. Joe makes beautiful pottery he sells far too inexpensively. There are a few more artists that work here too, I think. There are also some students.
I usually eat Saturday lunch in this place with my friends Andreas and Sid. We ridicule each other and talk about girls and the night before and plan for the night to come and drink icy-dry white wine and laugh and silently feel very happy we have each other as best friends to spend Saturdays with but never mention it because that would be far too sensitive a thing for young men to say. And so we ridicule each other and laugh and talk more about girls and the good lives we lead and how lucky we all are.
Light lunches go best with light conversation.
By one o'clock the icy-dry Sancerre has quenched my thirst and slowed my heart rate and for the first time that week I relax. By this time the sun is always over-head and bright and has burned away the last bit of morning layer fog which is this sea town's natural blanket that visitors complain about, but that I love. Sid goes to swim or to box and Andreas to accomplish tasks he hasn't the time for during a busy week or to Bikrams Yoga, and I go to Mason's house to learn. Saturdays are best spent with close friends and icy-dry white wine and even better if you can learn a thing or two.
Mason Phelps is my life coach. He has also become one of my very best friends. His house is high on Mount Soledad, which is an impressive place in the world, in a wooded draw not far from mine, but on a much more inspiring street lined with enormous trees (I'm not sure which kind) and wildflowers and villas. I always use the side entrance, which I think over the years has become the front entrance, as is often the case when kind, easy-going, down-to-earth people find themselves in beautiful homes with many ways inside. I don't have to ring the doorbell anymore, but I always call before I visit.
Mason greets me in the hallway. He extends his strong, tattooed arm for a handshake. I grab his hand and pull him to me for a bear hug. This feels more like two wrestlers clashing on the mat than a comforting exchange between friends, but it's nice, nevertheless. Our hug is followed by some expletive (or series of expletives). I remind him he is a dirty-scum-bag-enlisted-Marine and he reminds me that I am a weak and feeble and worthless-aristocrat-Marine officer. We laugh, curse each other's mother, and I follow him to his patio. That sort of banter is Marine-speak for "I love you."
His patio is my classroom for the afternoon, though on other afternoons my classroom has been his office, or his garden, in his art galleries, or on his favorite tailor's shop floor; of course there is the bar at the La Valencia Hotel, and the red leather booths of the Manhattan Room. These have all been my classrooms. And there is always wine or scotch to be had during class. But as is the case in any school, the classroom isn't as important as the teacher. On this particular day my classroom was his patio and he poured me a rich, dark red wine and he knew that what he was going to teach me this day was going to change my life, but I didn't know that yet. What I did know was how much I loved Saturdays. And that my teacher was a force of nature.
Mason Phelps is in his early 80s and built like a bare-knuckle Irish prize fighter. He has strong, broad shoulders, a square jaw, considerable hands with rugged knuckles and lean legs. His skin is a firm, tan leather and his eyes are crystal blue and sea grey and wise and set deep into his head. He walks with a natural toughness and confidence that reminds me of Churchill's gait. He speaks in gruff cadence and with such unique inflection I find him captivating and stage-worthy. He is quick with a big smile, a big story and a perfectly placed (big) curse word.
He is not like most of us who are (not sadly or apologetically, but truly) nothing very special. Mason Phelps is a character you would expect from the pages of the Great Gatsby, or better yet from the Green Hills of Africa or The Sun Also Rises; but Mason is much better than any character in those works because they are characters of fiction and Mason is a real character and the truest spirit I know or could ever hope to know in a man that is real and not my own father or the creation of Jack London, Scott Fitzgerald, Tom Wolfe, or Ernest Hemmingway himself.
Beneath the scars that 80 years of hunting, football, the Marine Corps, war with the Japanese, bar-fighting, factory work, mountaineering, business, adventure skiing, world travel, deep sea fishing, and living life hard and fast and with deep passion and meaning, (as man was intended to live), beneath the buckskin tattooed arms, and the strong back and barrel chest…beneath it all, is the most perceptive, kind, buoyant, magnificent and complete heart in all the world. And certainly the finest on all of Mount Soledad.
Life's education always starts beneath our scars.
Throughout his 80 some years Mason has balanced his rugged and aggressive and restless leanings with a natural kindness, a powerful intellect, an enthusiastic disposition and other soft traits that are necessary for great men to possess, but not appropriate to write about or discuss unless in the company of only close friends and family, or with the permission of the man himself; permission which will never be granted so long as that man is a Marine and has tattoos and buckskin and a barrel chest.
But it is true that Mason did change throughout the course of his life, as some of us do; while some of this change was his own doing, most of this change was the result of the love of an even more powerful and impressive woman, his wife Elizabeth. And though the story of how a petite and beautiful and amazing Greek American women from Pittsburg and her equally wonderful and beautiful daughters helped to calm and captivate this restive man's heart is one of my favorites, the story of what happens after I drink icy-dry white wine and the fog burns away and I climb Mount Soledad to his home on a particular Saturday afternoon to learn about the fundamentals is the story I set out to tell.
To tell this story completely I have to go back to my first deployment to Iraq where I first saw a battle-hardened battalion march through the dust on the edge of our empire. Returning from this place, a place then lost to time and Western ethics and virtues, was a life-altering experience. I did not return cynical or defeated. I did not return angry or resentful. I returned older and with stories of adventures of what was not everyone's experience in that war, but what were certainly mine. There was sadness too, but a man's life is nothing without some kind of great sadness. And this is how my heart felt when I met Mason for the first time…older, and just a little sad.
Meeting a life coach at a time when your heart turns older and becomes just a little sad is necessary, though I didn't know this at the time. And what I felt on that Saturday when I first met Mason Phelps is the same thing that I have felt every Saturday since, and luckily (but by choice and perhaps by no luck at all) my heart has become less and less sad.
Mason does not teach me how to be a father or a husband or even a man. He is not instructive or didactic with his life lessons. That has been my own father's job, and he has been a masterful mentor to his two sons and is my hero for it. Mason teaches me in the Socratic manner and all about life's other things. The answers are always mine to discover, though he knows the outcome and never tells.
In this way, Mason has taught me about art and literature and politics and history and friendship. In his garden we discuss government and culture. In his kitchen (and with Liz in the other room) we rant about the Marine Corps and beautiful girls. In his office we discuss history and religion and the American West. On his patio we discuss love and life and all things pertaining to the exploits of deep-sea fishing, hard-nose business, Mark Twain and a man's strength of character. No matter the subject, and no matter the place the subject is discussed, the moral of the lesson Mason wishes to teach me remains the same: it's all about the fundamentals.
So you'll remember on this particular Saturday that I entered through the side of the house (as I always do), and that I had met Mason with expletives and a wrestler's hug and more expletives which meant "I love you." And that today I followed him to our classroom which was his patio and that there he poured me rich, red wine which always tastes good in the later part of any afternoon. And you'll remember that my heart was older now, and still sad, though not nearly as sad as it was before I had met Mason Phelps. This is the way that Saturday was – the day his lesson was the most uncompromising and honest and simple and important of them all.
Mason started by telling me about shapes and forms and proceeded to discuss all quantity and space and structure and change. He told me that these things are best understood by mathematics. He told me that mathematics was the mechanism by which the complexity of nature became plain. He said the fundamentals began here, at that unique point in the universe where the confusing could be reduced to the unconfusing, to integers and symbols, and 0s and 1s; except he said all of this differently and in his unique way which I cannot recreate in prose because I am not that good of a writer. He told me that this understanding of things only began here, because life was never as easy as integers and equations, even though I told him I thought it ought to be.
He agreed, and we laughed, though I was quite serious, but didn't say anything because it wasn't my place to say anything during this lesson. I had too much to learn.
Mason looked into the afternoon sky and he told me that everything that matters in life – from the men I now lead, to the love I will one day love; from economics, religion, politics, family, philosophy and culture, to war, literature, health, friendship, art, and science – must be approached from the most fundamental angle, and understood by the most fundamental method…
And then he looked me into my eyes and asked me if I understood and I said that I did.
To illustrate his point further, he told me a wonderful story. (No one tells good stories anymore, except for Andreas' older brother Niko, who is one of the best story tellers I know.)
"A guy starts tuna fishing off San Diego," he said as he sank back in his chair.
I poured myself more wine and listened closely.
"And he spends half a dozen years and tens of thousands of dollars learning how to catch these tuna so that one day he can hunt big marlin. Soon enough he is ready for big marlin and for Mexico and all that went with such an adventure. This guy spends thousands of dollars on first class plane tickets, and even more on new reels and rods and even more still on the finest boat and crew and a captain who knows exactly where the marlin swim. And he goes to sea and spends days on the boat, and finally the marlin come, and he catches one, and wrestles it for hours…until his hook snaps, and the marlin swims away, along with all of the other marlin. And as the boat turns about and they make their way back to the harbor, the ship's captain tells him what he already knows to be true, 'so many thousands of dollars spent, so much time and money wasted, when all that really failed was a simple $10 hook…a fisherman must never forget the fundamentals: the quality of his hook.' And the fisherman said: 'Yes, yes, I remembered so much, but I forgot to check the hook.' 'And that's the thing about life,' he continued to say, but this time to himself, 'so much time and money spent on so many things – I too often forget to check the hook.'"
Mason looked at me, and I told him I understood the story of the hook and the importance of checking the foundation and of the fundamentals. And he told me that was good, though his eyes told me that he knew I was still going to screw up later in my life something that had to do with the fundamentals, but that this was ok, because making honest mistakes was how I was going to grow.
Later that month, and on a different sort-of Saturday in a different sort-of place, I told the fine men in my platoon Mason's story about the hook after returning from a 30 mile hike into the Sierra Nevada Mountains in which a few forgot to bring their ponchos and it hailed and rained and they were without the most simple piece of equipment despite their two hundred dollar boots and millions of dollars of training and weeks of preparation…the poncho was this mission's "hook" – and it was all about the fundamentals.
We agreed, as a family during our mission debrief, that we couldn't afford to make any more mistakes when it came to checking our hooks or with the fundamentals.
I think the boys liked Mason's story which has become the foundation of my life and most importantly the foundation of this Force Reconnaissance Platoon. And I think this should be the foundation of every section, squad, division or platoon in the Navy and Marine Corps.
I haven't told Mason this part of the story yet, but I think when he hears it he will laugh and not be surprised at all; I think he'll call me names with curse words and try to put me in a head lock for not telling the guys the story of the hook before the long mountain patrol. (This will be another way for him to say "I love you.") But really I think he'll be happy that I have listened to his wisdom, even though he would never call it that.
I'm not sure what there is to learn this Saturday (there's always something), but nothing could ever be as important as the fundamentals and hearing the simple story of the hook after icy-dry Sancerre and laughing with my friends.
May he and his family find peace.
The Department of Defense says the remains of Captain Michael "Scott" Speicher have been found.The Jacksonville resident was the first American lost in the 1991 Persian Gulf War.

Acting on a tip they received in early July, DOD officials found a place in the Iraqi desert they believed to be Speicher's crash site.

That is where they found the remains.

"Our thoughts and prayers are with Captain Speicher's family for the ultimate sacrifice he made for his country," said Secretary of the Navy Ray Mabus. "I am extremely grateful to all those who have worked so tirelessly over the past 19 years to bring Captain Speicher home."
Hat tip LT B.
Newer Entries »