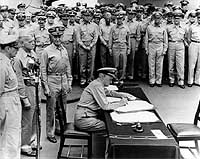 64 years ago today, World War II ended in the Pacific. For a list of ships present in Tokyo Bay for the surrender as well as photographs of this historic day, click here.
Thank you to all the members of the Greatest Generation that made victory happen!
We are forever in your debt.

Posted by
Jim Dolbow
in
History
,
Navy