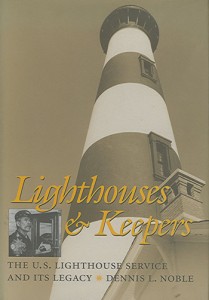 What inspired you to write Lighthouses & Keepers: The U.S. Lighthouse Service and its Legacy?
At the time I was thinking of doing one volume history of the U.S. Coast Guard. One of the problems with doing such a history is that the service is made of so many former organizations. I felt by doing a history of each of the organizations, it would help me in doing the book. I had already had a book on the USLSS published, so I now turned to the USLHS. I became side tracked on the one volume history. It still needs to be done, but I am not sure I will do it.
Why are people fascinated by lighthouses?
A good question that I am not sure I can answer very well. I have run into people who love lighthouses all over this country and in areas far removed from the sea or large bodies of water. I believe I quoted someone who wrote, paraphrased, that lighthouses are America's answer to Europe's castles. It is as good an answer as any. That Americans are interested in them was best illustrated to me by a BM1 who said that when he served on Cape Cod a real estate agent told him that if the light from the local lighthouse–I do not recall which one–fell on a house, it increased the value of the house. No way to prove this, of course, but it is a nice story.
Who should read Lighthouses & Keepers?
Anyone who is interested in the history of not only lighthouses, but also other parts of the old USLHS, such as lightships, buoy tenders, fog signals and buoys. Of course, those interested in the heritage of the USCG should read the book.
If you could go back in time, would you want to be a lighthouse keeper?
Not really, unless the light was in a non isolated area. It is a romantic idea of lighthouse keepers and I hope I have shown that the life was not so easy in those times. If I could be a lighthouse keeper in modern times it would be a different manner.
What was it like working with the Coast Guard Historian's office on this book?
Very easy. Between the Historian of the U.S. Coast Guard's office and the National Archives a person can pretty well write the history of the lights. In my experience, the Historian's office is a lot easier to work with than the National Archives. The National Archives is in a location easier to reach for most researchers, but the ease of working in the Historian's office off sets the location disadvantage.
Is there anything else you would like to add?
I hope readers find this a "fun" read. I really liked doing the section on keepers, which I find the most fascinating in the history of the USLHS. I believe the book is now in paperback, thus somewhat cheaper.

Posted by
Jim Dolbow
in
Books
,
Coast Guard