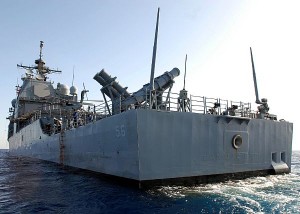 Quoted are some of the relevant details of Captain John Cordle's lessons learned report from the recent INSURV of USS San Jacinto (CG 56), as discussed in the news recently over at Navy Times. A lot of very good information here to learn from, indeed, I think an extended Q&A with Captain Cordle would reveal several inefficiencies that should be looked at for improvement. I read this report as the process a CO went through, including the hurdles, hoops, and much appreciated help to do what was required to "Get it done!" BZ Captain Cordle.
RMKS/1. THE BOARD OF INSPECTION AND SURVEY CONDUCTED A MATERIAL INSPECTION (MI) OF USS SAN JACINTO (CG 56) 3-7 AUG 2009. THE FOLLOWING OBSERVATIONS AND LESSONS LEARNED ARE PROVIDED.

2. OVERVIEW:
A. MINDSET.
THE PURPOSE OF THE MI IS TO DETERMINE WHETHER OR NOT THE SHIP IS FIT FOR COMBAT OPERATIONS. WHILE IT IS A NECESSARY PREREQUISITE THAT MATERIAL DISCREPANCIES BE PROPERLY DOCUMENTED AND THE SHIPBOARD CHAIN OF COMMAND IS AWARE OF THEIR MISSION IMPACT, THE KNOWLEDGE THAT THE SHIP COULD ACCURATELY SELF-ASSESS IS NOW MERELY A FOOTNOTE. BOTTOM LINE: EQUIPMENT MUST WORK IN ORDER TO BE FOUND FIT FOR COMBAT OPERATIONS. SJA USED USS PINCKNEY'S EXCELLENT LESSONS LEARNED MESSAGE AS A STARTING POINT. RECOMMEND CLASSRONS USE THE PINCKNEY MESSAGE AS THE FOUNDATION FOR A PERMANENT INSURV BEST PRACTICES FILE.

B. LIAISON.
EARLY LIAISON AT ALL LEVELS WITH INSURV BOARD MEMBERS IS CRUCIAL. WHILE THEIR CHARTER IS TO INSPECT THE QUOTE AS FOUND UNQUOTE CONDITION OF THE SHIP THEY WANT THE SHIP TO SUCCEED. EARLY LIAISON WITH THE SENIOR INSPECTOR AND THE BOARD MEMBERS INSPECTING THE SHIP YIELDED SJA GREAT DIVIDENDS. RECOMMEND HOSTING THE QUOTE HERE WE COME UNQUOTE MEETING ON THE SHIP VICE AT INSURV BUILDING FOLLOWED BY A WALK AROUND THE SHIP. BOARD MEMBERS POINTED OUT NUMEROUS PITFALLS AND PROBLEM AREAS WHICH SJA WAS ABLE TO CORRECT PRIOR TO THE MI. EARLY COORDINATION WITH THE BOARD AND FEEDBACK FROM ISIC AND CGRON ALLOWED SJA TO REFINE THE MI TIMELINE ENSURING ALL INSPECTION CRITERIA WERE MET IN AN ORGANIZED MANNER. DESPITE STARTING WITH PREVIOUS UMI SOE AS A TEMPLATE, THIS WAS A HUGE ENDEAVOR WITH MANY ITERATIONS.

C. RESOURCES.
INSURV MI IS A TREMENDOUS CONSUMER OF MANPOWER, FUNDING, AND TIME. SJA INITIAL ASSESSMENT WAS THAT INSUFFICIENT MANPOWER, FUNDING AND UNDERWAY TIME WERE DEDICATED TO SJA IN ORDER TO SUCCESSFULLY PREPARE FOR THE MI. SPECIFICALLY, A SHORTFALL OF $1.5M, 30 PEOPLE, AND 6 U/W DAYS WAS IDENTIFIED AT D-90.

(1) ADDITIONAL MANPOWER WAS PROVIDED FROM A NUMBER OF SOURCES:
UNIT*******************RESOURCES PROVIDED
CCSG-12****************N4, ENCS, GSMC, BM1 – APPROX 90 DAYS
USS ENTERPRISE*********LT (30 DAYS), 3XBM2 APPROX 90 DAYS
USS LEYTE GULF*********BMC – APPROX 90 DAYS
USS MONTEREY***********GM1 – APPROX 60 DAYS
USS VELLA GULF*********TWO BM'S – APPROX 30 DAYS
USS RAMAGE*************EN3 – APPROX 30 DAYS
USS CARTER HALL********TWO GM'S – APPROX 30 DAYS*
USS NASSAU*************EN2 – APPROX 30 DAYS
USS ROOSEVELT**********EM1 – APPROX 30 DAYS
USS BULKELEY***********DC3 – APPROX 30 DAYS CGRON******************DCCS, GMCS, GSMC – APPROX 30 DAYS DDGRON*****************AVG 10 PERS/DAY + 1 GSMC FOR 90 DAYS
PCU GRAVELY************AVG 10 PERS/DAY FOR 90 DAYS
PCD JASON DUNHAM*******AVG 10 PERS/DAYS FOR TWO WEEKS
TPU NORFOLK************AVG 10 PERS/DAY FOR 90 DAYS
NAVY RESERVE***********26 SAILORS; 511 MAN DAYS

THE SIGNIFICANT LABOR POOL WHICH RALLIED IN SUPPORT OF SJA CONTRIBUTED GREATLY TO PREPARATIONS FOR THE MI. WITHOUT THIS ADDITIONAL MANPOWER SJA WOULD NOT HAVE BEEN READY FOR THE MI. ROUGHLY SPEAKING, A DAILY AVERAGE OF 30 EXTRA PERSONNEL WORKED ON SJA FOR THE LAST THREE MONTHS LEADING UP TO THE MI. (IT IS WORTH NOTING THAT CRUISERS WERE MANNED WITH APPROX 44 MORE SAILORS PRIOR TO THE IMPLEMENTATION OF OPTIMAL MANNING.) FOR HER PART, SJA ADDED A 2 HOUR FOCUSED REPAIR PERIOD 1530-1730 AT I-90 AND WENT TO 3 SECTION DUTY AT I-30 IN A PHASED PLAN TO RAMP UP LEVEL OF EFFORT LEADING UP TO THE INSPECTION WITHOUT BREAKING THE CREW. SPECIFIC TRAINING SUCH AS ATFP/VBSS WAS HELD ON SATURDAYS BUT SHIPBOARD TACTICAL TRAINING WAS DEFERRED UNTIL AFTER THE INSURV, RESULTING IN A STEEP RAMP SOON AFTER THE INSPECTION TO C2X.

(2) ADDITIONAL EMRM AND OTHER FUNDING WAS PROVIDED BY CGRON AS REQUESTED. CGRON RESPONDED TO ALL REQUESTS FOR FUNDING AND EXPEDITIOUSLY ASSISTED SJA. LCDR TAMAYO N41, CGRON , DESERVES PRAISE FOR HER WORK IN MEETING THE FINANCIAL REQUIREMENTS. TOTAL ADDITIONAL RESOURCES REQUESTED DURING 90 DAY RUN-UP TO INSURV MI $973,000 EMRM AND $387,680 OTHER.

CM FUNDING WAS PROVIDED AS REQUESTED ALSO, BUT THE PROCESS NEEDS IMPROVEMENT. SHIPS MOVE INTO PRIORITY STATUS FOR CM FUNDING 90 DAYS PRIOR TO MI. THIS PRACTICE HAS RESULTED IN A FORM OF INSTITUTIONALIZED CRISIS MANAGEMENT. AN EXCEPTIONAL AMOUNT OF ENERGY HAD TO BE EXPENDED IN ORDER TO OVERCOME THE INERTIA OF A HUGE MAINTENANCE BACKLOG IN ONLY 90 DAYS SJA AUTHORED 149 INITIAL CASREPS FROM 31 MAR09 TO 05 AUG 09.

SJA ENTERED INSURV WITH 25 ACTIVE DEPARTURES FROM SPEC WITH AN AVERAGE AGE OF 90 DAYS. AVERAGE TIME TO CORRECT A C2 CASREP WAS 60 DAYS. AVERAGE TIME TO CORRECT A C3 CASREP WAS 30 DAYS WITH 6 OUTSTANDING AT MI. IN GENERAL ONLY CASREP'D ITEMS WERE FUNDED AND FIXED. BOTTOM LINE: THE MAINTENANCE COMMUNITY IS NOT CURRENTLY STRUCTURED AND THE BUSINESS PRACTICES DO NOT CURRENTLY SUPPORT THE LARGE VOLUME OF WORK WHICH INEVITABLY MUST TAKE PLACE TO PREPARE A SHIP FOR INSURV. THE CONSTRAINT OF A QUOTE 90 DAY INSURV WINDOW UNQUOTE FOR CM FUNDING REQUIRES ADDRESSING. IN THE END SJA RECEIVED A GREAT DEAL OF THE NECESSARY SUPPORT, BUT THIS REQUIRED CONSTANT ENGAGEMENT AT THE O-6 AND ABOVE LEVEL. SJA CO ATTENDED WEEKLY CRO AND MARMC MEETINGS FOR 90 DAYS PRIOR TO THE MI.

SJA HAD A CMAV DURING THE QUARTER PRIOR TO INSURV, AS WELL AS A C5RA AND SISCAL VISIT. IN ADDITION, NUMEROUS ICMP ASSESSMENTS WERE PULLED FORWARD AT SHIP'S REQUEST. UNFORTUNATELY, FUNDING RESTRICTIONS IN PLACE ALLOWED CM FUNDING TO BE PUT IN PLACE ONLY AT THE I-90 DAY POINT. AS A RESULT, OF THE 135 JOBS SUBMITTED BY THE SHIP FOR THE 9A2 AVAIL, NONE WERE PLANNED OR FUNDED ON DAY ONE OF THE AVAIL. MOST JOBS TOOK BETWEEN 30 AND 60 DAYS TO WORK THROUGH THE MSMO FUNDING AND PLANNING PROCESS. ONLY 35 JOBS WERE STARTED DURING THE AVAIL, THE REST WERE TURNED INTO CASREPS AND WORKED RIGHT UP UNTIL THE DAY BEFORE INSURV.

(3) FOLLOWING A PERSONAL REQUEST BY THE CO TO CRO, FOUR ADDITIONAL UNDERWAY DAYS WERE ALLOTTED TO SJA IN ORDER TO ALLOW SUFFICIENT REHEARSAL OF UNDERWAY DEMONSTRATIONS. THE VALUE OF THIS TIME AT SEA CANNOT BE OVERSTATED. THESE EXTRA DAYS ALLOWED SJA PERSONNEL TO CONDUCT AT SEA CHECKS AND MAKE SURE THAT THEY AND THEIR EQUIPMENT WERE READY. WITHOUT BEING GIVEN THIS ADDITIONAL PRACTICE TIME, SJA WOULD NOT HAVE SUCCESSFULLY PERFORMED THE UNDERWAY PORTION OF THE MI. THERE IS NO SUBSTITUTE FOR PERFORMING THE CHECKS AT SEA. ADDITIONAL UNDERWAY DAYS MUST BE BUDGETED FOR SHIPS TO GET UNDERWAY AND CONDUCT INSURV PREPS. SHIPS SHOULD NOT HAVE TO JUSTIFY THE NEED TO GET UNDERWAY TO PRACTICE FOR INSURV, THIS SHOULD BE A RECOGNIZED COST OF PREPARING A SHIP FOR THIS RIGOROUS INSPECTION AND RECEIVE C2F PRIORITY FOR SCHEDULING. UNDERWAY INSURV PREP DAYS SHOULD ALSO BE KEPT CLEAR OF OTHER TASKING (DLQ'S, ETC.) IN ORDER TO ALLOW THE SHIP TO FOCUS ON EXECUTING THE DEMONSTRATIONS.
I am going to use a football analogy. What we have is an example where the playbook was written before the season, but as the season went on, a bunch of players in the starting lineup were injured. The coach continues calling plays from the same playbook, having made no adjustments to the playbook to account for the different roster on the field, but expecting results as if the starting lineup was still in the game.
I see this lessons learned report as a recommendation to examine the playbook, because the playbook is not flexible enough to manage the conditions of a team with a different starting lineup. In general, I believe this analogy can be applied at a much broader level in the Navy, indeed all the military services.
In business, the fastest way to stifle creativity and innovation within an organization is for management to be inflexible when it comes to the playbook of processes that manage the daily routine of the business. Innovations only occur when leaders can write new plays for the playbook, or adapt when it is necessary to throw the playbook out. This involves a certain degree of risk, and creative, innovative businesses accept a certain degree of risk as part of developing talent internally.
As I read this report several questions come to my mind. It looks to me like the CO, officers, and crew of the USS San Jacinto (CG 56) were being asked to give 110% effort to "Get it done" for the MI, but the playbook does not ask the same of everyone else in the process. Read the section that I highlighted above in the report, and ask yourself: How much time was probably wasted by everybody because the playbook was inflexible to the needs and demands of the task at hand?
Whenever I see an inflexible playbook, I see a system that actively discourages innovation and creativity within an organization. The coach who calls the plays from the inflexible playbook is doing so because it is all the coach knows how to do, all the coach is allowed to do, or all the coach is willing to do due to risk factors (protecting ones career path by avoiding risk can be a major risk factor in the military). When any of the three exist an organization will waste time and resources. When all of the three exist, an organization is institutionally preventing creativity and innovation among its people.
On teams with rigid playbooks, the players are asked to give 110% effort, but the coach is just putting checks on the clipboard as the rigid set of plays are called, and this leaves an impression the coach is not giving the 110% they are asking for from the players. The pattern in business when this happens is that the talented employees leave to go work for other companies that do promote creativity and innovation. Organizations that know how to be dynamic and responsible with the playbook at the same time will be innovative and creative, and organizations that follow rigid playbooks stifle creativity and innovation. Sticking with the football analogy, I bet Captain Cordle and the SJA crew would have appreciated it had the coaches called a few audibles along the way during this INSURV, it would have probably saved time and allowed greater efficiency in use of resources. Flexibility typically has that kind of impact in business.