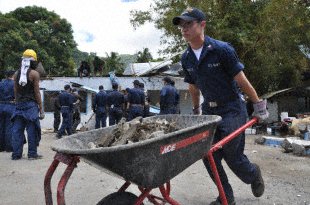 Yesterday, Commander Matt Ovios of the USS Ingraham talked about the ship's role in the relief and assistance effort on American Samoa. The USS Ingraham arrived 36 hours after the island was struck by an earthquake and tsunami.
According to Commander Ovios, Ingraham's most useful resources were its SH-60 and manpower. American Samoa has no local helicopters, so, combined with a Coast Guard C-130, the Ingraham offered valuable aerial surveillance. Furthermore, the Ingraham deployed around of its 120 sailors for three days to clear debris. One hundreds and twenty sailors is a serious number, the ship's typical crew compliment is approximately 200.
How did the crew feel about the mission? "As soon as we pulled alongside the pier, I had sailors chomping at the bit to … help out American citizens in need".
Edit: Commenter Pat is correct about Marine component, post edited to reflect that.

Posted by
Christopher Albon
in
Navy