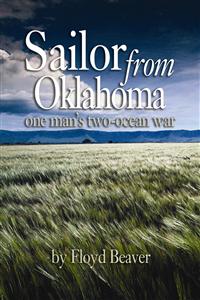 Another good read this week is Floyd Brown's Sailor from Oklahoma. The title of the book says it all and without further delay here's is my e-interview with Mr. Beaver.

Please can you give us a short synopsis of Sailor from Oklahoma: One Man's Two-Ocean War?
In 1939 at the age of 19, and upon finding himself unable to return for his sophomore year at the University of Tulsa—and after losing his job on the wire desk of the Tulsa Tribune to the Depression—Floyd Beaver enlisted in the Navy with the hope of entering Annapolis from the ranks. Age limits put finis to this aspiration, and he spent the twilight years of peace in four different heavy cruisers of the Hawaiian Detachment, most of these years as a member of the HAWDET and COMSCOFOR flags. (Vadms Andrews and Brown.)
With the onset of war—and after the early MARSHAL and GILBERT island actions—his Flags transferred into carriers: LEXINGTON, SARATOGA, HORNET AND ENTERPRISE in which he served through the RABAUL raid of Feb 1942, the LAE/SALAMAUA raid, the battles of CORAL SEA, SANTA CRUZ ISLANDS, and the NAVAL BATTLE OF GUADALCANAL. (Radms Fitch and Kinkaid.)
Upon the ENTERPRISE'S return to the States for repair of battledamage, he was ordered to HMNZS MOA in which he served as the only American on board from Nov 42 to May 43 in close-in support of the Guadalcanal campaign, surviving two night surface actions—in one of which he was slightly wounded—and the loss of the MOA to dive bombing attack in Tulagi Harbor. He was awarded a British MENTION IN DISPATCHES by New Zealand.
Upon return to his own Navy, he was ordered to APA FLORENCE NIGHTINGALE (APA70) In which he sailed in North Atlantic convoys from Sept1943 to Fall 1944, making the INVASION OF SOUTHERN FRANCE in her before being assigned to USS MEDEA, in which he returned to the Pacific for the Invasion of Okinawa. Hospitalization in April 1945 with a diagnosis of Tetany resulted in his return to the States and medical discharge at the end of September 1945 as "Unable to meet demands of the Service.
You served on 15 different ships in World War II. Which one was your favorite?
For comfort and all 'round satisfaction, the INDIANAPOLIS, but that may be because I was in her before she was rearranged for the war. She had the best signal bridge on which I ever served. For interest, it would have to be HMNZS MOA. Service in a foreign navy—and the opportunity for contact with native Solomon Islanders was interesting as hell.
What was it like being a signalman for flag officers?
Mixed bag. Certain privileges: choice berths for the ship in harbors, no working parties, watch-standers' liberty, etc. Disadvantages: A lot of brass underfoot on the bridge, missed leaves, strained relations with ship's company people sometimes. On balance, desirable.
You survived two sinkings (USS Lexington and HMNZS Moa). Any advice for others that may find themselves in a similar situation?
Rule 1: Have ship sink in smooth, warm water, and in company withfriendly vessels. (This didn't work for the JUNEAU in WWII, but it's still a good idea.)
Rule 2: Don't remove shoes or other clothing.
Rule 3: Go over the weather side. Ships dead in the water tend to drift beams-on to sea and wind. Depending on hull design and weather conditions, this can result in considerable leeway which can make it hard to get away from a drifting wreck.
Rule 4: Go down lines hand-over-hand. Sliding down can take the skin off your palms.
Is there anything else you would like to add?
My nearly seven years in the Navy becomes each year a smaller proportion of my life experience, but those years far outweigh all the others. This may be due to the fact those years were war years, with all the drama and the rigor implicit in that fact, but the men I knew and the things I saw color still my view of the people I meet and the things I see happening about me. Of my Naval service, I regret only the way in which it ended, with a stigmatizing diagnosis and no chance to appeal. I thought I deserved better than that.

Posted by
Jim Dolbow
in
Books
Tags:
meet the author