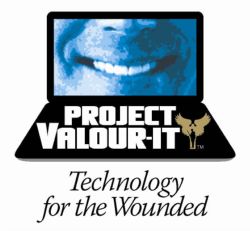 And so it begins…Go Navy! Beat Army!
Do you have a blog or website? You can join our team here: Team Navy. Team Navy is also grateful to have the support of all you Coast Guard Bloggers out there who don't have an official team this year!
Don't have a blog or website? No problem, you can still help us spread the word and get donations through Facebook, Twitter, email and plain old word-of-mouth.
Why help us? Every cent raised goes toward the same cause, Valour-IT from Soldier's Angels, helping those wounded warriors by providing laptops with voice activated software, Nintendo Wiis for therapy and GPS units for those suffering short term memory loss issues from TBI. Reach me at [email protected] if you have questions. We'll be updating with stories and Team progress and you can make a donation here!
Read this superb post at HG's World on Why I Joined the Navy. Which he didn't but he's supporting Team Navy as a tribute to his father and brother. Well done HG!
Update: The Admonition also joins Team Navy, "In honor of my dad who passed away this year, he was a sailor." Nice!

Posted by
admin
in
Army
,
Coast Guard
,
Navy
Tags:
Team Navy
,
Valour IT
,
Veterans
,
Wounded Warriors