You CAN make a difference! Go Team Navy!
From our friends at Soldiers Angels:
Soldiers' Angels put Valour-IT to work this week at Brooke Army Medical Center (BAMC) in Texas! Thanks to a grant that must be used in Texas, SA was also able to give printers along with the laptops.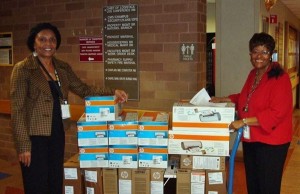 The military caseworkers who work closely with us at BAMC to identify patients in need of the laptops or other technology.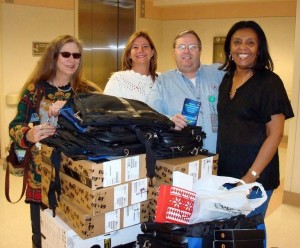 Angels, a caseworker (Opal Riera, on the right), and SA Board of Trustees member Jim Riley (2nd-from-the-right). Notice the printers that came from a grant specifically for Texas, and the laptop bags.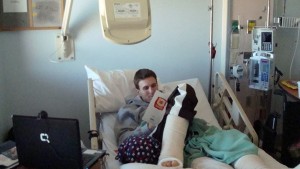 You can see that he already has a Valour-IT laptop; notice the attached headset hanging on the laptop screen and the just-delivered Blanket of Hope still rolled up on his right.
"I have become more mobile in my rehabilitation, and the laptop is absolutely one of the tools that I have in my recovery toolbox." – Valour-IT Recipient
Delivering over 4100 laptops so far, Valour-IT assists the wounded in reclaiming a bit of wholeness and independence in the face of life-altering injuries, repeated surgery, painful physical therapy, and the isolation of the hospital room. A high-quality laptop can help reestablish personal dignity and reconnect them with the world.
Every bit helps, and all funds will go directly to Project Valour-IT to purchase the laptop that helps provide independence and freedom to wounded Soldiers, Sailors, Airmen, and Marines as they recover.
And if this isn't enough already to inspire you…check out the great videos over at SteelJaw's Place.
And Help US Win…we're getting pounded by the other service branches!