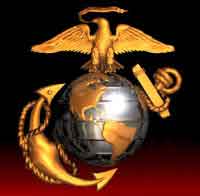 Happy 234th to all the Marines out there, present and past, who have made the legacy of our Corps what it is today. Especially, best wishes on this 234th Marine Corps Birthday to those Devil Dogs serving in Iraq or Afghanistan, writing new chapters of our glorious history.
A motivating message from our Commandant.

If the Army and the Navy ever looked on Heaven's scenes,
They would find the streets are guarded by United States Marines!
Semper Fi.

Posted by
UltimaRatioReg
in
History
,
Marine Corps