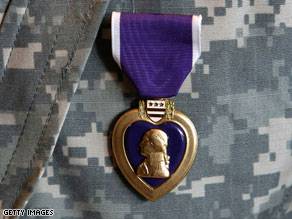 The investigation into the mass murder on Ft. Hood continues, but there is no doubt who was responsible, and his motivations are clear. He (his name doesn't deserve mentioning) acted out of a radical belief in Islam and a hatred of the United States.
One decision by the Army will determine how the service, and the administration, view this attack. Will it be viewed only as a crime, or will it be viewed as a terrorist attack committed by an enemy of this nation? The answer lies in whether or not the victims are awarded Purple Hearts.
Army Regulation 600-8-22 (regulation page 20, pdf page 40), article 2-8 b.(6), requires that "the act must be recognized by the Secretary of the Army as an international terrorist attack."
(6) After 28 March 1973, as the result of an international terrorist attack against the United States or a foreign nation friendly to the United States, recognized as such an attack by the Secretary of Army, or jointly by the Secretaries of the separate armed services concerned if persons from more than one service are wounded in the attack. (http://www.army.mil/usapa/epubs/pdf/r600_8_22.pdf)
The victims of this cowardly and monstrous attack deserved better than to die or be wounded in what was otherwise a place of safety. Their sacrifice must be properly recognized. They earned and deserve the Purple Heart. What, and when, will the Secretary decide?

Posted by
Fouled Anchor
in
Army
,
Homeland Security
Tags:
Army
,
Ft. Hood
,
purple heart
,
terrorism