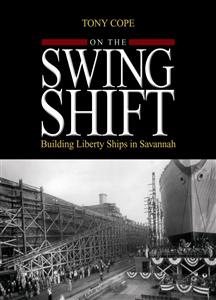 Savannah, GA is one of my favorite cities and so it was a real treat to e-interview Tony Cope about his book, On The Swing Shift: Building Liberty Ships in Savannah.
What inspired you to write On the Swing Shift: Building Liberty Ships in Savannah?
I am a native of Savannah and was a child during World War II. I never saw the shipyard, but remember hearing the various whistles during the day and seeing the lights from my second story bedroom windows at night. The yard closed just after the war and the site remained basically derelict for many years. As an adult I drove past the site twice a day on the way to work with no recollection of what took place there. In the late 1980s, I was asked to chair a local committee established to develop some interest in establishing a museum to commemorate the Mighty Eighth Air Force which was created in Savannah and then moved to Britain to fight the air war against Germany. To create this interest, I wanted to come up with a slide show to use for talks to civic clubs and other groups and asked a friend at the local paper to run a request in his column for wartime photographs of Savannah. I received a call from a woman who had a set of six photos of her mother christening one of the Libertys launched by the yard in Savannah. That got me thinking about the yard and wondering that if I had forgotten what happened there maybe most other Savannahians had as well. That assumption was correct…the only people who remembered it were the people who had worked there or sailed on the ships. I just thought that there was a great story there and those people ought to be remembered.
What were some of your more insightful sources for On the Swing Swift?
The most insightful sources were certainly the people involved…the 120 shipyard workers, merchant seamen, Navy and Coast Guard personnel that I was able to interview. All were so excited to talk about their experiences and that someone was taking an interest in what they had done. Some were people that I had known in other circumstances, but never knew anything about this part of their lives. All were fascinating, but one early interview stands out. A friend who worked at the Georgia Ports told me of a retired Merchant captain who had sunk a U-boat, but warned me that he didn't suffer fools gladly. I had a great two hour interview with Capt. Clifford Thomas who was master of a number of Libertys after the war, but was Third Mate on the S. S. James Jackson when it did fire on a U-boat, but was not credited with its sinking. Captain Thomas not only related his own experiences, but also gave me many names of other merchant seamen who could help with my project. It was a really enlightening and enjoyable interview and contrary to my friend's warning, we got along splendidly. Unfortunately, when I got home, I found that I had failed to punch the record button on my brand new tape recorder. It was with great fear and trepidation that I called Capt.Thomas and asked if he could do the interview over again. He understood perfectly and we did the two hours again the next night. After I moved to Ireland, we talked by phone a number of times and he wrote very detailed accounts of situations that I asked him about. Unfortunately, he died before the book was published.
Can you tell us a little bit about a day in the life of a shipyard worker?
From the various interviews that I conducted with workers, a typical day at Southeastern was exciting and often very dull. The assembly line method of building Libertys meant that much of the work was repetitious; doing the same job over and over. Many of these workers had never seen a ship before much less built one and had to be trained to be welders, shipwrights and the various other skills necessary to building a ship. It was hot…over 100 degrees in the summer made even hotter by working on and around so much steel. It was freezing in the winter with any bare skin sticking to frozen steel. Then there were the bugs, swarms of mosquitoes and deer flies that bred in the marshes close by the yard in the summer. It was dangerous work; banging, cutting, shaping steel, huge ship parts being carried overhead by gantries. It was exciting though…to see a completed hull slide down the ways or a fully loaded Liberty sail down the river past the yard on its way to a war zone, to know that they were part of the effort to defeat the Axis powers.
Savannah has such a proud history. Can you tell us a little bit more about the city's contribution to the war effort?
Savannah's contribution to the war effort was certainly great. Southeastern was one of three shipyards building ships during the war and many other industries produced ammunition, trailers, boxes and bags for military use and many other products vital to the war effort. Many of its sons and daughters went to war and many never returned. As school children we participated in scrap drives, war bond drives, collecting Bundles For Britain and tending Victory gardens. There are monuments dedicated to the dead of that war and The Mighty Eighth Air Force Museum is now a very successful reality in Savannah. There is no monument to commemorate the shipyard and those who worked there. There are displays in the Savannah History Museum and the Ships of the Sea museum. There was a monument to Merchant Marine seamen killed in that war and the other prior wars that our nation has been involved in, but it was taken down and replaced with a monument to commemorate the Viet Nam War dead. The bronze plaques from the Merchant Marine monument are in storage somewhere in Savannah and it is my hope that "On The Swing Shift" will help to develop interest in restoring that monument and recognizing the workers at Southeastern, some of whom died or were injured doing very dangerous work there.
Is there anything else you would like to add?
The research for and the writing of this book was an amazing experience for me; meeting the people and hearing their stories, trying to find information from a variety of sources in an attempt to be as accurate as possible in telling the story of this shipyard. It was a bit like a detective trying to find pieces of evidence in different places and putting it all together to solve a case. For me, some of that evidence came from across the continent and across the Atlantic Ocean. I have been fortunate in that I have had the opportunity to do a lot of very interesting things during my lifetime. This ranks right up there.
If you need additional information, I have a website, http://ontheswingshift.wordpress.com which gives a description of the book, my bio and some reviews.

Posted by
Jim Dolbow
in
Books
,
Travel
Tags:
meet the author