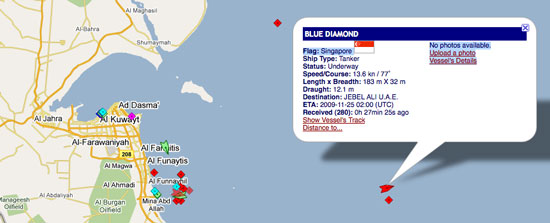 Want to know what ships are docked in Tel Aviv? Need to track a tanker through the Strait of Hormuz? You can do it right now, for free, from home. The Marine Traffic Project takes advantage of Automatic Identification System (AIS) data to provide a near real-time position, speed, and course information on vessels in select regions. AIS data from ship transponders is collected and uploaded to the Marine Traffic Project in minutes. Combined with Google Maps, the data provides open source geointelligence on thousands of ships.
The US Navy does not regularly use the AIS system and does not appear on Marine Traffic maps (I will let our knowledgeable commentors explain the USN AIS SOP). However, as recent attacks off the Horn of Africa have shown, global shipping lanes are exceptionally vulnerable to low-cost tactics. Commercial shipping is the artery of the global market and the sinew of the international community. Tools like the Marine Traffic Project can provide valuable intelligence to armed groups looking to replicate the successes of Somali pirates, whether in the Niger Delta or the Persian Gulf.
Should access to AIS data be restricted? Are services using open AIS data a threat to maritime security? Share your thoughts in the comment section.

Posted by
Christopher Albon
in
Navy