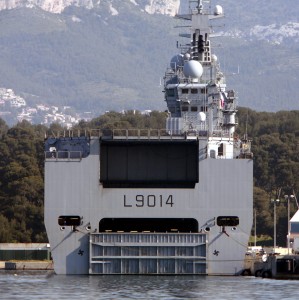 Like many of you, I find it sad the US, an innovator in amphibious warfare, isn't selling amphibs to all comers. If the LPD-17 had been developed quickly and kept simple, the USS New Orleans would have exploded onto the world market just as amphibious platforms become the must-have item for every new (or newly-recapitalizing) naval force. But, today, the LPD-17 isn't high on anybody's holiday wish-list.
Instead, ships like the Mistral are eating what could have been an economy-boosting, revenue-generating and trade-deficit reducing lunch. 
 That said, please enjoy this bracing pre-Holiday helping of Mistral goodness–a must-read for any Mistral-curious defense pundit:
A Tale of Two Ships: Why the Mistral has beaten the LPD-17.
What Good Is An Unused Ship?: Back in June 2008, I called for newly-commissioned ships to be put to work right away. The post details some of what the Mistral did to advertise itself during its post-commissioning deployment/shakedown–stuff that our brand-new amphibs (and, ah, our LCS platforms) should be doing.
Remember when LPD-17 was Commercial Spec?: Some scoff at the Mistral, saying Commercial Spec isn't viable for a warship…well…um. Gosh. Read this and weep.
(If you want some more detail on how we took our eye off the ball with the LPD-17, read about the origins of the LPD-17s climbing wall or be shocked over the unintended consequences of having thicker mattresses than the other ships in the fleet.)
And then there's the geopolitical angle–certainly, Russian shipbuilding is in crisis, but there are a few other benefits to this sale:

Why the Russians REALLY Want a Mistral: A lot of people are saying that this "buy" is to make Georgia and the little Baltics quiver with fear. Baloney–for a state with a big army, suborning border states don't really require a whole lot of helicopter carrier. To me, the Mistral buy is more geopolitics than border security.
Remember, France, unlike most other former colonial countries, still maintains a lot of widely-distributed potentially base-worthy property. It's a good maritime partner to have–particularly when the host is probably willing to trade access rights for some tasty arms deals.
It is a real pity the US hasn't been at the forefront of naval vessel exports. Instead, Europe is eating our lunch–with ships built by those pesky, annoyingly well-paid, highly-compensated and technically proficient workers, too!

Posted by
Defense Springboard
in
Foreign Policy
,
Marine Corps
,
Navy