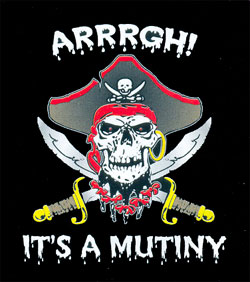 In case you missed it, John Curran at AP reported on the latest chapter of the Maersk Alabama's first pirate incident. JAGs …. perk up your ears.
Richard Phillips, the ship captain toasted as a hero after he was taken captive by Somali pirates, ignored repeated warnings last spring to keep his freighter at least 600 miles off the African coast because of the heightened risk of attack, some members of his crew now allege.

Records obtained by The Associated Press show that maritime safety groups issued at least seven such warnings in the days before outlaws boarded the Maersk Alabama about 380 miles off the shore of Somalia.

A piracy expert and the captain's second-in-command say Phillips had the prerogative to heed the warnings or not. But some crew members – including the chief engineer, the helmsman and the navigator – say he was negligent not to change course after learning of the pirate activity.

"If you go to the grocery store and eight people get mugged on that street, wouldn't you go a different way?" said the ship's navigator, Ken Quinn, of Tampa, Fla.

Sailing beyond the 600-mile threshold would have added more than a day to the Alabama's voyage to Mombasa, Kenya, and used extra fuel, according to the ship's previous captain, who said Phillips had years of experience sailing in those dangerous waters.

Four of the 20 crew members told the AP that they blame Phillips for the hijacking.
The loneliness of Command … but not too lonely if you have, as the Brits like to call him, a good Number 1. In this case, Captain Phillips's second in command is Captain Shane Murphy.
For your review, quoted in full – is an open letter from a man we should all buy a beer for. Captain Murphy, over to you.
---
Captain Shane Murphy responds to crew's allegations against Richard Phillips – an open letter
I understand the Alabama crew's anger over the events of April 8th. We all went through hell that day, and in the weeks and months to follow it has been a difficult process rebuilding our lives. This event has changed our crew forever and when something this dramatic occurs, people naturally look to assign blame.
As we know, the safest place for a ship is in port, but unfortunately that is not what ships are built for. Just as unfortunately, a crystal ball is not part of the required bridge navigational equipment. We take risks everyday in the course of doing our jobs, and that day was no different.
One of the most common root causes for any marine accident is inherent industry pressure. The Captain of a Merchant Ship is forced to weigh all the risks associated with physically taking a ship from one port to the next and he must do what he feels is best to maintain the safety of his crew, his vessel, the cargo and the environment all while trying to keep schedule satisfy the customer. It's a tremendous amount of liability to place on one individual.
It is part of the responsibility that comes with taking the job, and the burden of command can be a heavy one. That's why initially Captain Phillips was hailed as the hero – he (as Captain) is the figurehead and the most easily-identifiable symbol. How the story was portrayed in the media is and was beyond our control. Reporters have a responsibility to get the story right, because once something this big gets into the public consciousness, it is hard to change popular opinion. Seeing Phillips portrayed as a hero, meeting the President, partying with movie stars and signing book deals probably frustrated the crewmembers that have to go back to sea to continue to support their families and live with the fact that they were violently attacked and could not defend themselves. For them, the experience hardly resulted in any glory.
Whether or not Captain Phillips ignored warnings or had other considerations we are not privy to that guided his decisions we can not say without knowing the whole picture. Only he can comment on his rationale, only he was privy to those warnings. What we can look at is history. Captain Phillips had a proven track record as a good seaman, and he ran a safe ship, all things considered. If he feels he made a mistake then I forgive him. He certainly suffered enough in the lifeboat for 4 days, and as his friend I was glad I was there to help him out of a jam – that's what being a shipmate is all about.
Ultimately however, we can't take the blame off the people that perpetrated these violent crimes against us. The seas need to be a safe and sovereign area where people of all nations can transport the raw materials and products that sustain our societies. The Somali land is a place of warfare and turmoil where gangs fight for turf from block to block. Now, that way of life has begun to spread unchecked into international waters. Plain and simple, there is not enough food to sustain the life on that continent and it becomes a classic case of survival of the fittest. The people like Abshir Boyah or Abdwali Muse who are resourceful enough to get weapons are able to create their own circle of power and right now they've declared war on the high seas – they are winning.
Piracy is not a laughing matter; it's not a joke or a punch line to us as it is to some politicians or talking heads. Until the combined Navies of the world are willing to blockade the ports these pirates operate out of, they will continue to strike without impunity further and further out. I'm sure world leaders are hesitant to commit such resources to a blockade, because this is how wars get started, and war is never a fun option. Putting that many troops with weapons and itchy trigger fingers in such close proximity to lawless outlaws could be a like igniting a powder keg. Right now, the military machine is focusing on terrorist threats in Afghanistan and Iraq in order to protect the American citizens at home. Imposing a military blockade on African ports and aggressively boarding suspected motherships would be a policy akin to what President Kennedy implemented during the Cuban Missile crisis. It's a 'hot zone' right now, and the problem continues to get swept under the rug by the world at large.
There are over 200 seamen being held captive as of today, and I know of no efforts to rescue them or care for them when and if they are released. Companies are being given guidelines for best security practices that include not paying any ransoms. That leaves the working sailors of the world to fend for themselves, as we did on the Alabama.
If the powers that be say the ocean is too big a place to effectively patrol, then it's time to arm the ships. We need government support to help streamline the process and make it a requirement that if a vessel flies the U.S. flag and if the shipping company receives a subsidy under the Maritime Security Program to operate the ship – as is the case with the Maersk Alabama – then they must protect their crews. A properly trained and properly armed 4 to 6 man security team can do the job of an entire Navy by defending the ships at the point of attack.
This arming will ensure that another Captain doesn't have to be put in a situation like Captain Phillips was. Still, today's shipping companies are reluctant to consider my repeated requests to provide them with qualified American security personal. The second attack on the Maersk Alabama proved that having the option of force protection onboard can be a successful deterrent and ultimately a cost saver.
The industry is changing. Right now it's pirates, next year it may be maritime terrorist striking in ports around the world. We have to adapt. Captain Phillips was able to maintain his composure throughout a situation where his life was under constant threat for 12 hours and he handled himself like a professional, and with honor. He is just as much a victim of circumstance as any skipper that has the awesome responsibility of guiding a ship through those waters.
I wish my fellow crew members the best of luck in their efforts to pick themselves back up and move forward. I'm grateful to each and every crewmember for their support then and now, and I'm happy we all made it out alive.
And to the sailors from all over the world that are being held still: I commit to you that I will continue to raise the level of debate on this issue until you are brought home safely.
Thank you,
Capt. Shane Murphy
---
Here, here!
OK you JAG types …. if you're good, your ears are a'twitch'n. Here you go.
One of the four crew members who spoke to the AP is part of a lawsuit filed against Maersk Line Ltd. alleging the company was negligent in sending the ship into treacherous waters without more protection. The other members are not involved in any legal action related to the hijacking.

Posted by
CDRSalamander
in
Maritime Security