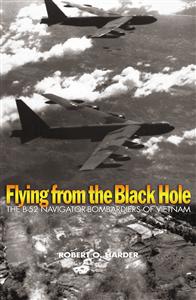 Today marks the 37th anniversary of the start of Operation Linebacker II aka Christmas Bombings so it was only appropriate that I e-interviewed Robert Harder, author of Flying From the Black Hole: The B-52 Navigator-Bombardiers of Vietnam.
What inspired you to write Flying From the Black Hole: The B-52 Navigator-Bombardiers of Vietnam?
After reading Marshal Michel's "The 11 Days of Christmas", I realized that not only had no one told the story of Linebacker Two from the navigator-bombardier viewpoint, no one had told the full story of USAF rated non-pilot flying officers. I decided to wrap both major topics into one package. I was fortunate; Naval Institute Press was my first choice as a publisher; and was the first and only press I submitted it to.
How does Flying From the Black Hole fill a void in aviation historiography?
Explaining American post World War Two heavy bomber history from the viewpoint of the B-52 navigator-bombardier, the mainstay heavy bomber in the USAF from 1955 to present day. While several vanity books have written about this topic, from this navigator-bombardier slant, Black Hole is the only book to deal with it from a national royalty press.
What were some of your more insightful sources?
My primary information came from my personal files and experience. Michel's "11 Days" was the most important printed source; following closely on its heels were dozens of email interviews with World War Two, Korean War, Cold War, Vietnam War, and Linebacker Two veterans.
How does writing your first book compare to your 145 combat missions during the Vietnam War?
Not comparable really. I could not have written about my experiences in the manner I personally wished for at least a quarter century due to classified material concerns. And then it took me another 20 years for me to realize that it was something that cried out to be done, for the sake of all the USAF rated nonpilot flying officers. It really came home in 2004 when the Air Force and Navy said that all the former positions in those rated nonpilot fields (RIOs, navigators, bombardiers, electronic warfare officers,observers, etc) would be discontinued and that such related cockpit positions still remaining would in the future be manned by Combat Systems Operators (CSOs) and Weapon Systems Officers (WSOs). I was also very heavily encouraged (indeed mentored) by aviation historian and best selling writer, Walter Boyne. Boyne has long lamented the lack of documentation of the work of the B-52 navigator-bombardiers. I am very grateful for his confidence and support.

Posted by
Jim Dolbow
in
Air Force
,
Books
Tags:
meet the author