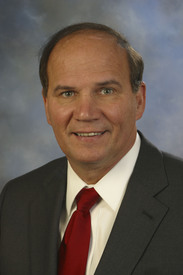 Back in 2008 when the CNO stood up the Navy Irregular Warfare Office, the first director selected was RADM Mark W. Kenny. Having just recently retired, I thought it noteworthy he has found a job in the private sector.
Northrop Grumman Corporation has named Mark W. Kenny vice president of Irregular Warfare (IW) Programs. Kenny will lead a team of professionals to provide the rapid fielding of advanced capabilities and integrated systems to the combat, intelligence and special mission environment.
Some will focus in on the issue of former flag officers moving directly into industry to oversee development of systems and platforms directly related to their previous command. I think that is an issue always worth discussing – pro and con – but that wasn't what got my attention.
Kenny will be based at Northrop Grumman's Washington D.C. office, and will lead the company's new National Irregular Warfare Center, located at the Aerospace Systems' East Coast Production and Flight Test Center in St. Augustine, Fla. Kenny will leverage several ongoing initiatives, including Improvised Explosive Device defeat and Intelligence, Surveillance and Reconnaissance Task Force programs that solve multiple Operation Iraqi Freedom (OIF), Operation Enduring Freedom (OEF), and asymmetric challenges.
Northrop Grumman is unlikely to hire someone like Mark Kenny unless they smell a RFP coming in the Navy IW space, which is entirely possible given the Navy's IW command was just stood up in 2008. I went through the FY 2010 budget and didn't see any major plans other than existing ATD R&D for the Marine Corps and the stuff from the relatively new ONR IW office, so maybe something will pop in the FY 2011 budget?
The Navy Irregular Warfare Office was established to "institutionalize current ad hoc efforts in IW missions of counterterrorism and counterinsurgency and the supporting missions of information operations, intelligence operations, foreign internal defense and unconventional warfare as they apply to [CT] and [counterinsurgency]." The office works closely with U.S. Special Operations Command, and reports to the Deputy Chief of Naval Operations for information, plans, and strategy.
But there has been a lot of debate what irregular warfare means to the Navy. In June of 2009, Rebekah Gordon of Inside the Navy quoted Vice Adm. Barry McCullough in an article called "McCullough: Current Fleet Meets Many Irregular Warfare Missions"
McCullough said his worry is that the Navy's irregular warfare capacity has become too narrowly focused on Navy Expeditionary Combat Command, an umbrella for expeditionary capabilities such as explosive ordnance disposal, riverine and naval construction units known as Seabees.

"While their contribution to irregular warfare is great, and they're very capable and a very professional force, that's not the sole focus of irregular warfare inside the Navy," McCullough said.

For example, he said, while aircraft carriers are often cited as the prime example of a conventional warfare capability, the Abraham Lincoln (CVN-72) played a pivotal role in supporting relief efforts following the 2004 tsunami in Southeast Asia. The Arleigh Burkeclass destroyers have also been used in recent irregular warfare capacities, such as the Bainbridge (DDG-96), which aided in the capture and killing of pirates off the coast of Somalia following the hijacking of an American cargo ship.

"That covers the spectrum of warfare," McCullough said. "That's not what those ships were designed for, but it just goes to show you the inherent flexibility of naval platforms."
A few thoughts. I have to date been very unimpressed with the US Navy approach to irregular warfare when it comes to sea based threats, but I don't think that can be attributed to Mark Kenny. With less than two years – virtually all of his energy would have been spent standing up a new command from a cold start – which btw would rank for me as a premier qualification to stand up a new IW shop inside Northrop Grumman.
The Navy – more than the Army or Marines but just like the Air Force – relies almost exclusively on technology solutions for ISR against Irregular Warfare adversaries. Want a scary answer? Ask the CO of a ship returning from CENTCOM AOR how many ships were visited during VBSS operations during their 6 month deployment. If the ship was in the northern Persian Gulf, the number will be very high. If the ship is in the Gulf of Aden, the number will be remarkably small. Interesting how relatively few problems have been reported off the Iraqi coast vs the Gulf of Aden over the last decade, and I'd bet a nights bill at the Trident Room a statistical comparison for VBSS operations comparing those two regions over the last decade frame would skew remarkably high in the north Persian Gulf.
And yet it is the small boats in the Gulf of Aden and Indian Ocean causing the problems. Kenny has a ton of experience with UAVs and underwater solutions when it comes to IW. I think that is a good thing as UAVs have proven highly successful in supporting IW operations in the war zones, and submarines have unique capabilities that should be exploited in irregular warfare. With that said, neither UAVs or submarines are the answer for IW challenges we see at sea, particularly when the outlook of IW at sea isn't good.
Submarine guys tend to be highly creative though, so it will be interesting to see what the Navy does with Irregular Warfare and how Northrop Grumman's new IW group sees industry solutions to the Navy requirements.